Electricity and gas prices have been rising steadily in recent years. One of the reasons for this is the global energy crisis. To keep warm in winter, wood and pellet stoves are becoming economical and ecological alternatives.
The brand Austroflamm specializes in the manufacture and marketing of wood, pellet and combination stoves. Its products meet the expectations of each household in terms of performance and performance that of aesthetics. Here is our opinion on the Austroflamm wood and pellet stoves.
History of the AUSTROFLAMM brand
The company Austroflamm was founded by Ferdinand Huemer in 1984. Its reputation is based on its technological quality and its quality of service. Indeed, the philosophy of the founder of Austroflamm is based on the courage to change and the pioneering spirit. 
Austroflamm is particularly specialized in technical innovations in the field of stoves. Two years after its creation, the company launched the The first Joker model cooking stove. In 2002, it developed a very efficient heat storage system: the Heat Memory System (HMS). The company improved in 2007 with the Xtra system and the Karemott system later. 
Today, Austroflamm is a market leader in sustainable and future-oriented stove technology. 
Specialty of the AUSTROFLAMM brand of stoves
Austroflamm differs from its competitors in three major ways: 
its design out of the ordinary,
its quality without compromise,
its future technology.
Austroflamm designs stoves with unique and elegant design. They come in many models, sizes and finishes.
Austroflamm stands out not only for the aesthetics of its products. It also has a reputation for taking an active part in innovation.
Keramott: an innovative, ultra-resistant material that is easy to cast
The Keramott, a fireplace lining invented by Austroflamm, allows for example to haveThis means that the combustion chamber can quickly reach very high temperatures. Keramott is indeed resistant up to 1200°C. Moreover, this innovative material is very easy to cast, which makes it possible to create specific shapes: thanks to this, contact between the walls of the combustion chamber and the fuel is avoided, which prevents the creation of cold spots.
The Heat memory System (HMS)
The aim of the HMS is to provide Austroflamm stove owners with maximum heat accumulation (up to 8 hours). This is made possible by two Austroflamm innovations:
A very high density material that absorbs heat quickly and then diffuses it in the slowest way.
The Heat Memory System is installed as close as possible to the heat source, for optimum heat storage.
The Xtra
This is a further development of the previous HMS storage technology, which not only heats a room very quickly, but also over a longer period, as the curve below shows.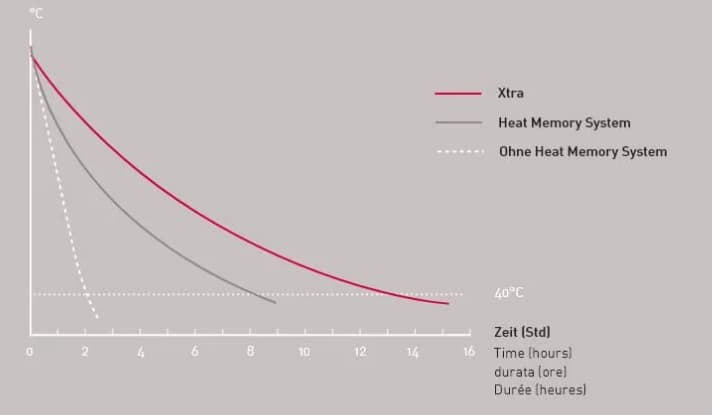 The idea is to combine the Heat memory System with a heat exchanger, resulting in the addition of over 100kg of accumulation material in the stove, as well as the addition of an adjustable air convection system to maximize heat retention in the room.
With 10kg of wood, an Austroflamm stove can provide up to 12 hours of pleasant heat in your home.
The appearance of the flame and the crackling sound are among the other qualities that consumers appreciate in Austroflamm stoves.
The different types of stoves of the brand AUSTROFLAMM
Austroflamm manufactures various models of wood and pellet stoves. We also sell combination stoves. It's up to you to find the equipment that best suits your needs and your budget!
The Austroflamm wood stove
Austroflamm wood stoves meet current ecological standards. They contribute to the energy transition by burning wood in a CO2 neutral way.
They come in different models. Some have a modern style that fits well in a city decor. Others have classic designs that are perfect for a country home. Whatever your choice, your wood stove will be equipped with the latest technology. 
Here are some of the most popular models:
The Austroflamm wood stove Compact Cook Nail, or Xtra Nail, Xtra Back Nail, Compact Nail 2.0 Its design is a hit in modern interiors. Its rounded shapes make it a rather desirable object.
The stove Austroflamm Heido Back 2.0 a little more imposing and classic
The wood stove Austroflamm Koko Xtra
The wood stove Austroflamm Lounge Xtra It's like a TV screen, allowing you to watch the dancing flames. Probably much more captivating than some TV shows.
dozens of other models, including thehe KYLIE XTRA 2.0, the LUCY COOK, the PALLAS, the LUX, the PALLAS BACK, the STILLA 2.0, the SINA XTRA, or the very vintage WIEN!
Some pictures of popular models: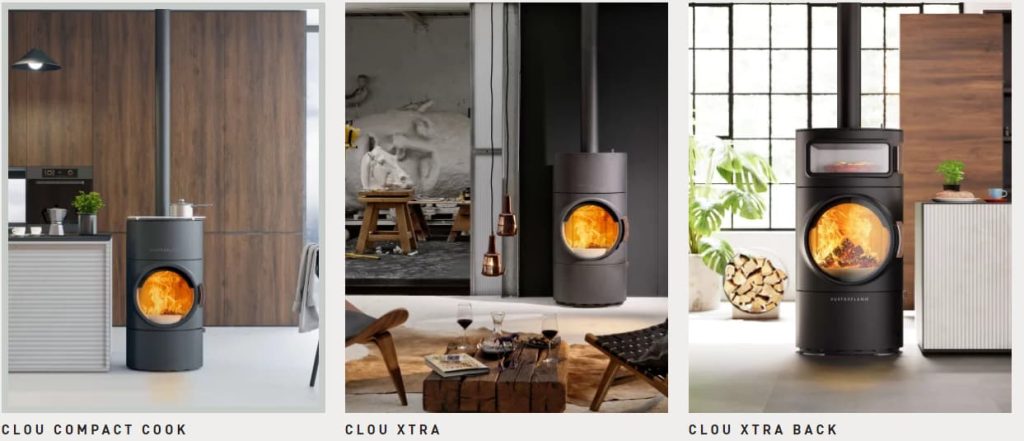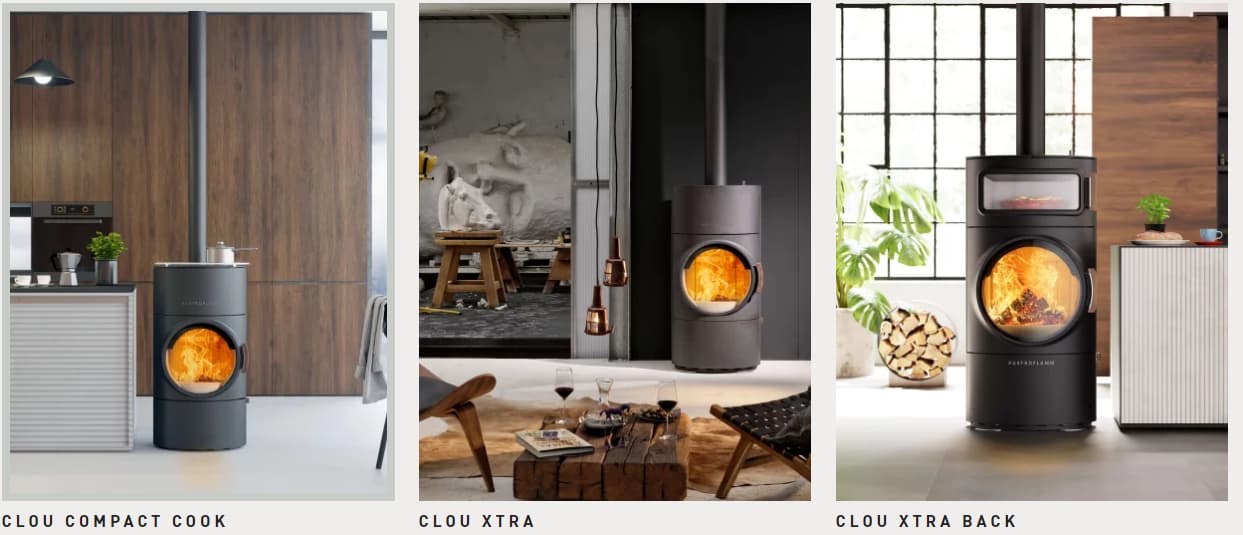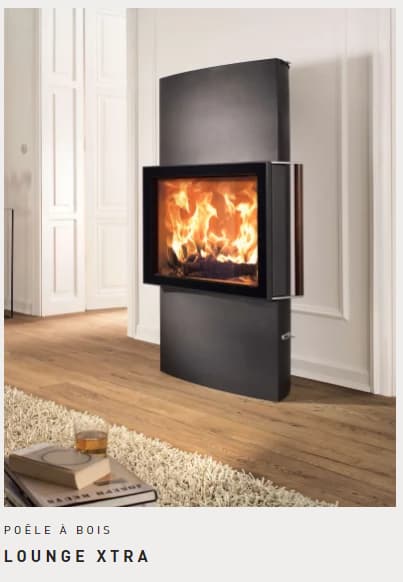 In addition to their elegant design, Austroflamm wood stoves are also flexible and space-saving. They have captivating flame plays. Thanks to the technology used, Austroflamm wood stoves have nothing to envy to other brands. They are powerful and consume little wood. Better yet, they offer excellent performance. 
The Austroflamm pellet stove
Austroflamm pellet stoves are equipped with a series of connections to the outside air. They are an excellent alternative to wood stoves. 
Austroflamm pellet stoves are particularly attractive because they are easy to clean. They offer automatic cleaning cycles and a clean, low-ash combustion. 
Here are the most popular models:
The Austroflamm Clou Pellet Stove
Austroflamm Clou Compact Pellet Stove
The Ella pellet stove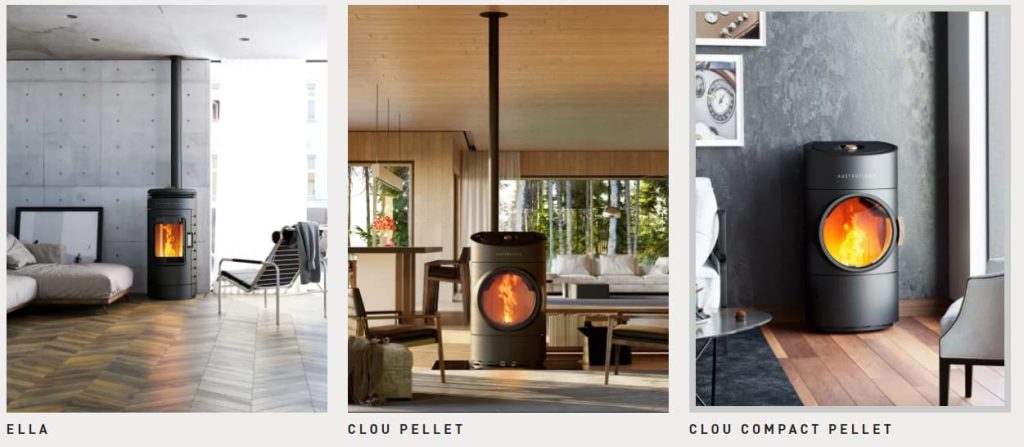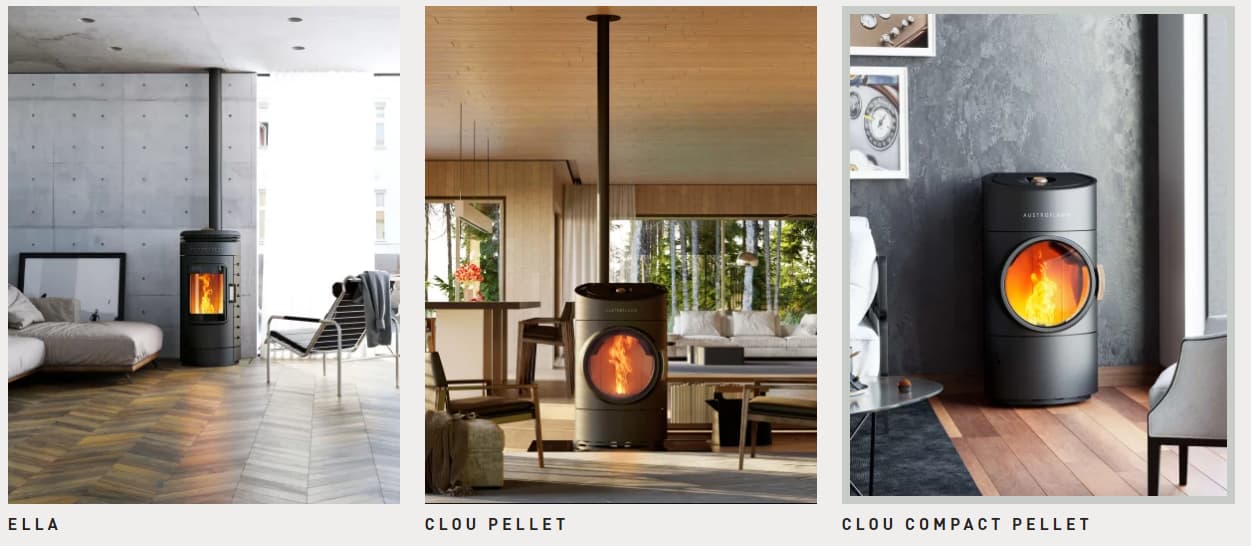 Like all Austroflamm stoves, the pellet stoves have an original design. You will certainly be attracted by their elegant steel, ceramic or soapstone cladding. The technological advances that Austroflamm pellet stoves benefit from make them both powerful and cost-effective. 
The Austroflamm stove
The Austroflamm combination stove perfectly combines the comfort and technological innovations of pellet stoves with the authenticity of an open fire. Indeed, Austroflamm stoves seduce by the fire that pellets bring and the sight of the imposing flames of the logs. They are also appreciated for their very high efficiency: up to 90 %. 
The Austroflamm brand has 4 models of this type of stove:
The Clou Duo stove
The Mo Duo Pellet stove
The Mo Duo Cook
The Scotty Duo


Thermal performance and consumption of AUSTROFLAMM stoves
Austroflamm wood and pellet stoves have a high performance level. They are distinguished by the low consumption of logs and pellets. For example, Austroflamm wood stoves consume less than 9 kg of wood for 12 hours.  
For wood stoves
Austroflamm wood stoves have an output of 5 kW to 9 kW, depending on the model chosen. Their efficiency varies from 70 % to 80.1 %. The minimum heated volume is between 48 m3 and 82 m3 while the maximum heated volume is 124 m3 at 305 m3. 
For pellet stoves
The efficiency of Austroflamm pellet stoves is significantly higher than that of wood stoves. It can reach 90 %: the lowest efficiency is 80 %. The minimum heating volume is about 98 m3 and the maximum heating volume can reach up to 255 m3. The output of Austroflamm pellet stoves is about 8 kW.
For mixed stoves 
Austroflamm combination stoves have an efficiency of over 90 %. Their heating surface is often between 98 m3 and 255 m3depending on the model. As for their power, it varies from 8 kW to 10 kW. 
The performance of the most popular AUSTROFLAMM stove models:
| | | | | |
| --- | --- | --- | --- | --- |
| Model | Performance | Heating volume | power | Type of stove |
| BonoXtra | 80, 1 % |  48 to 124 m3 | 5 kW |  Wooden |
| Koko 2,0 | 70 % |  65 to 165 m3 | 6 kW | Wooden |
| Pallas | 78, 7 % |  114 to 305 m3 | 9 kW | Wooden |
| Uno Xtra  | 80,1 % |  82 to 210 m3 | 7 kW | Wooden |
| Wien  | 80 % |  65 to 165 m3  | 6 kWA | Wooden  |
| Xtra Nail | 80 % |  98 to 255 m3 | 8 kW | Wooden |
| Nail pellets | 90 % |  98 to 255 m3 | 8 to 10 kW | Pellets |
| Duo nail  | 89 %  | 98 to 190 m3 | 7 kW | Mixed |
The advantages of the AUSTROFLAMM brand
To satisfy its users, Austroflamm relies on mainly on the design. The brand's wood and pellet stoves become a decorative element in their own right when integrated into a home.
Austroflamm also stands out for the quality of its stoves. All its products guarantee efficient heating while being resource efficient (logs or pellets).
Another advantage of Austroflamm stoves is that they have a huge heat storage capacity thanks to the HMS system developed by the company. In addition, the development of the Xtra heat memory system. The two techniques combined ensure a very long heat accumulation with low wood consumption. 
Prices of AUSTROFLAMM stoves
Austroflamm wood and pellet stoves are sold at reasonable prices. Specifically, the price ranges from €2,290 to €8,990, depending on the type and model of stove. Considering the efficiency of each device and its heating volume, the purchase of an Austroflamm stove is a profitable investment.
| | |
| --- | --- |
| Model | Price incl. VAT (without shipping costs) |
| Bono Xtra | 4 390 € |
| Koko 2,0 | 3 590 € |
| Pallas | 4 490 € |
| Uno Xtra | 4 590 € |
| Wien | 2 290 € |
| Xtra Nail | 5 490 € |
| Nail pellets | 6 290 € |
| Duo nail | 8 990 € |
Space requirements for AUSTROFLAMM stoves
Austroflamm stoves are available in different sizes. Among the smallest stoves is the Wien model with a length of 709 mm, a width of 690 mm and a depth of 582 mm. In the category of large models, we find the Xtra Nail with a length of 1296 mm, a width of 630 mm and a depth of 450 mm. 
In any case, the size of some models is rewarded by their elegance. 
| | |
| --- | --- |
| Model | Dimensions (Height x Width x Depth) |
| Wien | 709 x 690 x 582 mm |
| Nail pellets | 1100 x 630 x 501 mm |
| Xtra Nail | 1296 x 630 x 450 mm |
| Bono Xtra | 1150 x 460 x 435 mm |
| Koko 2,0  | 114 x 546 x 427 mm |
Overall opinion on AUSTROFLAMM wood and pellet stoves
Austroflamm wood and pellet stoves are highly regarded for their performance, low consumption and design. They store heat for several hours, and that's their big advantage. Which makes them a worthwhile investment. If you're looking for a stove that's both economical and environmentally friendly, Austroflamm wood and pellet stoves are excellent choices. 
Juliena mechanical engineering graduate and specialist in climate engineering since 2009, has become a writer specializing in renewable energies, with expertise in heat pumps and photovoltaic solar panels for individual housing.