Heat pump installation in Geneva : All you need to know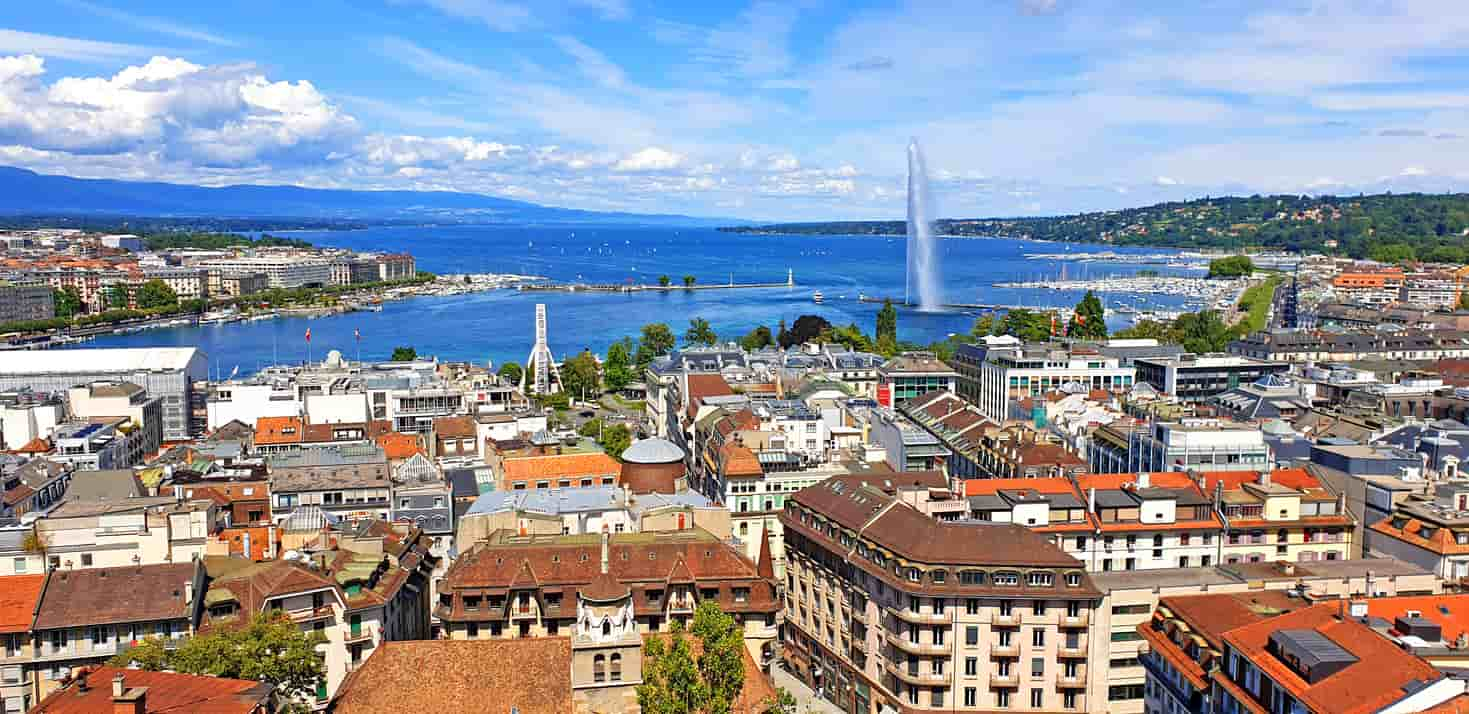 Heat pump installation in Geneva : All you need to know
If you live in the Geneva area of Switzerland and are looking to install an air-to-water heat pump, this article may be of use to you.
There are a few things to consider before installing a heat pump in Geneva. Is the climate suitable for installation? Which installer should I choose for my air-to-water or geothermal heat pump in Geneva? What is the cost of installing a heat pump in Geneva?
We will answer many questions in this text.
Is the climate in Geneva suitable for the installation of a heat pump?
Switzerland is known for its rather cold climate, but it varies significantly depending on the region or canton considered. This is the case in Geneva. In general, the average annual temperature is always above 5°C. However, if you are in Geneva, which is located on the lake and therefore benefits from the mild climate that the lake provides, then your average temperature will be even higher.
The average temperature in Geneva is about 10°C. Although in December, January and February the average temperature drops more towards 1 or 2°C, the other months of the year raise the average. In fact, for most of the year, the average temperature is always positive. However, there are freezing periods when it drops below 0°C, and this happens a few times. If you have a whole week with temperatures below 0°C, it is already quite exceptional.
These temperature considerations are important because they affect the use of a heat pump and its proper operation. If it is freezing all the time, the heat pump may have more difficulty operating, it may use more energy or it may freeze.
In Geneva, the heat pump is well adapted to the climate. Even if it is very cold for a few days, and your heat pump needs to be assisted by a small electrical resistance to compensate for the lack of power, the consumption due to this resistance will generally be very low because it will only be running for a few days this year.
So as far as the climate is concerned, nothing to report, everything is green to install a heat pump.
Which installer for my heat pump in Geneva?
If you are looking for a heat pump installer in Geneva, you can search the internet. You may find the first three listings on Google My Business if you type in the word "Heat Pump Geneva".
First, I will give you some tips on how to choose a heat pump installer in Geneva, and then I will suggest 3 methods to find one in Geneva, whether he is from Geneva or not.
Some tips for choosing a heat pump installer in French-speaking Switzerland
There are several important factors to consider when selecting a heat pump installer:
His experience in heat pump installation and in the construction market makes him a good choice for a professional installer.
There are several sources of information on this topic. Google is a good source for finding information about the company's services, but it is not as effective at filtering out fake reviews as Trustpilot. However, other sites like Trustpilot can be helpful, but nothing beats the experience of talking to an installer and asking questions.
The company is qualified for the GSP or PAC system, as it would be a shame to sit on several thousand CHF.
If there is a problem with the installation of the heat pump, how quickly will the installer be able to repair it and ensure your comfort?
Some techniques to find a heat pump installer in Geneva
There are several options available to you.
This year, the Habitat & Jardin show in Lausanne will bring together some of the most important companies active in the field of energy renovation. This show will allow you to ask for quotes the same day, so you can save time by grouping the requests.
There are sites like devis.ch where you can request quotes and receive up to 4 specialized companies active on the Swiss market, but not always Swiss.
Can you ask your neighbor if his heat pump worked properly? They will probably give you the contact information for the installer. Word of mouth is always a powerful way to get things done.
Some installers showcase their work and strive to create interesting content just for your eyes to catch your attention and offer you an installation. Their business needs activity to continue its work, and if it's good quality, why not give them the opportunity to show you their expertise?
Browse the list of GSP qualified companies or PAC SM : this way you are sure to find a company with a label and to get your subsidies 😉
Is there any help or subsidy from the commune or the state for a heat pump in Geneva, Switzerland?
Switzerland is well developed in terms of energy renovation subsidies. Depending on the canton, the subsidies granted can vary but still represent a good sum to recover if you do things properly with the right installer.
In the canton of Geneva, heat pump subsidies range from about 6,000 CHF to more than 15,000 CHF, depending on the power of your heat pump and whether or not you need to create a hydraulic network (radiators or floor heating). This applies to the replacement of fossil fuel heating systems. This is the M05 grant.
These grants are part of the GEnergie 2022 Building Program. They are subject to several conditions as shown in the image below, which are subject to change.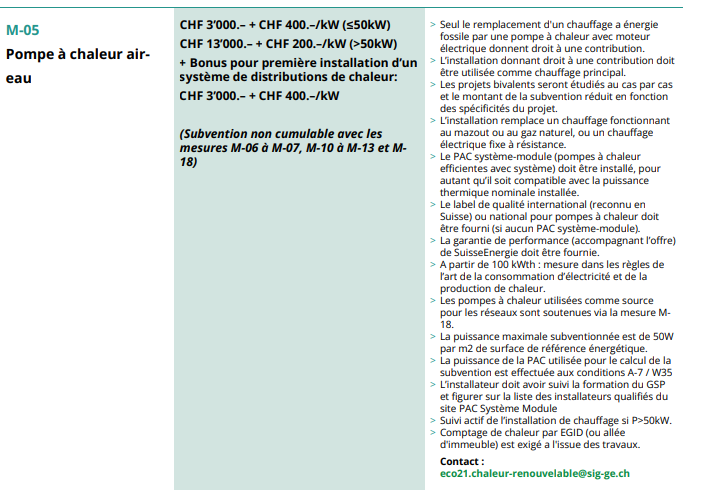 For more details you can consult the Genergie 2022 catalog on this link.
It is important to note that the grant application will be denied if you start the work before the Township approves it.
How much does it cost to install a heat pump in Geneva? More or less than elsewhere in Switzerland?
In French-speaking Switzerland, the price of a heat pump is generally more or less the same everywhere. It depends on the installer, but some have premium pricing policies, while others cut prices to capture the market. You can decide for yourself what is best for you.
If you're looking for the best prices, it can be worthwhile to compete and use quote companies that put installers in competition on your project. A site like Devis Ch allows you to get up to 4 quotes from installers. Often these methods lower the final prices for the consumer.
If you want to know more about the price of a heat pump in Geneva, you can browse our article on the price of heat pumps in Switzerland which will give you a good idea.

If you want a quick answer to your question, you can consider that a heat pump for a standard house of about 130'150m2 will cost in total, installed and connected, about 33'000CHF. And its electricity consumption will be about 2000-2500 CHF per year.
After studying mechanical engineering, Julian entered the world of climate engineering in 2009. After having built his experience in the ventilationand then in the heating with the largest manufacturers of German origin, he became an entrepreneur in the renewable energies and in particular a specialist in heat pump and solar panels photovoltaic systems for thehabitat individual.