The pellet stove is a heating device that works with wood pellets. Installing a pellet stove in your home allows you to save energy. Aware of the importance of this device and the benefits it offers, the company Invicta, a French brand offers the pellet stove Lodi 10. Discover everything you need to know about this stove through the description proposed in this guide. 
[all4affiliates id="1213″ title="Invicta Lodi 10″ pellet stove]
---
Don't feel like reading all the details and want a price quickly? Feel free to fill in this short form, and you'll receive a detailed offer for the purchase + installation of an Invicta Lodi 10 pellet stove in your home:
History of the Invicta brand
Invicta is a French company located in the Ardennes part of the Meuse Valley. The Invicta company, which has its industrial roots in the Ardennes, was founded in 1924 in Donchery, a major metallurgical centre. It was founded by Ferdinand Sueur. In 2013, the still family-owned company, having not found a successor, was sold to Qualium investissement, a carefully prepared transfer to guarantee its durability. 
In 2014, Invicta took on a new dimension by acquiring the Italian pellet stove producer, Caminetti Montegrapa. This has enabled it to become the European leader in heating. Its production site is located in the neighboring area of Vivier-au-Court.  
Specialty of the Invicta brand 
Invicta is an expert in wood heating solutions, designing wood and pellet stoves at a cost everyone can afford. The company is recognized for its expertise in enameling and casting. Its heating devices are certified by Origine France Garantie, and all carry the Flamme Verte label. 
Invicta offers a wide range of high-performance wood heaters with quality materials and inimitable style. Among the heating models offered is the lodi 10 pellet stove, which brings great flexibility to your home. With Invicta, enjoy comforting wood heat and bring a touch of novelty to your home with a modern appliance with contemporary style. 
invicta lodi 10 pellet stove, what you need to know 
As you know, the lodi 10 pellet stove is a design of the Invicta brand. This pellet model offers efficient heating to your home by improving its thermal comfort. It is a device that has several practical features to optimize the power of its heating. 
What does the invicta lodi 10 pellet stove look like?
The lodi 10 pellet stove has a graceful and pleasing look with a rounded structure and attractive, understated colors. The lodi 10 pellet stove has a large front window that provides a great view of the fire. It transports you into a magical and friendly atmosphere. 
Available in your choice of black, red or gray, it gives a modern look to your home. Thanks to its curvilinear structure, you can install it in any corner of your room, thus eliminating any potential problem of clutter. Its remarkable performance will undoubtedly seduce you and you will definitely adopt it.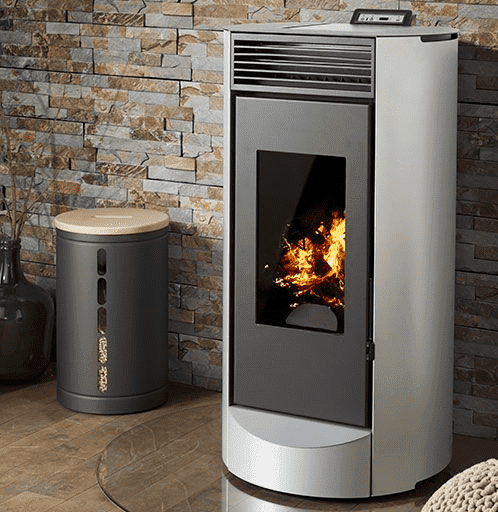 Performance of lodi 10 pellet stove (power) 
The lodi 10 pellet stove has a heat output of 9.5 kW. This allows you to adequately heat a small apartment or a medium-sized house. Indeed, the heatable volume is between 85 and 300 cubic meters. This represents an area of approximately 35 and 120 square meters depending on the height of the ceiling. 
This stove consumes about 0.67 kg and 2.31 kg of pellets per hour. Thus, with its hopper that can hold up to 16.5 kg of pellets, this device has an autonomy of 25 hours at minimum efficiency and 7 hours at maximum efficiency. In addition, this hermetic pellet stove offers an efficiency that ranges from 87 to 91%. 
The pellet stove emits a low accumulation of dust, approximately 12 mg of cubic meters and a rate ranging from 0.02 to 0.06% of CO. This makes it an impeccable and environmentally friendly device.    
Acoustics of the model 
The pellet stove can sometimes produce a noise because of the smoke extraction radiator. Nevertheless, you can adjust the power of the blower to reduce the noise. However, for the proper functioning of the stove, it is necessary that each room generates a sound. On average, the lodi 10 pellet stove emits a sound between 45 and 55 decibels.   
Price of the Lodi 10 pellet stove from Invicta 
To buy a Lodi 10 pellet stove from Invicta, you need to budget on average 1448.90 euros. You will also need to buy pellets to feed the stove. The pellets also called pellets in commercial language are fuels that come from the materials of wood processing. 
The prices of pellets in bulk are lower than the purchase of pellets in bags for a ton. Thus, the price of pellets in bulk is on average 274 euro per ton undelivered. The delivered ton is 285 euro depending on the supplier and the region, which corresponds to a price of 0.062 euro per kg. Regarding the price of pellets in pallets for one ton by 66 bags of 15 kg, it is 322 euros. This corresponds to 0.33 euros per kg.      
Control of the lodi 10 pellet stove
The lodi 10 pellet stove can be connected to an optional wifi kit in order to drive it remotely from a mobile system. Its heating power is adjustable between 3 and 9.5 kw on 5 speeds. Also, the heat emitted is distributed by an integrated radiator to reach the set temperature faster. 
Once this temperature is reached, the device maintains it at a constant scale. The device automatically switches to standby when the temperature inside exceeds the set temperature by three degrees Celsius. It restarts automatically when the interior temperature drops to one degree Celsius, below the set temperature. 
In addition, the lodi 10 pellet stove can also be set to daily, weekly or weekend programs. 
Daily programs: The pellet stove has two daily programs that allow two switch-ons and two switch-offs per day 
Weekly programs: this stove has four weekly programs that allow you to set four on/off times per day throughout the week  
Weekend programs: the device has two programs for Saturday and Sunday that allow two starts and two stops per day
In addition, this pellet stove can be controlled remotely with a remote control supplied with the purchase. As indicated by its energy efficiency, this device is less energy consuming and offers a two-year warranty.     
Dimensions of the lodi 10 pellet stove by Invicta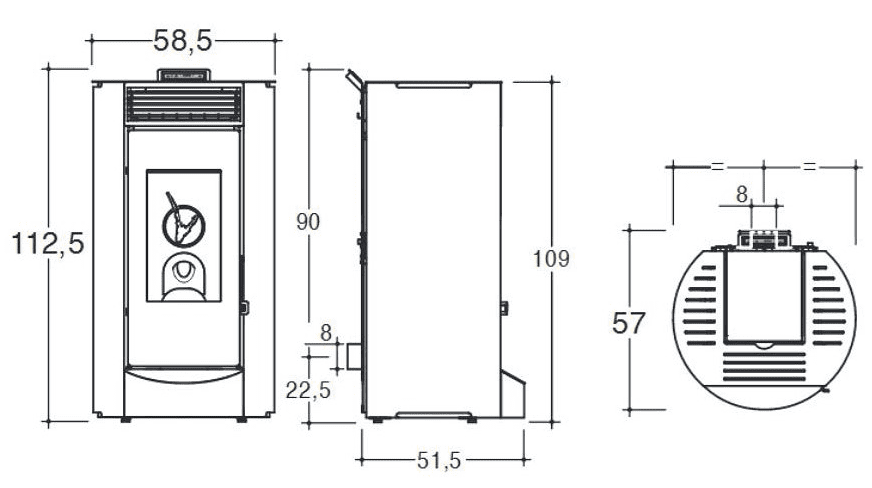 The pellet stove from Invicta has a heating surface ranging from 35 to 120 square meters. Its weight is approximately 86.88 kg. The device is 57.00 cm long, 58.50 cm wide and 112.5 cm high.   
The pellet stove from Invicta has a practical heating capacity for an apartment of about 120 square meters. Its heating power can be modulated on several speeds and programmed per day or for a week. In addition, it can easily be set remotely with the remote control that comes with it. The pellet stove is therefore a powerful device that has several features. To enjoy the services of trendy stove in the long run, it will be necessary to maintain it regularly. It will also be useful to call a specialist at least twice a year for a complete overhaul and sweeping.   
Juliena mechanical engineering graduate and specialist in climate engineering since 2009, has become a writer specializing in renewable energies, with expertise in heat pumps and photovoltaic solar panels for individual housing.