Wood heating appears to be an ideal solution in the face of changing energy policies and the need to limit the consumption of fossil fuels in Europe and the world.
The STÛV brand offers various models of wood heaters. Each has a very interesting performance, in addition to their elegant design. Here is our review of the STÛV wood and pellet stoves.
History of the STÛV brand
The Stûv company is the result of the association of Gérard Pitance and Benoît Lafontaine to create Concept et Forme. It is a research and product design office. But the story of the first product of the Stûv brand begins in the early 80's.
At that time, Gerard Pitance, an industrial designer, was looking for a fireplace to heat his home. Not finding a model that met his criteria, he decided to design his own product.
This first device includes all the elements that make Stûv a pioneer of innovation and difference. It seduced his acquaintances and his entourage. This is why Gérard Pitance decided to market it. 
In the 90s, the company decided to expand the team. It went from 5 people to 50 people. During this same period, the following were launched the Stûv 20.
 It is from the year 2000 that the company has really developed and has been recognized. In 2001, Stûv was awarded the President's Prize at the Lépine Competition. The launch of the models Stûv 30 and Stûv 21 took place between 2000 and 2006. At the same time, theBelgian company has opened its branch in France. 
Between 2007 and 2016, Stûv opened up to new horizons with the opening of the research and development center in Floreffe. This period was also marked by :
the creation of the first Stûv Stores (these are 100 % Stûv stores),
the acquisition of the Dutch company Tulp,
the arrival of Jean-François Sidler as CEO.
In 2016, the company obtained the Red Dot Design Award 2016 for the pellet stove Stûv P-10. 
Specialty of the STÛV brand of stoves
The Stûv brand distinguishes itself from others by the innovative products it offers. For example, the Stûv 30 model is the first 3 in 1 wood stovethat is to say that it can be used with a glass door to enjoy the spectacle of the flames, with a full door which limits the radiation, or open door which allows to add the auditory sensation of the crackling of fire, the olfactory sensation of thesmell of woodand even to make a small barbecue! Moreover, Stûv offers the grill as an option.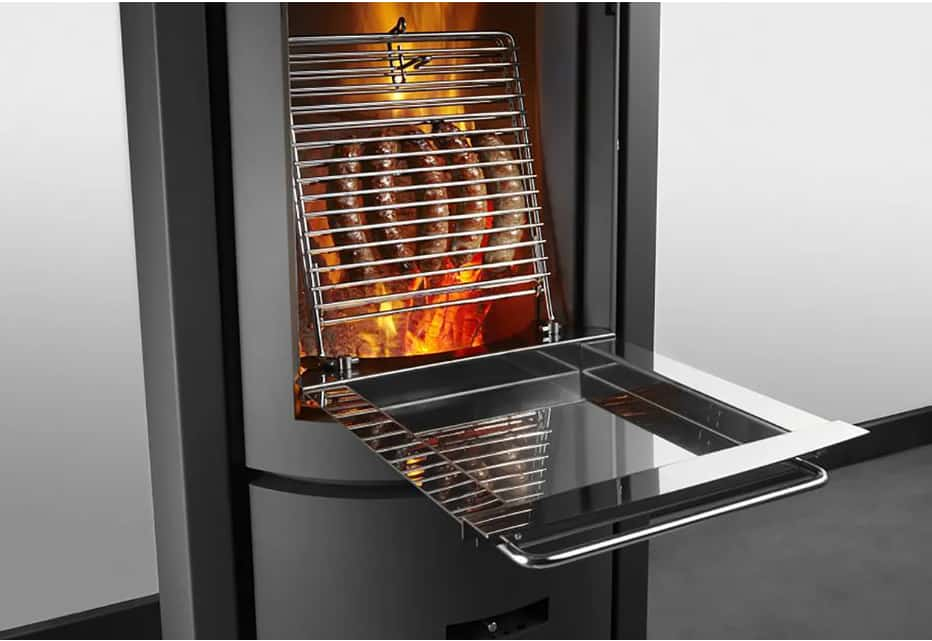 The brand also specializes in design of its stoves in order to make them appliances that fit perfectly into various environments. For example, on the same product, the Stûv P-10 pellet stove, the finish of the base can vary from steel to oak bleached or dark, without forgetting that the brand remains open to any specific request for customization.
The different types of stoves of the STÛV brand
Stûv offers different types of wood and pellet stoves. All are designed to meet the most demanding needs in terms of quality, design and performance. 
The wood stove
Stûv wood stoves are a combination of efficiency, ingenuity and design. From an aesthetic point of view, they are distinguished by the clean lines of the flames. What to enhance the charm of your home. Also, the highly sophisticated combustion techniques guarantee an advantageous performance. 


Stûv wood stoves are easy to install. They are particularly suitable for low-energy homes and are available in different models: 
wood stove with integrated log storage like the Stuv 16-H,
suspended wood stove like the STÛV 30-UP
wood burning stove like the Stûv 30-Compact In
wood-burning stove, such as the STUV 30-H storage. (the accumulation kit still weighs about 150kg and allows to obtain 10h of heat radiation even after the stove is turned off)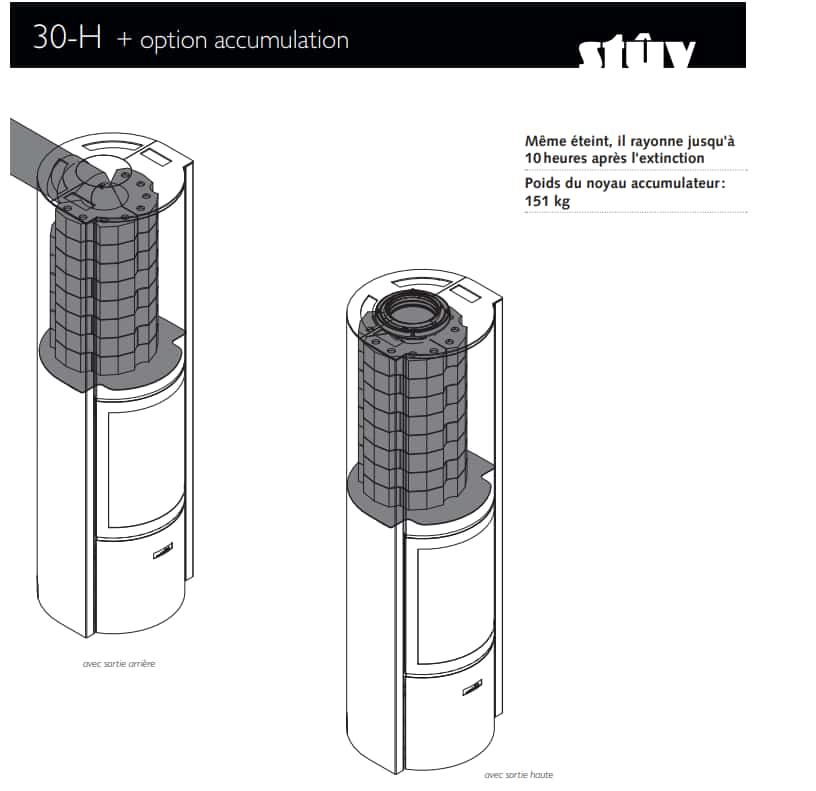 Note: Wood stoves of the same family can have different models and sizes. For example, there are 3 categories of STÛV 16 :
UP for hangers,
CUBE, which consists of a simple fireplace without log storage
and H which is the model with a log storage.
Most models can have 3 different sizes:
This allows them to be adapted to all kinds of rooms.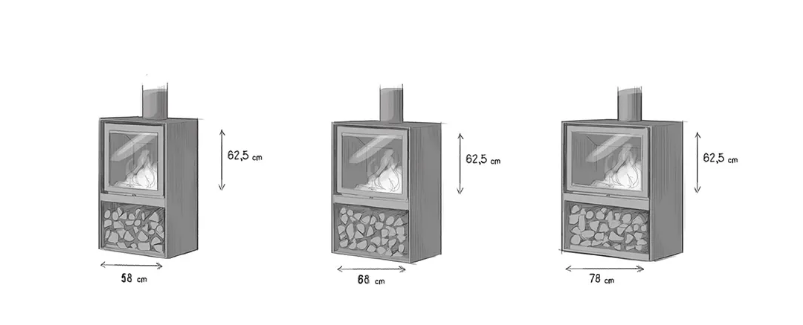 The Stûv P-10 pellet stove
The Stûv P-10 pellet stove impresses with its elegance. Its upper part rotates manually at 90°C to direct the heat. It also provides a better view of the fire through the large glass window.
The Stûv P-10 pellet stove is easy to use. It has an ash drawer designed to remove the ashes. In addition, there is a loading hatch for loading the pellets at hip height.
This model, which is the only one in pellet version, is available in 3 finishes:
Steel
Bleached oak
Dark oak
And even better, the base is customizable.
Thermal performance and consumption of STÛV stoves
Most Stûv stoves have an efficiency of over 75 %. And in terms of consumption, they are among the most economical stoves on the market.
For wood stoves
Stûv wood stoves have an advantageous efficiency. Specifically, the efficiency of each product is about 80 %. The minimum efficiency is 75 %, while the maximum efficiency can reach up to 90 %. 
As for the power, it varies from one stove to another. Nevertheless, it is generally between 4 kW and 13 kW. And as far as consumption is concerned, The consumption range of each wood stove varies from 1.1 - 2 kg/h to 2.4 - 3.6 kg/h. These are low consumptions compared to other brands of wood stoves. 
For pellet stoves 
The Stûv P-10 pellet stove is particularly known for its high efficiency. It can go beyond 90 %. His reduced fine particle emissions also make this pellet stove an exceptional equipment. Indeed, the Stûv pellet stove emits 1,000 times less fine particles than an open fire and 240 times less than an older generation stove. As for CO emissions, they are barely detectable. 
The performance of the most popular STÛV stove models:
Family 
Model 
Size HxWxD (mm) 
Performance
Wood consumption range (kg/h)
Power
STÛV 16 
STÛV 16 Cube 16/58
625 x 580 x 456
78%
1,4 - 2,3 kg/h
5-8 kW
STÛV 16 Cube 16/68
625 x 680 x 456
77%
1,5 - 2,6 kg/h
5-9 kW
STÛV 16 Cube 16/78
625 x 780 x 456
75%
1.8 - 3.0 kg/h
6-10 kW
STÛV 16/58 H
1010 x 580 x 456
78%
1,4 - 2,3kg/h
5-8 kW
STÛV 16/68 H
1010 x 680 x 456
77%
1,5 - 2,6kg/h
5-9 kW
STÛV 16/78 H
1010 x 780 x 456
75%
1.8 - 3.0kg/h
6-10 kW
STÛV 30
STÛV 30 
1230 x 575 x 560
81%
1,4 - 3,4 kg/h
5-12 kW
STÛV 30 H
1950 x 575 x 555
81%
1,4 - 3,4 kg/h
5-12 kW
STÛV 30 UP
669 x 575 x 602.5
83%
1,3 - 2,4 kg/h
5 - 9 kW
STÛV 30 Compact
1040 x 465 y 447
> 80%
0,8 –
2,5 kg/h
3-9 kW
STÛV P-10
STÛV P-10
1400 x 480 x 565
90.5%
0,6- 1,8 kg/h
2,4- 8kW
STÛV 6-H
STÛV 6-H 60×65
650 x 600 x 430
80 %
1,1-2,5 kg/h
4-9 kW
STÛV 6-H 70×73
725 x 700 x 430
79 %
1.3 - 3.1 kg/h
4,5- 10,7 kW
STÛV 6-H 80×80
800 x 800 x 430
79 %
1.4 - 2.9 kg/h
5- 13 kW
The advantages of the STÛV brand
The main advantage of the STÛV brand is the diversity of its accessories. Indeed, all Stûv wood and pellet stoves are supplied with various accessories: 
inserts,
executives,
of the storefronts,
of the bases,
drawers.
The goal: to optimize and facilitate the use of each stove. 
Another asset of the Belgian brand: the variety of stove models and sizes that it offers. This simply means that Stûv wood and pellet stoves can be adapted to all needs, all interior styles and all budgets.
Prices of STÛV stoves
The prices of STÛV wood and pellet stoves depend mainly on the model and size. Given their performance and quality, the price remains reasonable. It varies from 2 545 € to 5 383 € TTC, depending on the model and size chosen.
| | |
| --- | --- |
| Model | Price includes VAT |
| STÛV 16 CUBE (narrow, medium, wide) |  2 626 €/2 813 €/3 063 € |
| STÛV 30 Compact  | 3 640 € |
| STÛV 30 Compact H with storage | 4 438 € |
| STÛV 30 (narrow, medium/large) |  4 142 €/4 352 €/4 238 € |
| STÛV P-10  | Starting at €4,800 |
Dimensions of the STÛV stoves
STÛV wood and pellet stoves are quite bulky, depending on the model. The STÛV 30 Compact H storage stove, for example, can be up to 180 cm high. The STÛV P-10 pellet stove is 140 cm high, 56.5 cm wide and 58 cm deep. Of course, there are also models that are perfectly suited to small spaces. This is the case with the STÛV 6 H, which measures 60 cm by 65 cm.
| | |
| --- | --- |
| Model | Dimensions (H x W x D) |
| STÛV 6 H narrow | 60 x 65 cm |
| STÛV 6 H intermediate | 70 x 73 cm |
| STÛV 6 H wide | 80 x 80 cm |
| STÛV 30 | 57,5 x 123 x 56 cm |
| STÛV 30 compact H with storage | 180 cm high |
| STÛV P-10 | 140 x 56.5 x 48 cm |
Overall opinion on STÛV wood and pellet stoves
Elegance, performance and increased efficiency... These are three adjectives that perfectly describe the STÛV wood and pellet stoves. The brand manufactures stoves that meet all needs and tastes. Above all, STÛV wood and pellet stoves meet by far the strictest requirements in terms of efficiency and emission of CO 2 and fine particles. They are environmentally friendly and cost-effective. The strong point of the Stûv stoves is its proposal of an original 3-door system which allows to vary the pleasure, and even to make a barbecue in open door.
After studying mechanical engineering, Julian entered the world of climate engineering in 2009. After having built his experience in the ventilationand then in the heating with the largest manufacturers of German origin, he became an entrepreneur in the renewable energies and in particular a specialist in heat pump and solar panels photovoltaic systems for thehabitat individual.