Thermor is one of the 16 brands of Atlantic, an international group of French origin that designs, manufactures and markets thermal comfort equipment for the residential, collective and tertiary markets. The brand offers radiators, towel dryers, connected water heaters, air-to-air and air-to-water heat pumps and pool heat pumps.
Founded in 1931 near Orleans by the Maure brothers, Thermor is particularly present in France and Spain, and is rapidly developing in Belgium, Russia and Portugal. What is the value of the Aeromax 2, the only pool heat pump offered by the brand today?
Before continuing, if you wish to receive 3 quotes for your swimming pool heat pump by our Pros partners, you can fill in this form below : valid in France, Belgium and Switzerland.
Aesthetics of the Aeromax 2 heat pump from Thermor
From a distance, the Aeromax 2 has a plain design, with a classic rectangular shape and a solid color. It could easily be mistaken for the outdoor unit of a mid-range air-to-water heat pump. It is when you get closer to the heat pump that you notice the beautiful finish.
The unit is a beautiful grained gray, the fan is perfectly integrated into the unit, and the "Thermor" logo is carefully done, inlaid on a silver plate that brightens up the galvanized steel body a bit.
The look is sober and minimalist, which should please purists. In short, the Thermor Aeromax 2 is not a pool heat pump that you will try to hide at all costs. It will compliment your garden or your exterior.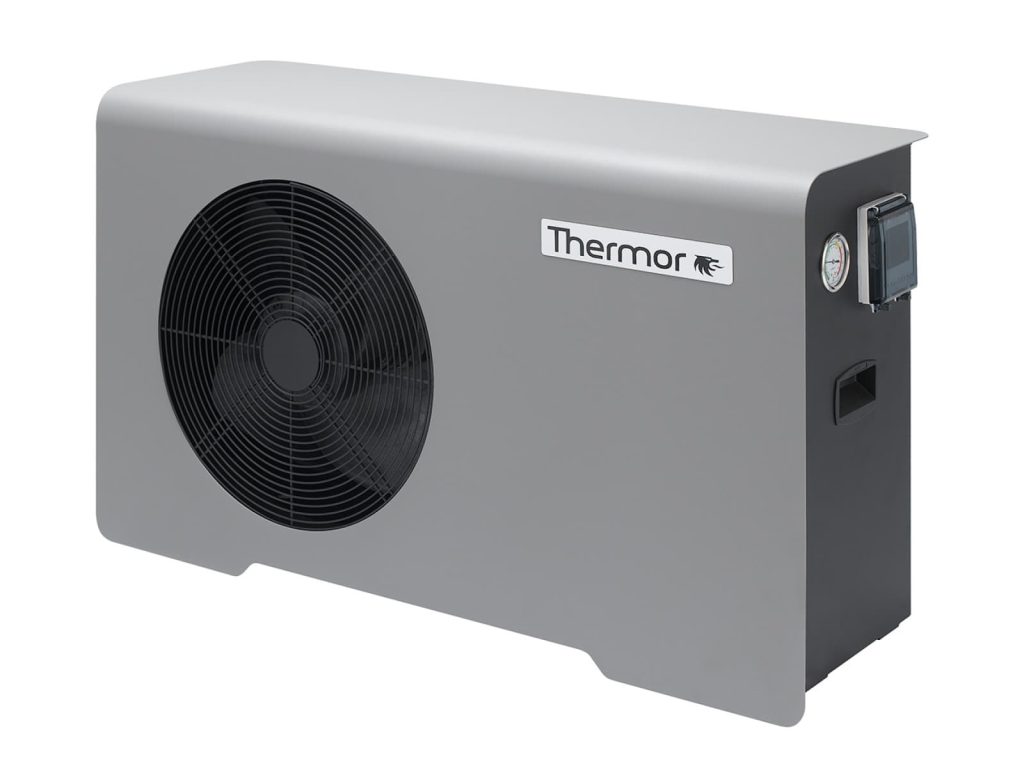 Performance of the Aeromax 2 heat pump from Thermor
Unlike brands such as Bestway, Poolex or Racer (from Cash Piscines), Thermor does not specialize in pool and spa equipment and materials. Does this affect its heat pump? Yes and no. We explain.
 Thermor's Aeromax 2 is a reversible heat pump available in four power ratings:
Aeromax Piscine 2 - 8kW, for pools up to 50 m3 ;
Aeromax Piscine 2 - 10 kW, for pools up to 65 m3;
Aeromax Piscine 2 - 12 kW, for pools up to 75 m3;
Aeromax Piscine 2 - 14 kW, for pools up to 90 m3.
It is therefore unfortunate that there is no model for small ponds of less than 50 m3. Here is a small table to summarize the measured performance of the 8 kW model according to climatic conditions and water temperature:
| | | |
| --- | --- | --- |
|   | Power output | COP |
| Air 15° C - Water 26° C | 8.28 kW | 4.39 |
| Air 24° C - Water 26° C | 10.03 kW | 5.32 |
As you can see, the COP is below what you can find in the competition, especially on the Zodiac Z200 M2, the Jetline Premium Full Inverter from Poolex or the entry-level model from Racer which all exceed 5.5, with a peak of 6.2 for the Racer. As a reminder, a COP of 5.32 means that you consume 5.32 times less than the heating power brought to the pool, which is still reasonable for this price range.
Please note If you are more familiar with the performance of heat pumps for heating or domestic hot water (DHW), do not be fooled by these high values. In fact, the COP of air-to-water heat pumps for heating rarely exceeds 4 or 4.5, because they operate at low or very low temperatures (winter) with much higher thermal loads.
The model includes a titanium exchanger, very important to avoid corrosion if you disinfect your pool with salt (electrolyser). This part is guaranteed for 5 years (compared to 2 years for the heat pump and electrical parts). This heat pump uses the R32 gas, slightly more efficient and less polluting than R410A.
Thermor offers an interesting model for its power, its COP, its design and its acoustic pressure (see below). However, there is a downside: an EE09 error appears when the ambient temperature exceeds 35°C. If the heat pump is switched off and is in full sun, the sheet heats up quickly and the sensor displays more than 35°C. It is then impossible to start the fan to cool the sensor. Moreover, the manufacturer mentions an operating range of outdoor temperature from 2 ° C to 35 ° C.
The acoustics of Thermor's Aeromax 2 heat pump
The manufacturer's instructions only give the sound pressure at a distance of one meter for the 8 kW model, i.e. 54 dB(A), but we can calculate the sound pressure at 5 and 10 meters by applying the following principle: the sound pressure (Lp), which is the acoustic quantity perceived by the human ear, decreases by 6 dB(A) with each doubling of the distance. Thus, a sound pressure of 54 dB(A) at one meter becomes :
39 dB(A) at 5 meters, equivalent to the noise produced by a quiet office;
33 dB(A) at 10 meters, equivalent to the noise of a bedroom at night.
This is less than the Racer heat pump (39 db(A) at 10 meters), the Hot Splash from Bestway (50 db(A)) or the Jetline models from Poolex, which produce between 44 db(A) and 72 db(A) depending on their power. As you can see, Thermor's Aeromax 2 heat pump is very quiet, which gives you more room to maneuver in terms of its location.
The price of the Aeromax 2 heat pump from Thermor
Thermor's prices are slightly higher than the market average, with the Aeromax 2 pool heat pump priced from €1,749 to €4,369. In detail:
Model Aeromax 2 - 8 kW (pools less than 50 m3) : 2 544,80 € TTC ;
Model Aeromax 2 - 10 kW (pools less than 60 m3) : 3 242,20 € TTC ;
Model Aeromax 2 - 12 kW : ( ponds of less than 70 m3) : 4 347,20 € TTC ;
Model Aeromax 2 - 14 kW : (ponds of less than 90 m3) : 5 942 € TTC.
Note that these prices were updated in February 2023 by Thermor, and that they do not include installation, each installer being free to set his own prices.
Availability of Thermor heat pumps
As Thermor is a French brand, its Aeromax 2 heat pump is widely available in France, but also elsewhere in Western Europe (Switzerland, Belgium, Spain...). The Aeromax 2 is available in all its power versions at Mano Mano, Cdiscount, Espace Aubade, etc. It is also available from installers who buy from their wholesaler or from the manufacturer.
Control of Thermor heat pumps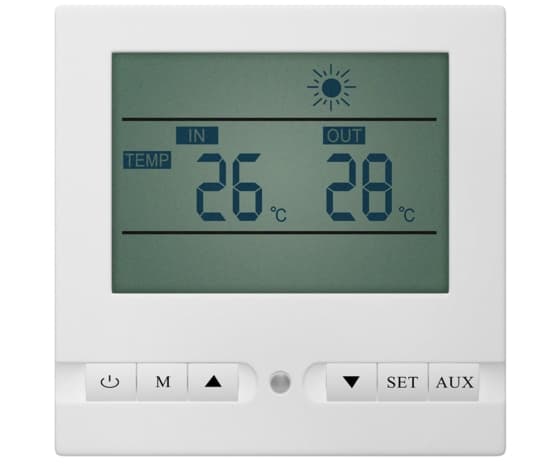 Day-to-day operation is very simple, thanks to the intuitive control panel on the left side of the heat pump. You can choose between three operating modes: "Eco", "Heat" and "Cool". You can set the on and off times via the timer.
The unit can be controlled remotely via the remote control thanks to the 10-meter cable supplied as standard. However, it is impossible to control the heat pump via smartphone, which is clearly a drawback given what the competition is offering.
Dimensions of the Thermor heat pump
Thermor's Aeromax 2 heat pump is larger than the market average:
| | | |
| --- | --- | --- |
| Model | Dimensions W x D x H (mm) | Empty weight (Kg) |
| 8 kW | 1,057 x 347 x 620 | 66 |
| 10 kW | 1,057 x 347 x 620 | 72 |
| 12 kW | 1 115 x 394 x 706 | 85 |
| 14 kW | 1,114 x 394 x 706 | 100 |
Accessories for Thermor heat pumps
The Thermor Aeromax 2 heat pump comes with the following accessories:
Winter cover ;
Remote control extension cable (10 m) ;
Cover + screws (the screws delivered are of good quality);
Fastening system (x 4) ;
Water inlet and outlet screw fitting (x 2) ;
Condensate drain connection (x 2) ;
Anti-vibration blocks (x 8).
Attention Note: The exhaust hose is not supplied by Thermor.
Juliena mechanical engineering graduate and specialist in climate engineering since 2009, has become a writer specializing in renewable energies, with expertise in heat pumps and photovoltaic solar panels for individual housing.