Among the brands of dryers most present on the web or in supermarkets, the Beko brand is unmistakable in terms of dryers and especially the latest evolution of the latter: the heat pump dryers. Indeed, this great company in the field of household appliances offers about fifteen references of heat pump clothes dryers.
Quick history of the brand Beko
The Beko brand is of Turkish origin. Founded in 1955 by Leon Bejrano and Vehbi Koç a renowned manufacturer, the Beko brand is the second largest brand in terms of sales volume in Western Europe. It is part of the Koç Group and more particularly Arcelik, its household appliance subsidiary.
In fact, in France Beko is the most purchased brand for all household appliances for do-it-yourself installation. Washing machine, dishwasher, tumble dryer, refrigerator, stove, etc. And since 2016 it has even ventured into air treatment and air conditioning!
Reminder on the heat pump dryer
While traditional tumble dryers are still numerous and in the majority, The heat pump dryer is a new type of condensing dryer that is gaining in popularity.
The simplest dryer is the exhaust model An electric resistance simply heats the linen to dry it. The resulting steam is evacuated from the room via an exhaust duct.
The condensation dryer also runs on electric resistance, but handles water vapour differently. It condenses it and recovers the resulting water in a tank. The lake must then be emptied for a few drying cycles.
The heat pump dryer is also a condensation dryer, but it does not produce any not heat via an electric resistance. It uses the heat pump model to create the heat that dries the laundry. Hot air (but not as hot as a conventional model) enters the drum and returns, loaded with moisture, to start the cycle all over again. The stages are as follows:
The air from the drum (at initial room temperature) is fed to the evaporator.
It passes through an evaporator, transfers its heat to the refrigerant and is dehumidified by the evaporation of the refrigerant.
It passes through the condenser, during which it is heated by condensation of the refrigerant in the condenser
It arrives in the drum
It is loaded with moisture
It returns to the evaporator to be dehumidified, and so on.
Moisture is collected in an emptying tray, or evacuated from the rear of the unit.
This heat pump dryer less damage to the laundryand consumes less energybut it costs more to buy.
All Beko heat pump dryers (TOP 9)
The Beko brand presents about fifteen different references regarding the heat pump dryers:
The vast majority offer an energy efficiency class of at least A++ and up to A+++.
Most operate on a humidity sensor: drying stops when the humidity sensor no longer receives the current sent by the electronic board, or only a very small percentage of it. This means that the linen is no longer wet, as it no longer conducts the current sent.
The drying capacity of the Beko heat pump dryers varies between 7 and 11kg depending on the model.
Here are 9 of Beko's most popular heat pump dryers:
| | |
| --- | --- |
| Model | Drying capacity (kg) |
| DH7512CA0W | 7 |
| DH10412CX0S | 10 |
| B3T48230W | 8 |
| B3T49233W IRONFINISH | 9 |
| B5T4102409W | 10 |
| B5T48243W | 8 |
| DH11412CX0W | 11 |
| DHP73W | 7 |
| SLP90AVW0 | 9 |
The Beko DH7512CA0W heat pump dryer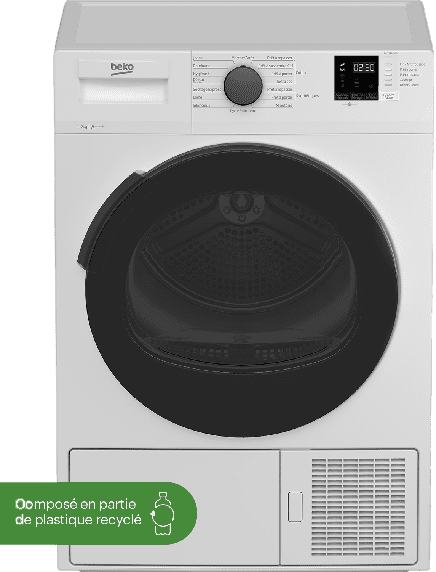 The DH7512CA0W is part of Beko's b300 series. It is a heat pump dryer with humidity sensor a capacity of 7kg.
Its annual consumption is estimated at 158.6kWh.
It has a 92.5 liter galvanized steel drumwhich is not as high quality as a stainless steel drum. This drum is Aquawave cellsand alternating rotation. The term Aquawave refers to the coating on the drum. Like conventional drums, an Aquawave drum minimizes contact between the laundry and the drum wall, which reduces wear and tear caused by friction.. For fragile laundry, this type of drum is ideal.
It proposes 15 programsFrom ready-to-iron cotton to jeans, down jackets and wool. The program standard cotton lasts 169 minutes, or 2h49min. This dryer also has a 14-minute express program. However, no comforter program to the appointment! It has to be said that a 7kg drum is a bit tight for a comforter, especially if it's a double-bed comforter.
In terms of design, the door is pretty transparent with a smoky appearance, but not reversible as on some models.
The DH7512CA0W weighs 41kg for dimensions of HxWxD = 84.6cm x 59.7cm x 53.7cm.
View DH7512CA0W technical data
The Beko DH10412CX0S heat pump dryer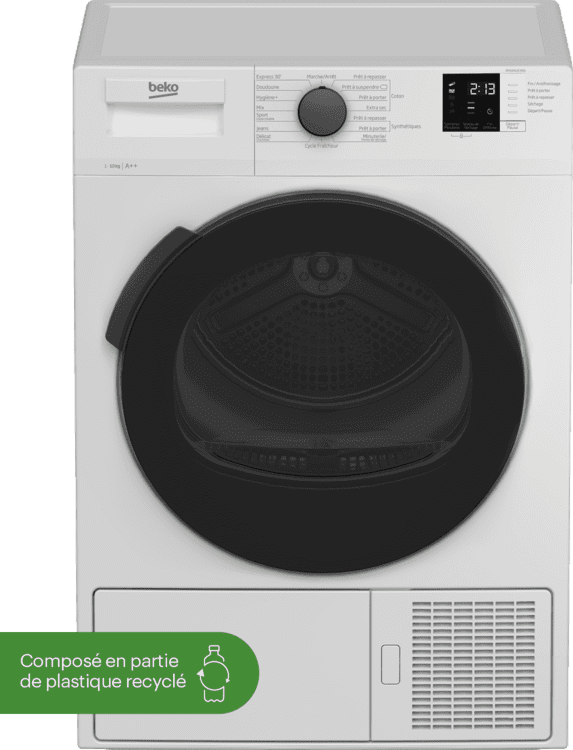 The DH10412CX0S is a heat pump dryer from the Beko b300 series, which features a 10kg capacity. It also works by humidity sensor to determine when to stop drying.
Sound stainless steel drum has a capacity of 110 liters. The surface is honeycombed Aquawave to prevent premature wear of linen due to rubbing.
In terms of programs, we find all the classics, including a duvet/coat program
Its weight is 41kgand measures HxWxD = 84.6cm x 59.7cm x 59.9 cm.
The Beko B3T48230W heat pump dryer
The B3T48230W is a heat pump clothes dryer with humidity sensor of the Beko b300 series which features a 8kg stainless steel drum of maximum capacity.
His annual consumption is estimated at 236kWh but of course it all depends on how you use it.
The stainless steel drum has a volume of 92.5 liters and is equipped with the Aquawave for less wear and tear on delicate linen, and features a LED lighting.
We find the 15 main programs, except for the quilt program. The standard duration of a cotton cycle is 197 minutes, or 3h17min.
Special feature of the B3T48230W: it features a Steam Cure which diffuses steam during the cycle to soften the linen and make ironing easier.
The door white transparent with a black lacquered window, is reversible.
Lightweight, the B3T48230W has a weight of 39.5kg for dimensions of 88.5 x 65 x 55 cm
See the technical data of the B3T48230W
The Beko B3T49233W IRONFINISH heat pump dryer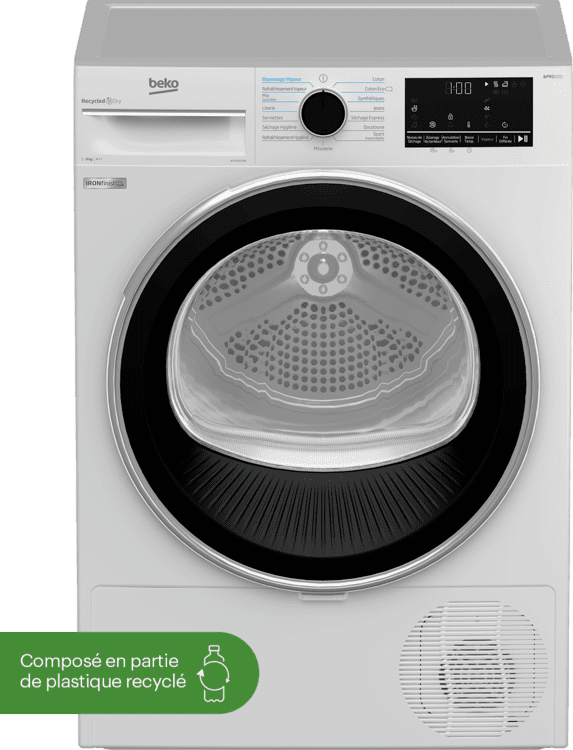 The B3T49233W is a heat pump dryer from the Beko range bPRO 500with a stainless steel drum of 9kg max.
The Annual consumption of this dryer is estimated at 258.6kWhThis will depend on how you use it. How often and what programs you use.
This model has a drum Aquawave stainless steel from 110 literswith LED lighting. The door is reversibleThis makes it easy to install wherever you like in your house or apartment.
Its weight is classic for a Beko, with 41kg and dimensions of 88.5 x 65 x 63 cm, allowing it to fit easily into a standard slot between two pieces of furniture.
In terms of programs, we find in particular a comforter programa sport / thermal programor a Steam Refresh program
Finally, this dryer has the Iron Finish technology which allows you to make ironing easier of garments. In fact, Iron Finish technology uses steam to produce an evenly distributed smoothing of the folds during the cycle.
The Beko B5T4102409W heat pump dryer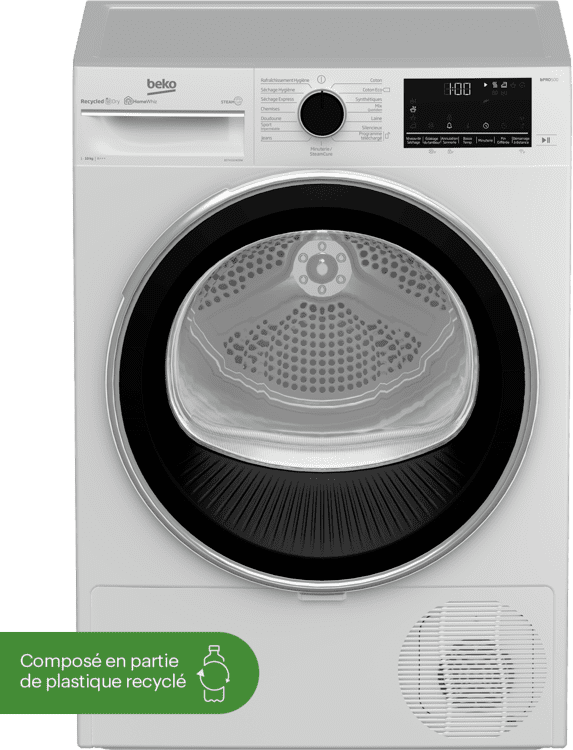 This is a heat pump dryer from the Beko range. bPRO 500 which works by humidity sensor to determine when to stop drying.
The stainless steel drum Aquawave has a 10kg capacity and a significant volume of 127 liters.
The annual consumption of the dryer is estimated at 210.6kWh for a standard use which will not necessarily be yours.
In terms of programs, thanks to the large capacity, there is a Comforter program. The standard cotton program lasts 3h40min which takes a very long time, but does not damage the linen, thanks to the controlled heat of the heat pump and to the Aquawave.
This device is equipped with the Steam Cure for softer laundry, with fewer wrinkles, more easy to iron.
In terms of size, this dryer is a little heavier with 47.5kg and dimensions of HxWxD = 84.6 x 59.8 x 67.2 cm.
The Beko B5T48243W heat pump dryer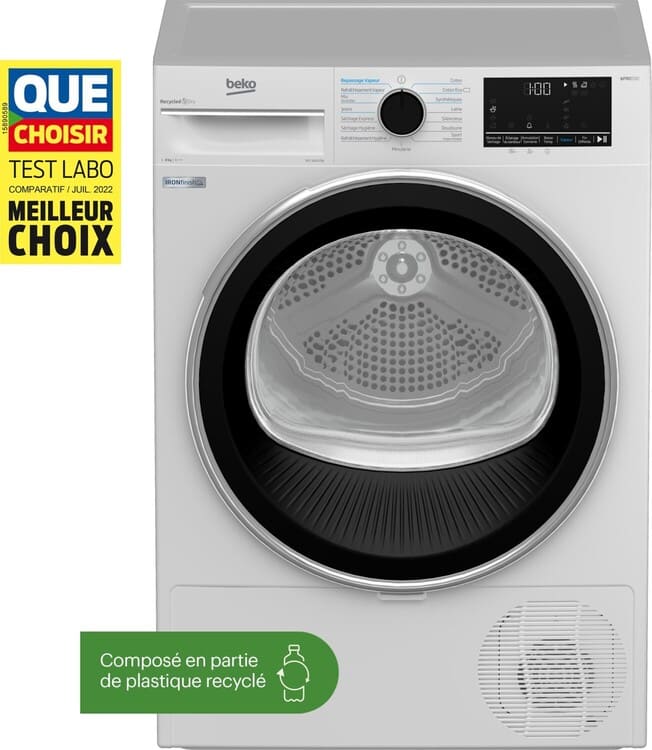 The B5T48243W is a little the star of the heat pump dryers Beko, since it was selected by UFC Que Choisir, famous product testing organization or website to help consumers choose.
The B5T48243W is a PAC dryer from the Beko bPRO 500 range that works with humidity sensor. It is equipped with a stainless steel drum with 8kg capacity and 110L volume with cells Aquawave to preserve the condition of the linen.
It also has the technology IronFinish which makes ironing easier thanks to the steam during the cycle as you can see on the video above.
Its nominal consumption is estimated at 176.8kWh which is rather low.
Despite its 8kg capacity, it features a Comforter program. It also has an Express program, Steam Refresh. The duration of the standard cotton cycle is 2h56min.
Finally, we can note his reversible door very practical for choosing where to install.
Its weight is 45kg for dimensions of HxWxD = 84.6 x 59.8 x 60.5 cm.
The Beko DH11412CX0W heat pump dryer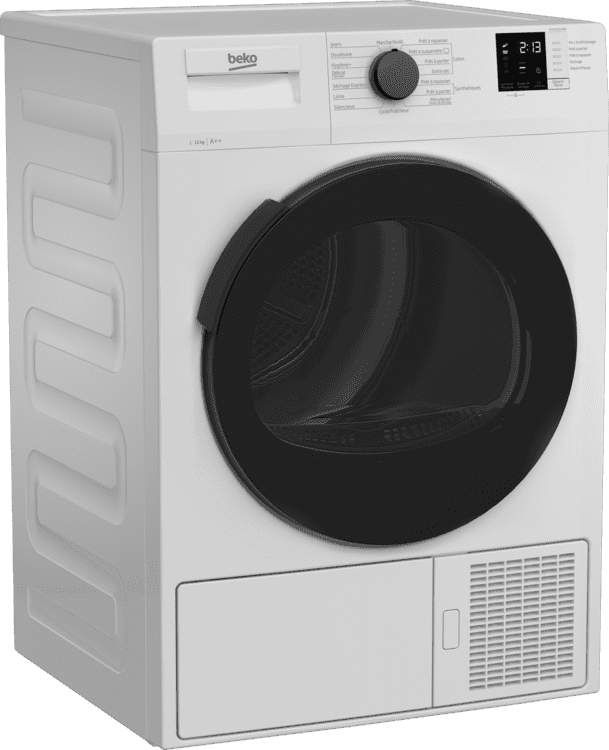 The DH11412CX0W is a heat pump dryer from the b300 from Beko. Its drum in stainless steel (Aquawave) offers a mega capacity of 11kg for a volume of 118 liters.
His annual consumption is estimated at 303.4kWhwhich is much higher than the B5T48243W of 8kg above.
We note the presence of 15 programs including the comforter program or the very practical 14-minute Express program. The standard cotton cycle takes 299 minutes, which is still 5 hours. Wow. That's pretty long.
The presence of a non-reversible door does not give this reference the practicality of others that can be installed anywhere.
With a weight of 47kgThis dryer has dimensions of 84.6 x 59.7 x 63.3 cm.
The Beko DHP73W heat pump dryer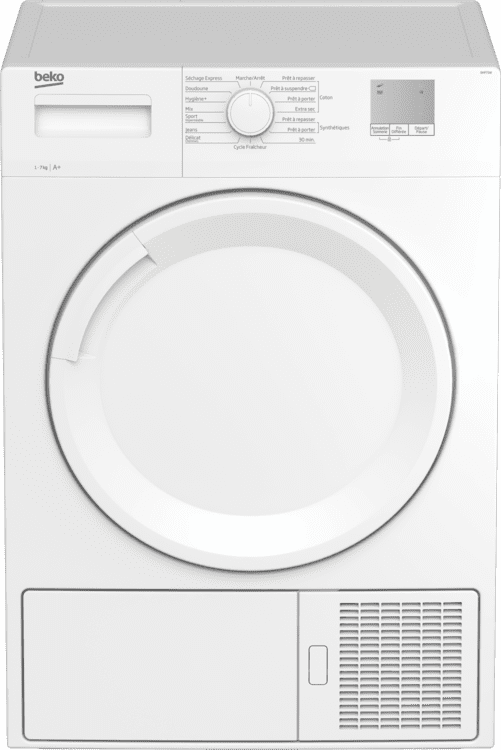 The DHP73W is a heat pump dryer fromfairly classic or basic appearance à opaque doorwhich proposes a galvanized steel drum, max. capacity 7kg.
Its estimated annual consumption is 277kWh.
It also proposes 15 programsincluding a program Downa program Mixprogram, a Hygiene program or a Express which lasts only 14 minutes.
It comes with the classic standard features, but doesn't necessarily have the special technology that newer models might have.
Its advantage is that it is cheaper than others, since its price often turns below 500€.
With a weight of 38.5kgIt has dimensions of 84.7 x 50.8 x 59.7 cm.
The Beko SLP90AVW0 heat pump dryer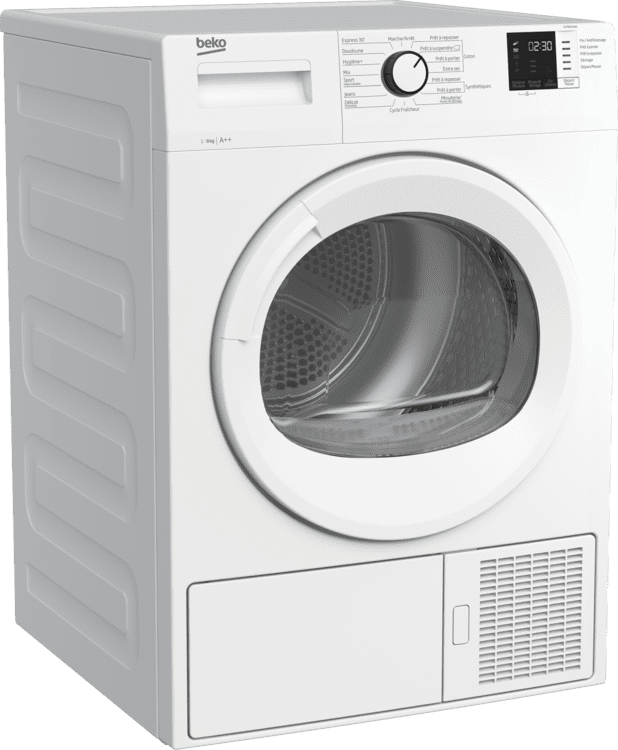 Highly sought after on the web the SLP90AVW0 also has a rather basic design all in white, which is a little less attractive than the smoked black or anthracite portholes of other, more design-oriented models.
This is a heat pump dryer from the Beko range. b300 which offers a drum Galvanized Aquawave of 9kg (110 liters).
In terms of programs, it offers 15 like the others, including a program Comfortera program wool refreshment or even Express 14 minutes for those in a hurry.
Its weight is 41kg and its dimensions of 84.6 x 59.7 x 59.9 cm.
In terms of price, it is relatively more affordable than its cousins, and can be found just under 500€.
The price of Beko heat pump dryers
Prices for Beko heat pump dryers range from €450 to €650, depending on the time of year and, of course, the model.
Beko heat pump dryer 7kg
[all4affiliates id="2180″ title="Beko 7kg heat pump dryer"]
Beko heat pump dryer 8kg
[all4affiliates id="2182″ title="Beko 8kg heat pump dryer"]
Beko heat pump dryer 10kg and more
[all4affiliates id="2184″ title="Sèche linge pompe a chaleur 10kg+"]
Acoustics of Beko heat pump dryers
In terms of acoustics, Beko tumble dryers feature Box in Box Silence walls to absorb some of the noise and reduce vibration.
As a result, most Beko heat pump tumble dryers achieve a sound power value of less than 65dBA, which corresponds to the noise of a normal conversation. This is still quite quiet, but of course there is a constant noise when the drum rotates.
Dryer wall box in box Beko :
Opinions on Beko heat pump dryers
Beko dryers are appreciated for their quietness as well as their ease of maintenance. Most reviews are unanimous about the quiet operation.
On the other hand, customers are quite satisfied with their energy savings, especially with the B5T48243W model, which consumes less than 200kWh per year. The latter is the model with the most positive reviews. In fact, it took part in a test by UFC que Choisir, which voted it the best product among 53 others!
Some models seem to generate quite a lot of laundry residue, especially the more basic models. It remains to be seen whether the program chosen is appropriate for the type of laundry inserted in the drum. Don't use an extra-drying program on relatively fragile clothes, otherwise your clothes will shrink very quickly.
Some consumers also complain about the length of cycles on certain models, but this is part of the heat pump dryer "philosophy". In exchange for energy savings, you'll have to accept at least one hour's extension of the drying cycle, which will then be around 3 hours, and can sometimes reach 5 hours (e.g. on the Beko Pompe à chaleur 11kg tumble dryer).
Notable technical features of Beko heat pump dryers
The Beko brand provides sophisticated technologies that preserve the quality of the laundry during the drying process and facilitate the post-drying operations.
Aquawave
The idea is to create a veil of water between the linen and the somewhat aggressive drum wall. The aim is to prevent the linen from being damaged by friction, and to maintain its quality dry after dry.
Steam Cure
This system uses steam during the drying cycle to produce softer, less wrinkled linen.
Iron Finish
Similarly, Iron Finish technology, as its name suggests, makes it easier to iron dried garments later. By using steam during the cycle, wrinkles are smoothed out, the garment is more supple and can be ironed without a hitch.
Overall opinion on Beko heat pump dryers
Beko heat pump tumble dryers are suitable for all households, with drum capacities ranging from 7 to 11kg. They feature efficient technologies to preserve your textiles so they last longer and don't shrink during drying.
What's more, for those who iron their clothes, Steam Cure or Iron Finish technologies save you time and elbow grease. There's no need to iron out stubborn creases. Clothes come out of the tumble-dryer without a hitch.
The power consumption is low, especially for the B5T48243W model, which is only 176kWh per year, so you can save a lot of money.
Beko heat pump dryers are very aesthetic, especially if their door is transparent with a black or anthracite window, the white versions appearing less sexy.
In short, buying a Beko heat pump tumble dryer is a good idea, but we think it's better to go for models that are a little more upmarket, with a transparent reversible door, a 10kg drum, and above all to choose an Iron Finish, which will save you energy when ironing!
Juliena mechanical engineering graduate and specialist in climate engineering since 2009, has become a writer specializing in renewable energies, with expertise in heat pumps and photovoltaic solar panels for individual housing.