A pellet stove is a central aesthetic equipment in an interior. It is a heating system that allows to to heat several rooms in a house simultaneously. In addition to being a solution economicthe pellet stove provides a unequalled comfort to your home. It is autonomous and easy to use. Rika a family business puts on the market its formula of pellet stove domo to make you enjoy a warm atmosphere in your home. This guide will tell you all about this stove model.  
TOP 3 ALTERNATIVES TO RIKA DOMO
[all4affiliates id="1246″ title="TOP 3 pellet stoves online"]
Would you like to know more about the purchase price + installation of a Rika Domo pellet stove? You are free to fill in the form below. Quick and easy: you will receive a detailed offer.
History of the rika brand
Rika is a family business founded in 1951 in Micheldorf, Upper Austria. It is directed by Karl Riener as the second generation. This family business embodies the following values innovationthe environmental protectionthe traditionthe design and the well-being. Rika has a laboratory where he designs his products.   
Specialty of the rika brand
Rika is a specialist for stove production in Austria. Each Rika stove is a piece of genuine Austrian quality. The company has at its disposal more than 250 employees who produce high quality pellet stoves and fireplace stoves. These are designed with the Industry 4.0 technology on the two manufacturing platforms in Adlwang and Micheldorf. 
In addition to its high degree of craftsmanship, rika finds in Austria an emotional attachment to wood, tradition and nature. A connection that is useful for the development and design of its stoves. This company, which has been in existence for 70 years and is today the leading manufacturer of pellet stoves in the German-speaking regions. It is one of the leading suppliers of stoves.     
Rika Domo pellet stove, what you need to know in brief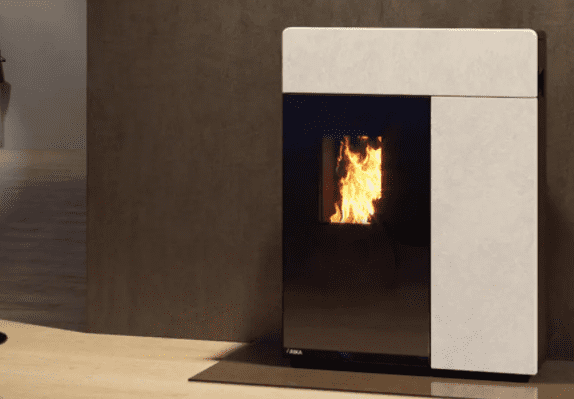 The domo pellet stove includes all the innovations of pellet stoves in one device to provide a optimal comfort and modern heating. This stove model is the most versatile of the Austrian producer. It offers high quality services such as intelligent performance management or thecontinuous feeding of granules. 
Shallow, it is available in different finishes: white stone, soapstone, sandstone, alabaster, black glass, steel and wood effect. The domo stove can be perfectly adapted to any type of interior. Providing a powerful and convivial heat, it gathers treasures of ingenuity. It is indeed equipped with a touch screenof a voice controlof a USB interface and a remote control. This stove also allows you to heat two additional areas thanks to theMultiAir option.    
What does the Rika domo pellet stove look like?
The domo pellet stove exhibits a unique designThe best choice for seamless control and maximum comfort. This model brings together aesthetic and style modern in a pellet stove innovative. With its large facade covered with sandstone or soapstoneit provides a natural atmosphere while you enjoy a nice flambé. 
The pellet stove will seduce you with its innovative internal structure. It has a simple and efficient interface, its flame is like that of a wood stove. It moves gently at high power behind the glass and covers the entire height. Its numerous connection possibilities simplify its installation in your interior.  
Performance of this stove
Equipped with a touch control panel and a screw, the domo pellet stove features a heating capacity ranging from 3 to 10 kw. This allows to to heat a small room or a medium-sized house. The heating capacity is between 70 and 260 cubic meters. This is equivalent to a large area of approximately 100 square meters depending on the height of the ceiling. 
The pellet consumption of the domo stove is between 0.6 kg and 2.4 kg per hour. As a result, its tank, which contains up to 50 kg of pellets gives it up to 70 hours of autonomy in continuous operation. In addition, this trendy stove offers a output of 90%.  
Air permeable, this stove is very well adapted in low consumption renovation. With the option Multiair Rika offers the possibility to heat up to four rooms simultaneously with the help of the connecting pipes. The domo pellet stove can be installed in zone 2 or 3 and guarantees the heating of a well-insulated apartment. The living room is heated by natural convection, but the upstairs is heated by a fan. The domo pellet stove has three functions.  
In manual mode
The stove is started and stopped by pressing the start button. The power can be adjusted from 30 to 100% by clicking the plus (+) or minus (-) touch buttons on the control panel. 
In automatic mode 
Two time slots are to be defined daily with a power set point. Thus, the domo pellet stove will operate at the set power during the time of the requested time slots. 
In comfort mode
Define two time slots with a temperature set point. The stove will operate during the time of the defined time slots maintaining the desired temperature.     
Acoustics of the Rika Domo
The noise of the domo pellet stove is not remarkable at all. Only the start-up and automatic cleaning phases are a little awkward but still acceptable. As for the auger that pushes the pellets down into the firebox, its noise remains light. And the sound of the pellets falling into the cast iron crucible is inaudible. 
With unventilated operation, the unit generates a noise of 32 to 35 decibels. From a ventilation operation up to 5, the noise varies from 36.5 to 45 decibels.   
Rika Domo pellet stove price
The natural convection version of the domo pellet stove is available at a price of 5,600 euros. The option Multiair with a fan is valued at 250 euros. For a second fan, it is necessary to plan 180 euros and to count 140 euros for a wireless temperature sensor. The prices given are exclusive of tax (HT).
Regulation
Thanks to the Rika Firenet option that comes with the domo pellet stove, the device can be controlled from a mobile app if wifi is enabled. Most of the possibilities are found on the application, but be aware that programming is not available. In particular, remote control allows for accommodation of working hours. 
For the same purpose, it is also possible to connect an external thermostat to the stove. This regulation offers several advantages, for example, it allows to anticipate the ignition of the heating according to the weather conditions. Therefore, the stove will automatically choose the best time to start up to ensure the set temperature using an intelligent heating algorithm.   
What is the overall dimensions of the stove?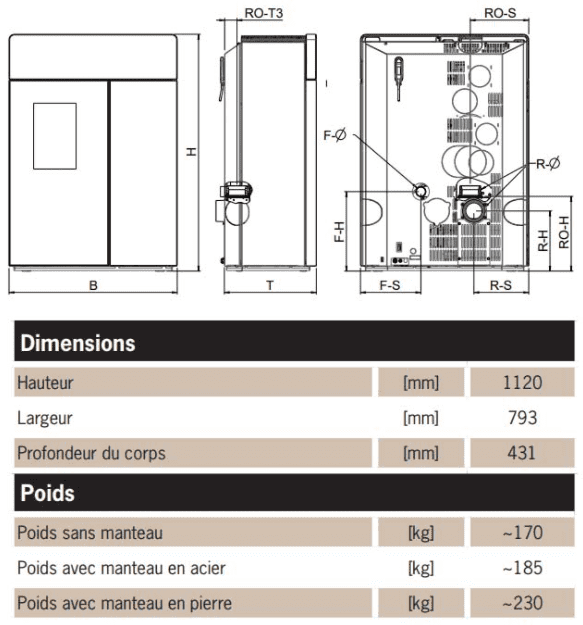 The domo pellet stove is shallow, about 43 cm and will be suitable for small rooms, although the flue connection is from the side or the top. Its 240 kg mass shows a high quality in terms of materials. This stove displays as length 79.3 cm and 111.5 cm height.
The Domo pellet stove from Rika is a safe model. It is very quiet, easy to use and has an incredible 3 days of operation. It is the heating of the central room by radiation and natural convection that gives it a silent operation even when a fan is connected. The touch screen makes it easy to use. In general, the domo pellet stove from rika is to be recommended. 
Juliena mechanical engineering graduate and specialist in climate engineering since 2009, has become a writer specializing in renewable energies, with expertise in heat pumps and photovoltaic solar panels for individual housing.