Faced with the energy crisis, the price of electricity and gas has soared. This inflation has created a rush of consumers towards cheaper wood heating. 
As such, The Jotul brand offers different stoves for households looking for an ecological but also efficient heating solution. Let's take a look at the features of Jotul wood and pellet stoves.
History of the Jotul brand
Created in 1853, Jotul, Norwegian manufacturer of wood and pellet stovesThe company, which has been in business for more than 30 years, is one of the oldest in the business, with cast iron inserts and fireplaces. 
After going through some crisis periods in 1929 and 1936, the brand has managed to develop and is currently positioned as a leader on the international market with 500 million euros in sales. 
It is present in 43 countries, including France. This expansion has been possible thanks to the support of a large network of distributors.
Faced with the challenges of global warming, the Jotul company has put the preservation of the environment at the heart of its concerns. 
To limit waste, the brand's appliances are made from recycled cast iron. These are brought by local scrap dealers and melted down with hydroelectric power. 
In addition, the company has installed its production plant on the island of Kråkerøy in Fredrikstad (south of Oslo). A residential area where the environmental requirements in terms of CO2 and particulate emissions are drastic. 
Moreover, research is being conducted by Jotul engineers on particle emission. The goal is to offer the brand's users clean-burning stoves.
 Specialty of the Jotul brand of stoves
The company offers its customers a A complete range of modern and traditional style wood stoves and a more recent and growing range of pellet stoves.
These products are all well known for their reliability and sobriety. 
Indeed, Jotul stoves benefit from the latest technological innovations: double combustion, airtight and clean glass for new models.  
However, the company still distributes its older models. Spare parts are still being manufactured. This allows early customers to refurbish and use their old stoves. 
By the way, The brand's earlier products are in high demand because of their excellent price/quality ratio. 
The different types of stoves from Jotul
As mentioned above, the Jotul brand offers a wide range of stoves, inserts and fireplaces. Consumers can choose from three energy categories: wood, wood pellets and gas.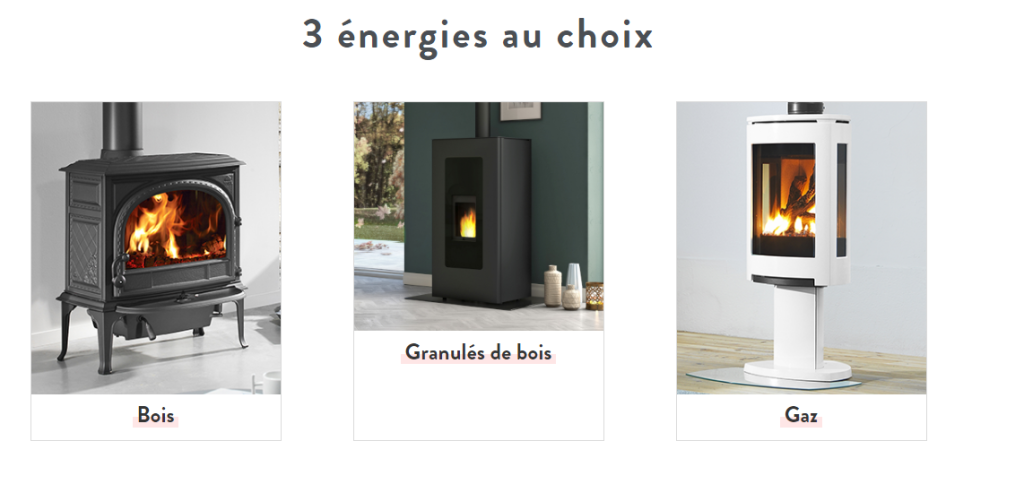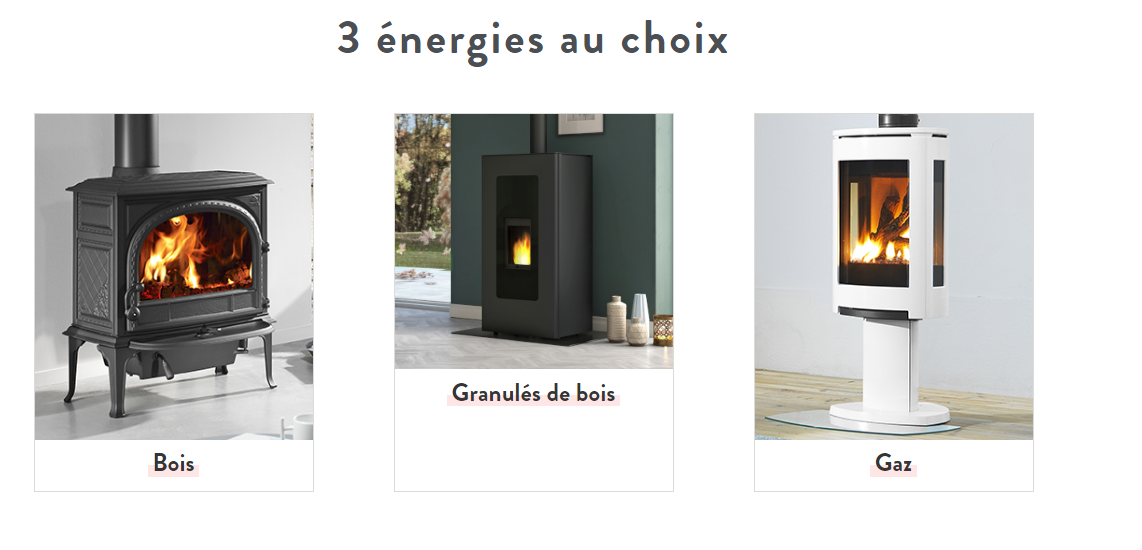 Pellet stoves
Jotul pellet stoves fit into any interior thanks to their design elegant and modern. Available in a variety of shapes, customers can choose the stove that best suits their decor and the room in which it is installed.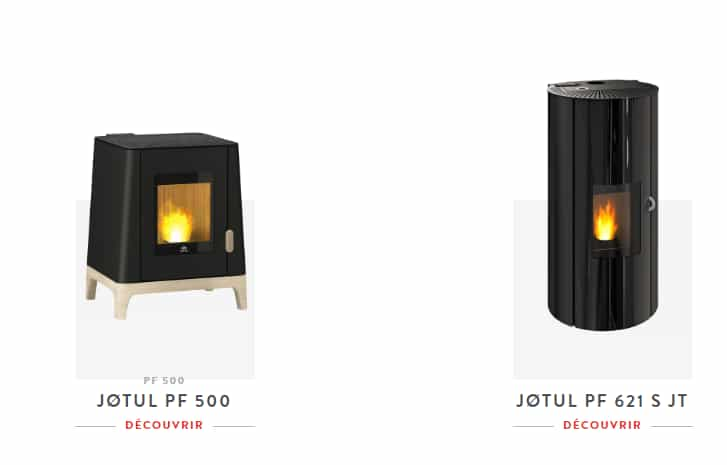 Jotul stoves incorporate the latest technological advances into their design. Firstly, a disengageable ventilation, this system allows a natural convection operation without ventilation and silent.
Secondly, these pellet stoves incorporate a hot air distributor and a direct air intake connection. These mechanisms improve the comfort and efficiency of the unit, but above all, they are compatible with new constructions meeting the RT 2012 standards. 
Thirdly, thanks to a large ash drawer, a glass sweep, an automatic cleaning cycle and a flow meter, the maintenance of the pellet stove is very easy. And these systems ensure optimal operation of the device. 
Finally, Jotul's engineers have created a Jotul Pellet Control mobile application. This application allows its users to manage the stove's functionalities from a smartphone or a tablet: automatic on/off, temperature.
Wood stoves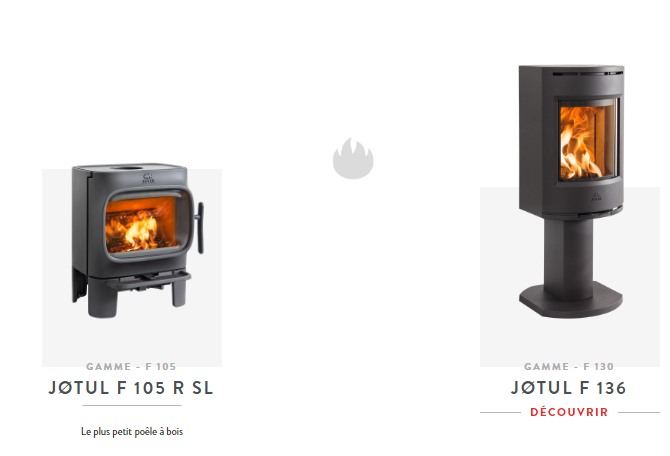 Jotul wood stoves are elegant and efficient. 
The range is declined in more than one fifty models with a modern design. In addition, with the concept-tube, the wood stoves of the Jotul brand are modest in size, but with a large capacity tank. Ideal for narrow rooms.
Jotul wood stoves consume few fuels and show excellent returns. The heat diffusion continues 12 hours after the fire is extinguished thanks to a heat accumulation system.
The Jotul brand products record few negative feedbacks. On the other hand, poor ratings are quite often the result of faulty installation or use.
Finally, it is worth noting that spare parts for Jøtul stoves can be ordered and replaced, which ensures longevity of the device.
Thermal performance and consumption of Jotul stoves
The brand's stoves are distinguished by their high performance and low consumption. This efficiency is the result of clean combustion system that distinguishes the brand's models.
For pellet stoves
The manufacturers of Jotul stoves use new technologies thanks to which the brand's products display 6, 7, 9 or 12 kW power. Note that it takes 1 kW to heat a space of 10m2 or 25m3. The stove consumes from 0.5 to 2kg of pellets per hour depending on the model chosen.
For wood stoves
They show a thermal power from 4.7 to 10 kWthe right heating solution for small apartments. As a main heating system, the stove requires 5 to 10 steres for a season. However, if it is a supplementary heating, the consumption will be about 3 to 6 steres. 
The stere of wood costs between 45 and 75 euros excluding delivery.
| | | | |
| --- | --- | --- | --- |
| Model | Performance | Heating capacity | consumption |
| Jotul Pf 721 | 91% | Up to 140 m2 | 0,5 - 1,6 Kg/h |
| Jotul Pf 800 | 91,5% | Up to 300 m2 | 0,56 - 1,82 Kg/h |
| Jotul Pf 921 S | 94% | Up to 340 m2 | 0,477 - 2,023 Kg/h |
| Jotul Pf 500 | 94% | Up to 200 m2 | 0,59 - 1,30 Kg/h |
| Jotul Pf 710 | 95% | Up to 275 m2 | 0,6 - 1,63 Kg/h |
| Jotul Pf 733 | 92% | Up to 275 m2 | 0,65 - 1,67 Kg/h |
| Jotul Pf 621 s | 94% | Up to 250 m2 | 0,5 -1,3 Kg/h |
The advantages of the Jotul brand
In order to satisfy its customers, the Jotul brand offers them a 25 year warrantyin addition to the legal guarantee, and this at no extra charge. Such a commitment is equivalent to a lifetime warranty on the device. 
Jotul stoves are also long-lasting and efficient. The company uses the best quality wood in the world in the manufacture of its stoves. cast ironan extremely resistant and non-deformable material. 
In addition, every part of the device can be replaced and Jotul spare parts are always available. This assures users of the durability of the product despite intensive use.
Jotul stoves prices
Jotul stoves are of high quality, but reasonably priced for top-of-the-line products. The price of a wood stove of the brand varies between 1545,60 € and 5 766,00 € taxes and delivery included.
Pellet stoves, meanwhile, cost between 2712 € and 5533.50 € all taxes included.
| | |
| --- | --- |
| Model | Price includes VAT |
| Jotul pf 733 (granulated) | 2712€ |
| Jotul pf 721 | 4343,50 € |
| Jotul pf 800 (granulated) | 3272 € |
| Jotul pf 921 s | 5414,50 € |
| Jotul pf 500 | 3748,50 € |
| Jotul pf 710 | 4581,50 € |
| Jotul pf 733 | 3082,10 € |
| Jotul pf 621 s | 3015,50 € |
| Jotul pf 1230 s | 5533,50 € |
Dimensions of Jotul stoves
The size of Jotul stoves depends on the model. Howeverthe brand has developed the concept-tubewhich offers its stoves a large tank for a small size. 
Among the least cumbersome, Jotul offers an XXS stove, the JØTUL F 105 SL, with: 550 mm height, 410 mm length and 325 mm depth. The size of this model is equivalent to a night table.
More suited to larger spaces, the Jøtul PF 1230 is 1170mm high, 549mm long and 499mm deep, about the size of a refrigerator.
| | |
| --- | --- |
| Model | Dimensions (H X W X D) |
| Jøtul F 105 Sl | 550 x 410 x 325 mm |
| Jøtul PF 1230 | 1170 x 549 x 499 mm |
| pf 721 | 800 x 200 x 150 mm |
| pf 800 | 1120 x 544 x 534 mm |
| pf 921 s | 1 126 x 570 x 587 mm |
| pf 500 | 737 x 618 x 657 mm |
| pf 710 | 1095 x 877.5 x 268.5 mm |
| pf 733 | 1,008 x 503 x 557 mm |
| pf 621 s | 1126 x 580 x 592 mm |
Overall opinion on Jotul stoves
Jotul wood stoves are suitable for large houses in regions with a harsh climate thanks to their Norwegian design. They are perfect for environmentally friendly wood heating in a modern living room.
In particular, the pellet model PF 500 and its vintage lookor the wood stove (logs this time) of the F-105 range and its small porthole look, look great in a contemporary living room.
Jotul's 25-year warranty is an asset of the brand, However, in order to benefit from it, the installation must be carried out by a dealer or installer certified by the brand, and the form must be completed within 3 months of your purchase.
Juliena mechanical engineering graduate and specialist in climate engineering since 2009, has become a writer specializing in renewable energies, with expertise in heat pumps and photovoltaic solar panels for individual housing.