In order to face the energy crisis and the climate issues, the State has set up several financial aids such as theeco-loan at zero rate or MaPrimeRenov'. This support is aimed at individuals who want to heat with greener solutions, including wood.
Opting for a wood or pellet stove to warm up is then an appropriate choice. The De Dietrich brand offers, in this regard, a wide range of ecological and economical wood and pellet stoves. And to help you decide, here is an analysis of the features of these products.
History of the De Dietrich brand
The history of the De Dietrich brand began in 1684 through the acquisition of the Jaergerthal forge by Jean Dietrich, its founder. 
In 1778, the latter received from Louis XVI the mark in the shape of a hunting horn to protect the company's products from counterfeiting. This symbol has remained the logo of De Dietrich products and is currently a guarantee of quality. 
With the industrialization, the brand became interested in the manufacture of railway and mechanical materials as well as automotive construction. 
From 1905 onwards, the company focused on mechanical engineering, the production of railway materials, equipment for the chemical industry, railway track fixtures, kitchen equipment and, finally, ofcentral heating appliancesits current flagship product.
Over the years, De Dietrich has created partnerships with large groups as part of its expansion. Currently, the company forms with Remeha and Baxi the BDR Thermea group, one of the largest industrial consortia in thermal comfort with a presence in more than 50 countries.
Specialty of the De Dietrich brand of stoves
De Dietrich distinguishes itself from its competitors by the performance of its products and its mastery of the thermal comfort sector.
The brand offers its customers a wide range of heating and hot water solutions. All the appliances manufactured by the company are high energy performance, low environmental impact, but with an elegant design. 
The hunting horn, the legendary logo of the brand, is a guarantee of the quality of its products and a protection of the users against possible counterfeits.
The different types of stoves of the De Dietrich brand
The De Dietrich company distributes various models of wood and pellet stoves. Each household is sure to find the stove that will fit its interior and meet its heating needs.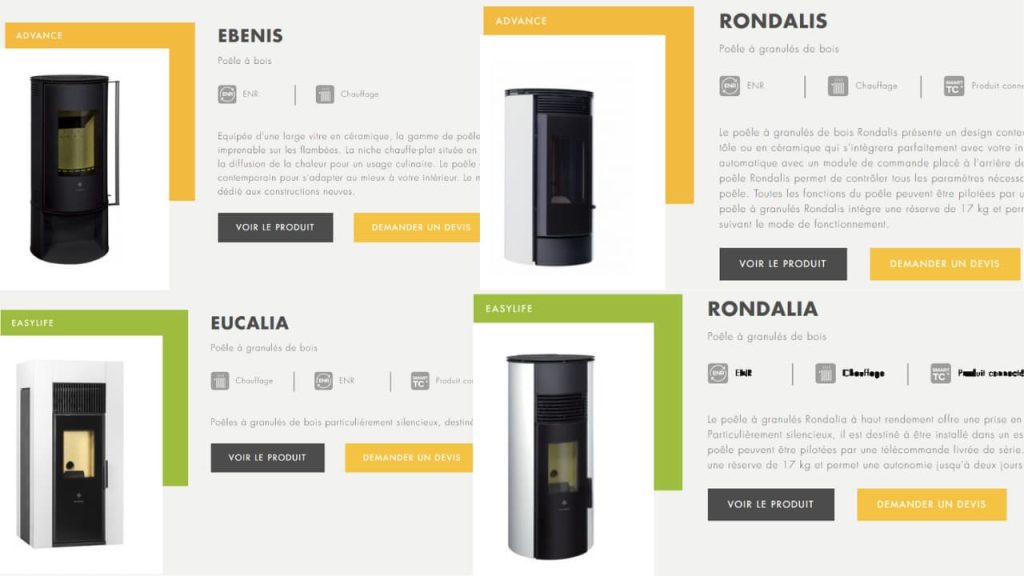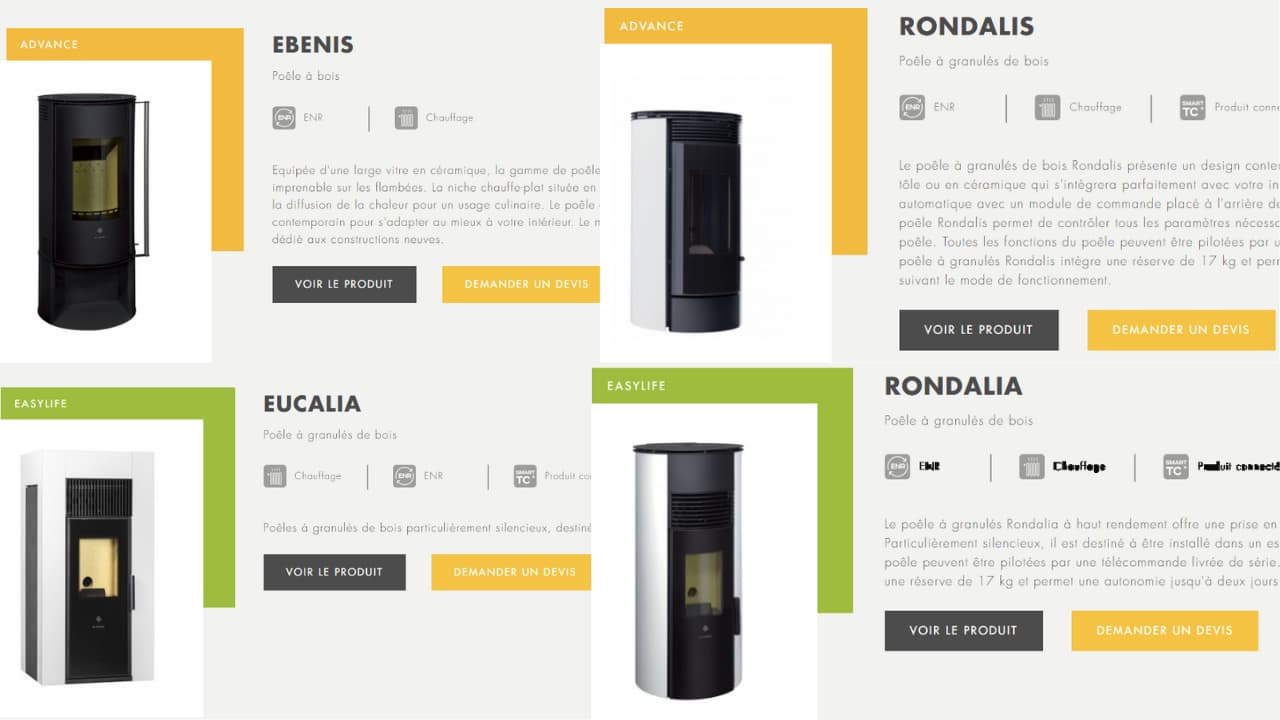 Pellet stoves
The pellet stoves of the De Dietrich brand attract by their aesthetictheir high performance and finally their handling.
First of all, they come in very modern designs and colors, with a front panel featuring panoramic glass. Their contemporary design adds a touch of class to the room while blending in perfectly with any decorating style.
Secondly, the heating power of the stoves is high and can be adjusted according to the user's needs. As a bonus, these products have a very good performance (up to 91%).
Finally, De Dietrich pellet stoves are easy to use. Some models come with a wireless remote control for more convenience or intelligent regulation that ensures perfect and adapted combustion. 
SMART TC° technology allows users to remotely control the temperature of the stove from a smartphone.
A sizable pellet tank provides a large amount of space for very large autonomy to the stoves.
Wood stoves
Wood stoves are very popular because they are environmentally friendly, efficient and stylish.
In fact, De Dietrich wood stoves are all certified by the Green Flame label and comply with the strictest European standards. They are ideal for new houses or low-energy buildings.
These De Dietrich brand products also have a high heating power and very good efficiency. The refractory bricks composing the combustion chamber make it possible to retain the heat and to restore it afterwards.
Finally, the stoves have a contemporary design and have a large ceramic glass window offering a beautiful view of the flames of the logs. They bring a friendly atmosphere in the room. What's more, the dust level generated by the stove is low (less than 19 mg/m3).
Thermal performance and consumption of De Dietrich stoves
Thanks to modern innovations and materials, De Dietrich stoves offer high performance with minimum consumption.
For pellet stoves
On pellet stoves, De Dietrich offers a Heating power from 2.5 to 9KWh with an efficiency that can go up to 91 %. And they do not consume only 0.5 to 2.4 kg/h of granules depending on the model.
For wood stoves
The heating power of De Dietrich wood stoves reaches 7KWh and its efficiency is 81 %. They can heat a volume of 160 m3. Economical, they only consume 1,5 to 2 Kg/h. 
| | | | |
| --- | --- | --- | --- |
| Model | Performance | Heating capacity | Consumption |
| Ebenis | 81 % | 160 m3 maximum | 1,5 - 2 Kg/h |
| Rondalia | 91 % | 220 m3 maximum | 1 - 2 Kg/h |
| Eucalia | 90,5 % | 163 m3 maximum | 0,6 - 1,5 Kg/h |
| Rondalis | 88 % | 225 m3 maximum | 0,5 - 2,4 Kg/h |
The advantages of the De Dietrich brand
The De Dietrich brand offers on the market of wood and pellet stoves ecological, but economic and efficient appliances.
De Dietrich products guarantee a optimized combustion and low CO2 emissions. The stoves are waterproof and have a combustion chamber designed with refractory bricks. Thus, the heat is maintained in the heated volume and the fumes are not forced inside.
Also thanks to the sealing of the appliances and the refractory bricks, the appliances consume less fuel while remaining efficient. Moreover, with the connected room thermostat SMART TCthe user can manage the temperature of the stove and limit consumption in its absence.
Finally, it should be noted that pellet stoves are equipped with large reserves, offering them a large autonomy of up to 72 hours.
Prices of De Dietrich stoves
The popularity of De Dietrich wood and pellet stoves can be explained, in addition to their many merits, by an excellent price/quality ratio. The cost of the stoves varies between 1337.10 € and 6067.38 € TTC depending on the model and its characteristics. 
| | |
| --- | --- |
| Model | Price includes VAT |
| Ebenis | 2 962,50 € |
| Rondalia | 3 879,72 € |
| Eucalia | 3 614,40 € |
| Rondalis | 4193,44 € |
| Tilia | 1 337,10 € |
| Quadralis | 3 072,00 € |
Dimensions of De Dietrich stoves
A little larger than a fireplace, De Dietrich wood and pellet stoves are not very imposing. Among the smallest models is the TILIA PBE7T which measures 1000 mm high, 554 mm wide and 384 mm deep. 
The QUADRALIS PPA 8 GVI model is larger with 1208mm height, 560mm width and 539mm depth.
| | |
| --- | --- |
| Model | Dimensions (H x W x D) |
| Tilia | 1000 x 554 x 384 mm |
| Quadralis | 1208 x 560 x 539 mm |
| Ebenis | 1153 x 538 x 506 mm |
| Rondalia | 1072 x 500 x 561 mm |
| Euccalia | 1084 x 526 x 567 mm |
| Rondalis | 1095 x 570 x 490 mm |
For those looking for a green heating solution, De Dietrich wood and pellet stoves are ideal. Low fuel consumption and minimal CO2 emissions, These stoves are suitable for new construction or low-energy housing.
As a bonus, the SMART TC° connected room thermostatThe Rondalia, Rondalis and Eucalia pellet stoves allow you to monitor and manage its consumption and consequently save on fuel costs. 
The label certification Green Flame of the Ebenis wood stove guarantees its users a very low-pollution heating.
Finally, the brand's logo on De Dietrich products assures consumers of a guaranteed quality product.
Juliena mechanical engineering graduate and specialist in climate engineering since 2009, has become a writer specializing in renewable energies, with expertise in heat pumps and photovoltaic solar panels for individual housing.