More and more trendy, the made in France or made in France is a guarantee of quality. Airbus, Peugeot, Bugatti - French know-how is no match for the highly sought-after Deutsche Qualität. In this article, we present 5 French-made heat pumps, i.e. 5 heat pumps marketed by French manufacturers.
Atlantic Alfea Extensa Duo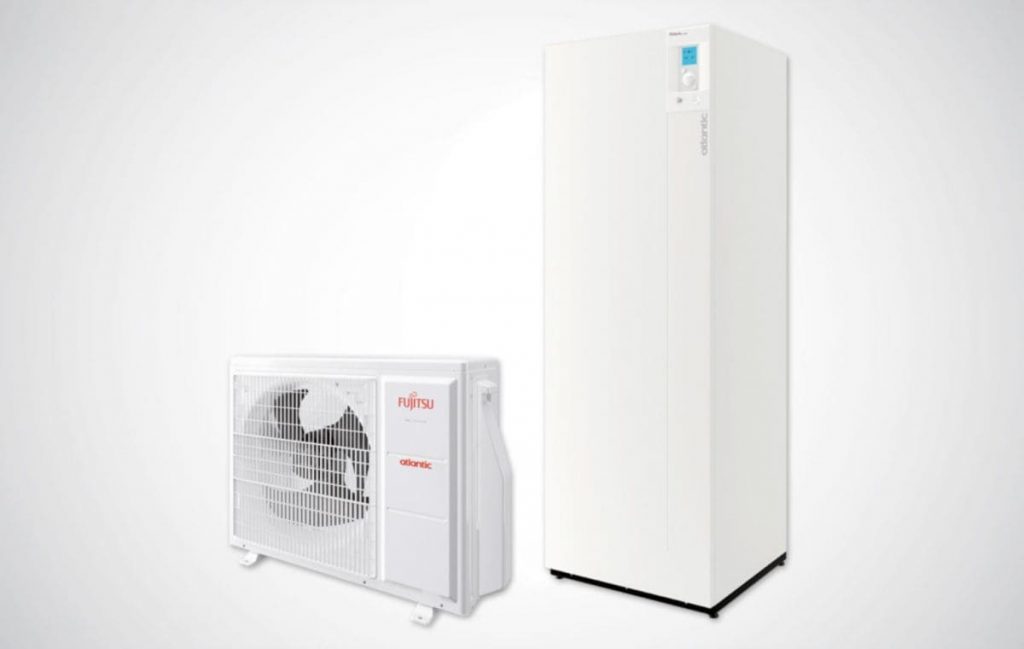 Quick history of the French heat pump brand Atlantic
Founded in 1968 at La Roche sur Yon in the Vendée, it is France's leading manufacturer of thermal comfort products, with some 15 plants in France and several thousand employees. The brand manufactures almost all its products in France.
Atlantic is a brand resolutely focused on research and development. It holds an impressive number of technical patents: between 500 and 1000, and employs nearly 300 people in R&D.
The Atlantic Alfea Style
The Atlantic Alfea Extensa Duo heat pump is one of the most popular, thanks to its practicality and on-board technical innocence. It consists of a sleek, white indoor unit with a modern gray band on the front, a discreet logo and a small display showing the main operating data. This indoor unit fits perfectly into a utility room, laundry room or even a more intensive living area, as its aesthetics are reminiscent of a fridge.
the outdoor unit of the Alfea Extensa Duo is more common. In fact, it's a Fujitsu-brand outdoor unit, thanks to the exclusive distribution agreement between the Japanese and French brands. As with other outdoor units, it's a wart to be hidden away in the garden as much as possible. Fortunately, there are some fairly inexpensive and attractive air-conditioning and heat pump concealment solutions.
Acoustic performance of Alfea Atlantic
In terms of noise, the indoor module is quite negligible with its average of about 35dBA depending on the size.
The outdoor unit of the R410A model has a sound pressure level of 47dBA at 5 m, which is okay but may not meet the limit values imposed by the municipalities. In this case, it would be necessary to consider the distance at which the heat pump would be installed in relation to the first living room of the neighbors.
The R32 outdoor unit offers better acoustic performance, with a sound pressure level of 40dBA at 5m, and therefore complies with noise directives in most cases. However, check the installation distance from neighbors, and place it as far away as possible...find a good compromise.
The thermal performance of the Alfea Atlantic heat pump
This split inverter heat pump has 4 models Extensa Duo AI 5, Extensa Duo AI 6, Extensa DUo AI 8 and Extensa Duo AI 10.
There are two possibilities: either an old-style R410A fluid, but in 2025 this will be banned, so Atlantic already has R32 models.
For R410A Thermal output varies between 4.1 and 7.4 kW, with a COP between 2.79 and 2.49 for underfloor heating (35°C) at -7°C outside.
For R32 The thermal power varies between 4.4 and 8.9 with a COP between 2.76 and 2.65 in the same case of underfloor heating.
It can be seen that the thermal output developed with R32 A-7/35 for the AI 10 model is 1.5 kW higher than with R410A, and all with a higher COP of around 5-10%.
Where to buy Atlantic Alfea Extensa Duo
The vast majority of French heat pump installers naturally use Atlantic heat pumps, especially in the brand's home region of Western France, particularly the Vendée. In eastern France, local brands such as De Dietrich are more likely to be installed.
Generally speaking, you won't buy a heat pump yourself, because suppliers sell to installers only and not to private individuals. Even if you find a scheme to buy it yourself, an installer will be rather reluctant to install it in your home. You can ask for a quote and specify that you want an Atlantic. Your installer will activate the supplier who provides him with the heat pump, and you'll be able to take advantage of the discounts he's granted, depending on his pricing policy.
To have more details on our opinion about this heat pump which is a must of the made in France by Atlantic la vendéenne, you can read our detailed opinion on this Atlantic Extensa Duo R410A or AI R32 model
De Dietrich Alezio Compact S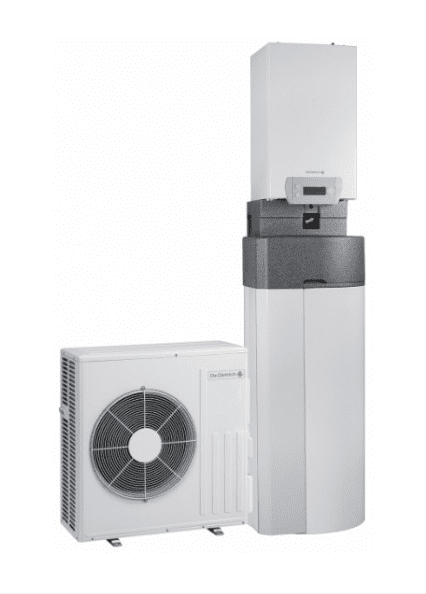 Quick history of the De Dietrich brand
The de Dietrich brand is a purely French brand, and as Alsatian as it gets. Its history is closely linked to the northern Alsace region around Reichshoffen and Niederbronn-les-Bains, two pretty, typically Alsatian towns.
And if you take a tour of the Batorama (tourist cruise) in Strasbourg, the announcer will tell you in any language: the founder's son was mayor of Strasbourg, and is even largely responsible for the Marseillaise becoming a national song and later the anthem. Enough digression: De Dietrich is well known for its wood-burning stoves, heat pumps, water heaters and boilers of all kinds. It is part of a large European group, BDR Thermea.
Aesthetics De Dietrich Alezio S Compact
The exterior unit of the deDietrich Alezio is rather successful. A little less ugly than the average, the white is nice, the angles not too prominent, the painted fan grill, the logo discreet. The whole thing is quite compact, and will be easily hidden behind an air-conditioning cover or some well placed plants. The choice is yours.
The indoor unit works well in a machine room, but doesn't fit quite so well in a living room without looking like a garage...probably because of the black polystyrene covers and the style, which doesn't look too much like interior furniture. Prefer installation away from living areas.
Thermal performance
For an A-7/W35 floor heating system the COP varies from 2.46 for the smallest model to 2.65 for the largest model, with a power of 4.4kW for the smallest and 12.37kW for the largest (16 MR EM)
In fact, the COP over the year will be closer to 4 on average for underfloor heating, depending on the model. And for standard radiators, the COP will be closer to 2.5 on average.
Acoustics of the CAP
In terms of noise, the 4.5 to 8 models are not very noisy and deliver a maximum outdoor noise level of 45dBA at 5m in a free field, which is perfect for generally respecting most of the standards imposed by the cities and municipalities.
The two top models, 11 and 16, achieve a noise emission level of 47dBA. This is still acceptable, but you may need to take care when positioning the machine outdoors, so as not to disturb the environment, especially at night, when the laws are generally stricter depending on where you live.
How much does the De Dietrich Alezio Compact S cost?
The price of this French PAC ranges from €7 to €12,000, depending on the size chosen. This price includes the tank, the indoor module and the outdoor module. But it does not include installation. It's just the hardware. The price of installation depends very much on the installer, and sometimes on the region.
If you want to know more about the De Dietrich Alezio Compact model, follow the guide.
Auer HTi 70

History of the Auer heat pump brand
It all started with an invention by Austrian chemist Carl Auer von Welsbach in 1885. He developed the first incandescent white-light gas burner.
In France, the Auer brand was born in 1892 from the exploitation of this patent. The brand moved to Picardy before the First World War, initially to produce streetlight supports for towns. The range then expanded to include kitchen and heating appliances.
In 1960 Auer is the leader in gas heating in France with a wide range of gas radiators.
Shortly before the year 2000, Auer developed one of the most advanced condensing boilers of its time: the Pulsatoire.
Then, in the 2000s, Auer began to work on heat pumps, in particular the HRC70. Everything is manufactured in Picardy.
In 2014 Auer developed its thermodynamic balloon named Edel and presents on this occasion several innovations.
Today, Auer is a major player in the energy transition desired by governments, particularly France.
Appearance of the HTi 70 model
The HTi 70 heat pump's outdoor unit is beautifully finished. Its sober color, rounded corners and closed base, which hides the underside of the unit where others might leave simple feet, add a touch of elegance to a unit that's not intended to be very pretty.
It can be integrated into the facade or garden, or even left visible, depending on taste and color.
This is a monobloc heat pump. So there's no indoor unit. The outdoor unit is directly connected to the house's hydraulic circuit, via a buffer tank if required. A domestic hot water production system can be added if required.
Thermal performance of the heat pump
The Auer HTi 70 is a high-temperature monobloc heat pump. It is theoretically capable of delivering a water temperature of 70°C, but the data sheets are given for a water temperature of 65°C.
The idea is to keep your radiators and replace only the oil or gas boiler with the heat pump. However, you need to be careful about the COP delivered.
The Auer HTi70 heat pump is available in 4 different sizes: HTi70 6, HTi70 8, HTi70 11, HTi70 14. The 6 is designed for single-phase current only, while the other 3 are also suitable for three-phase current.
In the case of a radiator network, the COP takes on an average value over the year of between 3.2 and 3.92.
The smallest model delivers 5.5kW on 65C high temperature radiators and the largest model goes up to 13kW.
Overall, the COP is closer to 3 on average. This means interesting electricity savings.
Acoustics
Sound power levels are slightly higher than those of a NIBE F2120, between 50 and 55dBA at 5m. Sound pressure is around 42dBA, which is in line with most local authorities' noise directives.
Each case must be studied with your installer.
Auer price HTi 70
The price of an Auer HTi 70 heat pump ranges from €8800 to €13500, depending on the size chosen. This price includes a buffer tank and a 170-liter DHW tank by Auer.
This is just the price of the material. You'll also need to consider the cost of your installer's labor, which is often between €5,000 and €10,000. Finally, you can also deduct some state aid for heat pumps if you are entitled to it in your situation and according to your income.
Heiwa Hyoko Monobloc 8-16kW
History of the Heiwa brand
On the Heiwa website, we learn that the brand's name comes from Wa, a Japanese concept referring to the harmony between man and nature.
This SASU with capital of €15,000 has been in operation for 4 years, and is headquartered in Aix en Provence. The figure announced for 2021 is over 12 million euros. Apparently, the president is another company, COLD CO, whose president is also another company, RT...referring to Romain Tosolini, a businessman who heads several companies, notably in the heating sector.
Heiwa Hyoko Monobloc 8-16kW appearance
The appearance of Heiwa heat pumps may be reminiscent of models from Chinese brands such as Midea or Gree...or even those from Japanese brand Panasonic. In short, it's quite classic. It's rather modern without being overdone. Given the appearance of these heat pumps, it's possible that they're really Chinese models relabelled under the Heiwa name. In the case of outdoor air/water heat pumps, it's easy to imagine - but not certain - that Heiwa works under a white label with a Chinese or Japanese supplier.
Thermal performance of the Heiwa Hyoko heat pump
This air-water heat pump is available in 5 different sizes:
PREMIUM AIR/WATER UNIT HYŌKŌ MAX 8kW
PREMIUM AIR/WATER UNIT HYŌKŌ MAX 10kW
PREMIUM AIR/WATER UNIT HYŌKŌ MAX 12kW
PREMIUM HYŌKŌ MAX 16kW AIR/WATER UNIT
PREMIUM HYŌKŌ MAX 16kW three-phase air/water heat pump
Heiwa Acoustics
The noise generated by the pac, and more precisely the acoustic power, is between 59 and 69dBA, depending on the size chosen. This figure seems quite high, and suggests that every precaution should be taken to comply with noise regulations, so as not to disturb the neighbourhood.
Compared to many models whose sound power levels are often under 55dBA or so, this figure seems high.
Careful consideration needs to be given to the placement of the heat pump outdoors, and to investing in acoustic protection.
Heiwa Hyoko Monobloc 8-16kW Price
The Heiwa Hyoko Max Monobloc heat pump costs €6500 excluding tax from your installer. This price includes the outdoor unit and the indoor unit.
Installation will cost more. To determine this, you need to ask your installer for a quote. He'll give you a price after a visit to your home.
SCAAF Pacro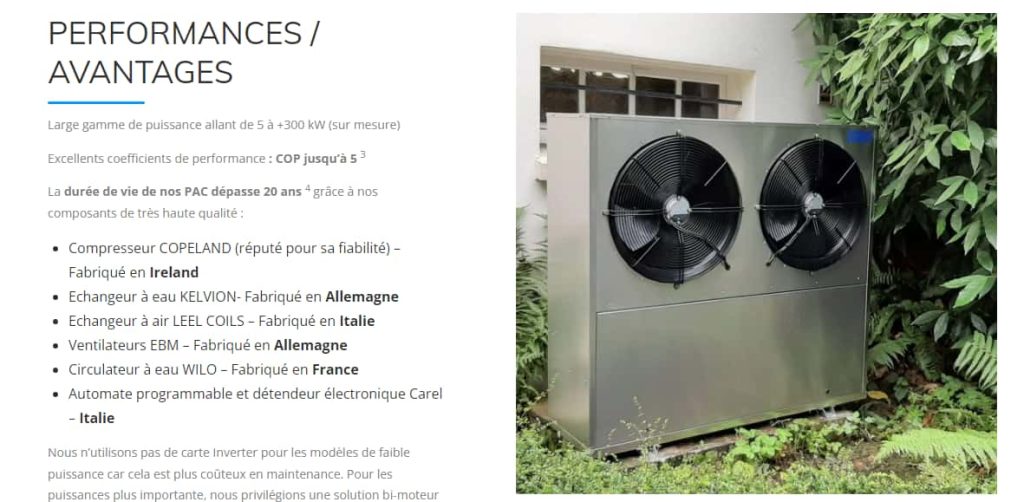 Short history of the SCAAF brand
SCAAF (Société de Construction d'Appareillages Aérauliques et Frigorifiques) is a French, family-run, Breton 100% company founded in 1986 and headquartered between Tréguier and Paimpol in Pleudaniel, Brittany. It's towards Guingamp.
Originally active in industrial air conditioning and cooling, LE BIHAN father and son turned to the private market, in particular to meet a need for swimming pools and thermal comfort in homes.
Style of the heat pump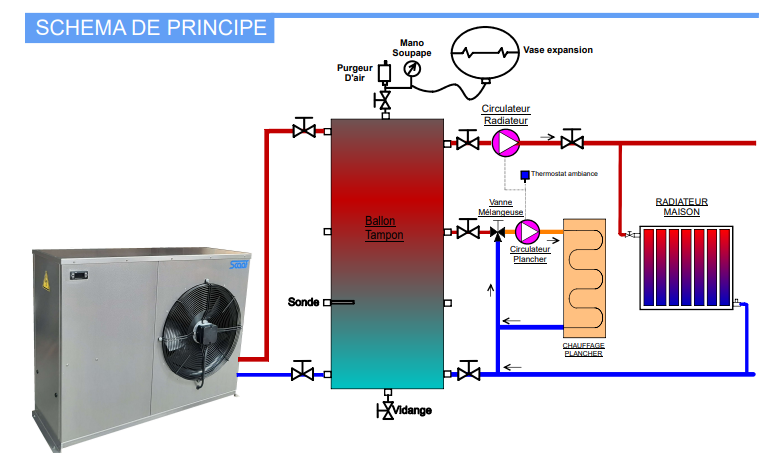 Here we focus on the Pacro Monobloc heat pump, the solution offered by SCAAF for single-family homes.
In terms of styling, the difference with other heat pumps is immediately apparent. The body is made of AG3 aluminum. This is 5754 aluminum, often used in the food industry. Why is this so? Because its corrosion resistance index is excellent. It's the Breton touch, as they know the problems of corrosion by the sea. The company boasts over 20 years' experience in seaside applications.
However, you shouldn't want to do too much design in your garden. Because the final result is quite industrial.
There's also the bibloc model, whose outdoor unit adopts the same industrial-style 5754 alu seaside heat pump look. And the indoor unit has a very old-school look, reminiscent of German heat pumps (such as Stiebel Eltron) from the late 90s and early 2000s, which have been replaced by more recent models in recent years.
Technical thermal performance of the Pacro heat pump
Pacro (monobloc or bibloc) is available in 7 sizes or models, with heating capacities ranging from 6 kW to 17.6 kW at 7°C outside and 30°C water outlet (underfloor heating), with a COP of 5.3 to 5.5, depending on the size. Excellent COP. For radiators, the COP drops 2 stages to 3.8, given the higher water temperature required.

How much does PACro cost?
The SCAAF Pacro Monobloc costs €6575 excluding VAT from the manufacturer's catalog. If your installer benefits from a discount on this price, he'll probably sell it to you for close to this retail price, and pocket the discount. And you'll pay the VAT on top. Heat pump installation labor is an additional cost, between 5 and 10k€ depending on the installer and the region. And don't forget to apply for government grants, which can go quite high, and why not reimburse the heat pump in full if you're in the most advantageous situation according to the scales.
The SCAAF Pacro Bibloc model is given from 7100€ without taxes, and 8750€ with hot water option without taxes. The remarks of the monobloc model are the same for this bi-loc model.
NB: It is to be noted that SCAAF insists on the components of this heat pump and announces their origin to give you an idea of their quality. Their manufacture is well thought out and gathers some of the best heat pump components in Europe.
| | |
| --- | --- |
| Component | Made in |
| COPELAND compressor | Ireland |
| KELVION water exchanger | Germany |
| LEEL COILS air exchanger | Italy |
| EBM fans | Germany |
| WILO water circulator | France |
| Carel programmable controller and electronic regulator | Italy |
We hope these 5 models have inspired you in your search for a heat pump made in France. French know-how is here to stay, and it's in your interest to choose a local brand when choosing a heat pump, as the service will be all the better, especially when it comes to after-sales. French models even tend to be less expensive than their German neighbors, and slightly more expensive than popular Japanese brands.
If you'd now like to see what the German industry has to offer in the way of top-of-the-range air-to-water heat pump models, you can take a look at our article on the subject (an article that's already been copied or almost copied, but never equalled ;)) => TOP 5 German air water heat pump brands
Juliena mechanical engineering graduate and specialist in climate engineering since 2009, has become a writer specializing in renewable energies, with expertise in heat pumps and photovoltaic solar panels for individual housing.