German heat pump manufacturers TOP 5 - Air to Water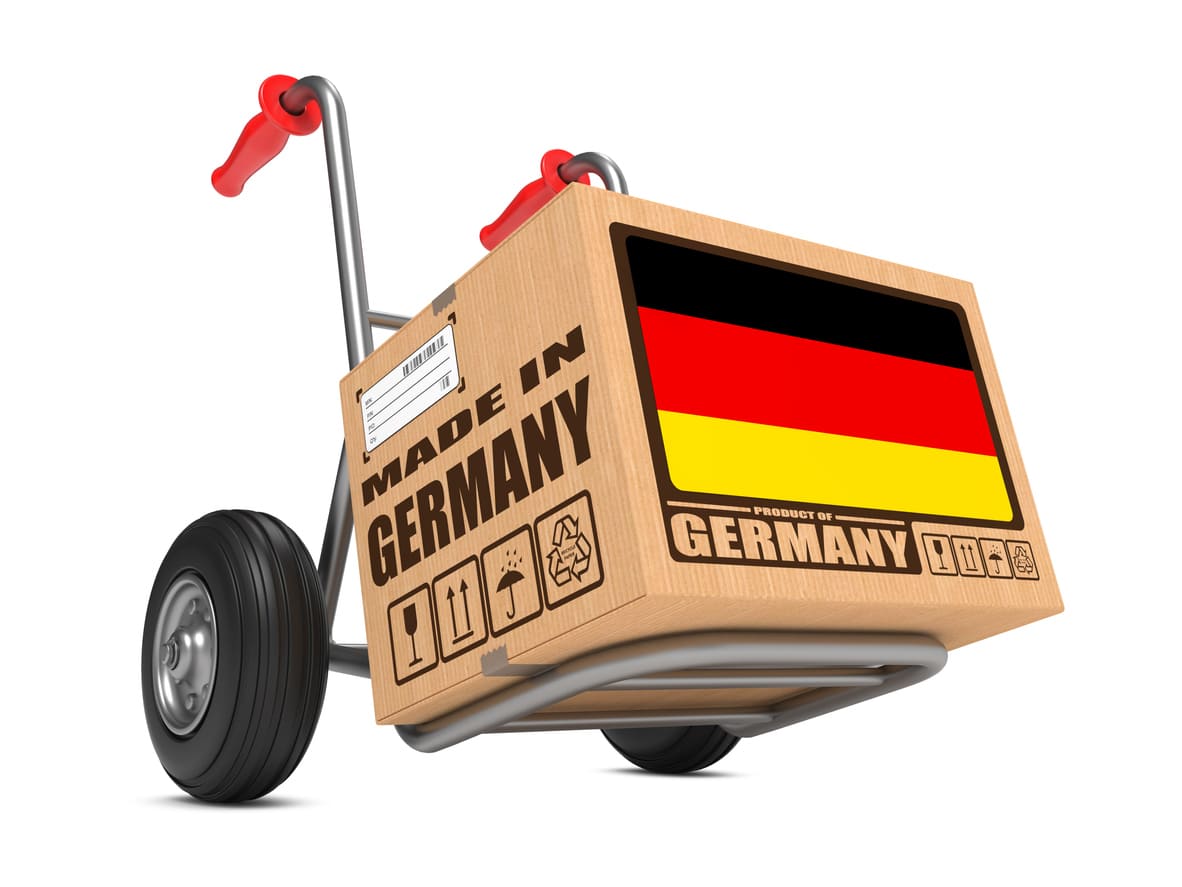 German heat pump manufacturers TOP 5 - Air to Water
Made in Germany is very much in demand, even in the world of heat pumps: yes, you are reading this article. In this article we will present 5 German branded heat pumps, i.e. 5 heat pumps marketed by manufacturers of German origin.
We will start with a German manufacturer less known in the world of residential heat pumps, than in the industrial world.
📚 Also read in the same genre: TOP20 heat pump brand
Dimplex System M Compact/Comfort heat pump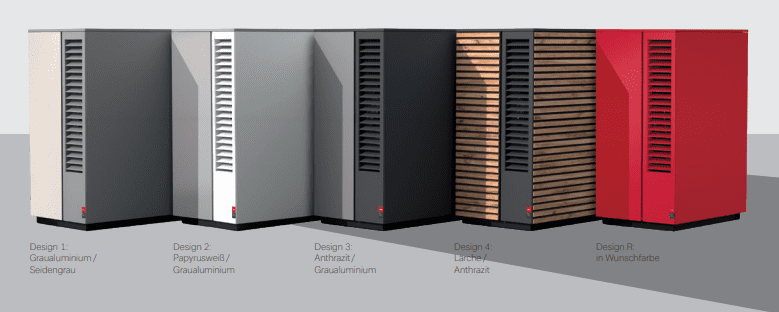 A short history of the German heat pump brand Dimplex
Dimplex is a company of German origin, originally called ASK À Kulmbach, which joined with Siemens to form KKW, initiated by Christian Weiß in 1860. In 1973, it was incorporated into the Irish Glen Electric group, which is based in Dublin. Therefore, the company is headquartered in Dublin, but produces in Germany. Its factory is in Kulmbach, Am Goldenen Feld 18, not far from the border with the Czech Republic.
The Dimplex System M PAC Style
As you can see from the picture above, the German brand Dimplex puts a lot of emphasis on the appearance, the design of their heat pumps for individual housing.
The System M Compact is available in a variety of designs, from a standard gray, white or charcoal style, to something more stylish, either colored with a RAL of your choice, or with a wood grille. It's perfect for standing out in a natural environment.
Dimplex System M acoustics
With these System M heat pumps, Dimplex claims a noise level of less than 27dBA at 10m from the outdoor unit of the machine, for all machine powers. This means that it is almost inaudible in normal operation. Of course, if the machine starts to run at full speed, you will hear it, but there is no data on this, as it is only a one-off behaviour.
Sound power is the noise output of the machine, not to mention the distance from the machine. This is a reference value for making comparisons between PACs of different brands. It is given as 54 to 57dBA for normal operation, which is slightly higher than a NIBE at 53dBA.
The performance of the System M Dimplex Compact
The PAC provides a power between 5kW and 11kW at 7°C outside and for floor heating (water 35°C), with a COP of 3.9 or more. And the biggest model will go up to 9.4kW by -7°C outside 35°C in the pipes. with a COP of 2.9 anyway.
As usual if you connect this to old radiators, don't expect extraordinary savings.
Where to buy the System M Dimplex Compact or Comfort
Many installers work with the German manufacturer, but they do not necessarily promote it. These German brand heat pumps are available on the French, Swiss or Belgian market, even if they are more present on the German market. Insist on your installer to get this machine if you want it, and if they try to redirect you to their favorite product, you will have to be tenacious or try another one :). The first solution would be to make a request here: you will have 3 estimates (valid France Belgium)
Then the second solutionWe know that you can request a quote from Espace Aubade in France: they are everywhere.
Other Dimplex products you may be interested in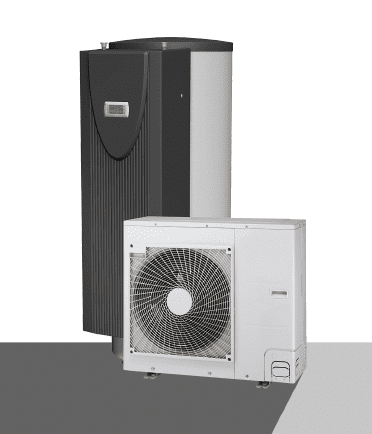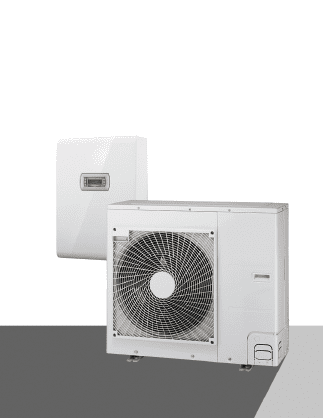 Stiebel Eltron WPL15 ACS
Short history of Stiebel Eltron
Stiebel is a German brand founded in 1924 by Theodor Stiebel in Berlin, whose leitmotif is innovation. At the beginning in the water heaters, the factory is destroyed during the second war, and the company moves in low-saxony in Holzminden. Pioneer of the storage heater since the end of the 60's, the company started to produce heat pumps in the mid 70's. The company continues to grow until the construction of a factory in 2007 which has the capacity to produce 25,000 heat pumps per year. Soon 100 years for this company which has a great experience specialized in the heat pump.
The Stiebel Eltron WPL 15ACS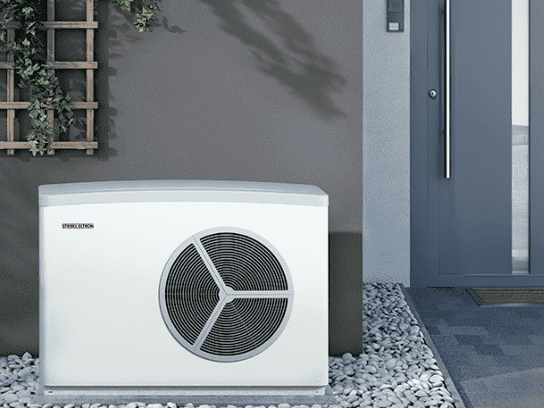 It is a monobloc heat pump (everything in the outdoor unit, and only water passing between the outdoor unit and the house's technical room). It has a modern style, white, clean, with a good performance over time. WPL is the original reference of the Stiebel Eltron heat pump, but in France the equivalent products are called HPA... for example WPL 20 = HPA 13.
Acoustics of the WPL 15ACS
28dBA at 5m in free field, for the sound pressure. 50dBA of sound power, which is rather quiet and will easily meet the standards in force in most of the strictest countries in terms of acoustic regulations in residential areas, or public health code.
Performance of the WPL 15 ACS
The power of 4.23 kW A2/W35 will allow to heat a low consumption house of about 100 m2 for example. The COP is about 3.9, which is quite good. Assuming that the average temperature over the year is almost everywhere above 2, even in the coldest regions, except in extreme cases, this suggests good energy savings.
Some prices for Stiebel Eltron heat pumps
To get an idea, here are the public prices of some models of pac stiebel :
Price of a WPL 24A heat pump => about 16'500€.
Price of a WPL 33 heat pump => about 20'000€.
Or the price of a WPL 57A, about 24000€.
Knowing that installers get discounts on this equipment, but as a private individual it is less likely to get a discount, or even to be able to buy it, except in used heat pumps.
Viessmann Vitocal 222-S heat pump
Viessmann is a German company created towards the end of the Great War by Johann Viessmann. Initially a small repair shop, the company established itself in the world of oil boilers and then moved on to renewable energies and in particular heat pumps a little later. Viessmann is an innovative company that has been marketing fuel cell systems for the production of heat and electricity in individual and commercial buildings since 2019.
The Viessmann Vitocal 222-S heat pump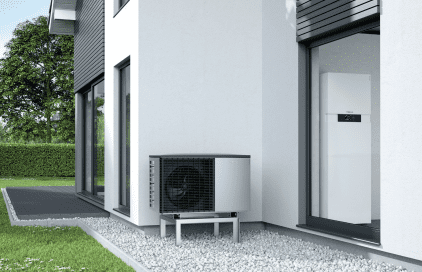 In this top German heat pump, we are interested in this split heat pump that provides heating and domestic hot water with a 220-liter enamel hot water tank. It consists of a gray exterior unit with a black ventilation grid, and a sleek white fridge-style interior module that contains the domestic hot water tank.
Thermal performance of the Vitocal 222-S
This heat pump is available in 6 different sizes in single-phase (230V) and 3 sizes in three-phase (400V)
The hot powers supplied range from 4 to 8.6kW in 230V, and from 7.6 to 10.1kW in three-phase. With COP between 4.5 and 5, so excellent. All this considering an outside air temperature of 7°C and a water temperature of 35°C for underfloor heating.
These heat pumps still use R410A, which is still authorized until 2025 in heat pumps that contain less than 3kg of it.
Acoustics of the Vitocal 222-S
The acoustics are optimized for these heat pumps thanks to the Advanced Acoustic Design (AAD). It should be noted that noise is roughly the sum of several noises of different frequencies. And some frequencies are more problematic than others, especially the lower ones. The AAD aims to reduce these very low frequencies. The Vitocal is therefore very quiet and generates 35dBA at 3m from the outdoor unit, which is more or less inaudible depending on the environment.
The Vaillant aroTHERM plus heat pump
Vaillant, a company that at first sight one would not think of as German, so much so that the name makes one think of a French word! But it is indeed a German group created by Johann Vaillant (again Johann, like Viessmann) in 1874. Like many other heating companies, Vaillant started in water heaters with several innovations and then developed in gas boilers. A true pioneer, Vaillant developed a fuel cell heating prototype for the ISH trade fair in Frankfurt as early as 2001, and in 2015 inaugurated its first fuel cell micro CHP plant. Since 2007 Vaillant has been producing its own heat pumps.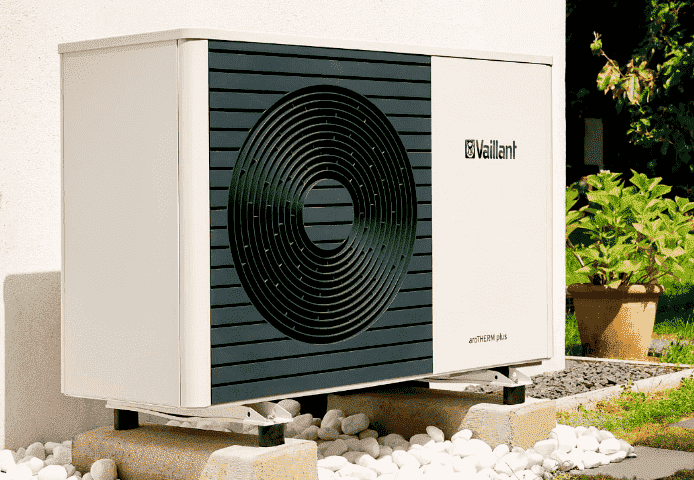 Focus on the Vaillant aroTHERM Plus
It is a medium-temperature split heat pump that provides heating and domestic hot water production, and even cooling in summer by reversing the cycle. The aroTHERM has a clean design that adapts to modern buildings. It has the particularity of running on propane which is a refrigerant gas: the R290 whose thermodynamic properties are excellent and which has a low global warming potential: GWP = 3! compared to the R32 which has its GWP > 600 and the R410A whose GWP is about 2000.
Acoustics of this aroTHERM Plus
Vaillant is precise when it comes to the acoustic data of heat pumps. Thus, in size 8, the sound pressure at 5m at maximum load is 39dBA against 35dBA in nominal operation.


Performance of this heat pump
Vaillant provides very complete tables with ALL the power and COP data for all possible real-life conditions. Not always easy to find this kind of information from other heat pump manufacturers.
Here they are : => Vaillant Arotherm PLUS COP power tables
If we consider the average annual temperature in most of Western Europe, i.e. around 5°C, then we can see that we have capacities between 6kW with the aroTHERM plus 4 and 18kW with the size 15, for floor heating. The COP vary between 3.5 and more than 4. Of course, at -20°C, this does not make much sense, as it is clearly not every day that this happens, except in Irkutsk, but we can see that the COP are still close to 2 or a little below. And the electric resistance in this case will be welcome :). Dedication to all the inhabitants of La Brévine, Mouthe or Elsenborn !
Alpha Innotec Alira LWD70A or LWD90A
Finally we come to AIT or Alpha Innotec, also a company of German origin that is part of the Scandinavian NIBE group and therefore has PACs very similar to the NIBE F2120, in terms of appearance or performance.
The production takes place in Kasendorf, Bavaria, Germany, which is right next to Kulmbach. This region of Germany has a great correlation with heating. Dimplex has its origins here, Johann Viessmann was born here and now the AIT factory is 10 km away.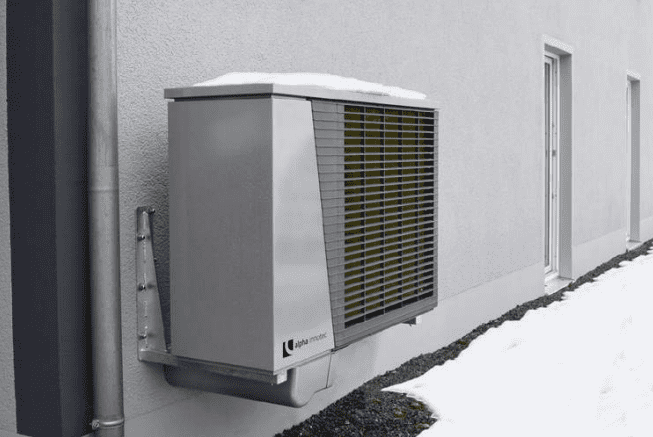 The Alpha Innotec Alira LWD70A or LWD90A air water heat pump
We are interested in this air water heat pump. It exists in 230V (LWD70A) single-phase or 400V three-phase (LWD90A) version for availability on all European markets. It also works with propane or R290, like the Vaillant. It is cascadable, which means that you can easily connect two in series to double the power in winter, and use only one in mid-season. It can also be combined with solar thermal.
The performance of this Alira LWD70A/90A
Under standard conditions (A7/W35) the power of the LWD70A reaches 9.3kW with a COP of 4.2 in single phase, and 400V 8.5kW for a COP of 4.3.
The LWD90A indicates 10.1kW of hot power and a COP of 4.1 under the same conditions. Enough to heat a large single-family house, with hot water, well insulated.
Acoustics of this Alira PAC
The Alpha Innotec PACs, like the NIBE PACs from which they are inherited, or vice versa, are reputed to be very quiet and will adapt to all environments. Often with an excellent acoustic power, which represents the noise intrinsically produced by the machine without consideration of distance or reverberation. Whether it is for the respect of the noise circle form in Switzerland, the respect of the public health code in France, or the Belgian environmental legislation, you are on the right track with this device. Each case remains particular and must be the subject of an acoustic study, whether it is summary by the installer or detailed by an acoustic expert.
What is the best German air water heat pump?
There are so many German heat pump manufacturers, that it is complex to determine the best one. With the 5 above, you are sure to make an excellent choice. All of the companies presented have a good track record in the heating market.
Each of these heat pumps has its strong points. For example, the Dimplex heat pump is particularly attractive in terms of design, which will appeal to homeowners who want to create an installation in harmony with their surroundings. Viessmann has also made a special effort on acoustics by presenting a very quiet product with an acoustic label. Stiebel Eltron has one of the longest histories in the field of heat pumps and is truly specialized in this field, while the others make all kinds of heating systems. Vaillant and Alpha Innotec offer an ecological version of the heat pump by using the well-known eco-friendly refrigerant R290 propane.
It's your choice.
All data sheets of the German heat pumps discussed above:
What is the best air-to-water heat pump?
There are dozens of heat pump manufacturers, all brands included, without necessarily talking about German brand heat pumps. In reality, the best heat pump is the one that is tailor-made for your home, i.e. correctly sized by a heat pump installer. If you decide to use an installer who specializes in Nordic German pacs, you are often making the right choice in the sense that he has already decided to sell quality and his work is more likely to be quality. Personal opinion.