De nombreux acteurs se bousculent dans le monde de la pompe à chaleur. Qu'il s'agisse de fournisseurs, fabricants, ou encore d'installateurs. Dans cet article nous nous intéressons aux diverses marques de pompes à chaleur, principalement air eau qui est le modèle le plus plébiscité.
From French brands 🇫🇷 to German brands 🇩🇪 to Japanese brands 🇯🇵 to Scandinavian brands 🇸🇪 of heat pumps, we review the brands and touch on a few models that might catch your eye.
Les marques sont classées par origine, mais ne sont pas forcément classées de la meilleure à la moins bonne. En fin d'article, nous initierons une comparaison et déterminerons la marque et le modèle les plus intéressants.
Swedish Heat Pump Brands 🇸🇪
Swedish heat pumps are among the most widespread in France, Switzerland and Belgium, mainly thanks to the NIBE group, a giant in the field.
Brand 1: NIBE
C'est THE fabricant de pompes à chaleur en Europe. Vraiment l'un des plus gros qui réalise un chiffre d'affaires au delà des 2 milliards d'€ par an régulièrement depuis 2018. Son action s'échange aux alentours des 6000€ et ne cesse de croître. Originaire de la même région qui a vu naître le fameux IKEA, le groupe est en bourse en Suède et en Suisse et emploie 18000 employés en Europe. En France, NIBE Energy Systems est dans l'Ain à Reyrieux, vers Lyon.
Their best-known model is the NIBE F2120, which comes in several 8-12-16-20 kW sizes. This is an outdoor air-to-water heat pump. monobloc charcoal gray, quite sober, efficient and quiet, with a mid-range price. For more information you can consult our full review of the NIBE F2120. Depuis cette année la relève a pointé le bout de son nez, avec la série S. Répondant au nom de NIBE S2125, il s'agit d'un modèle encore plus silencieux et qui peut monter plus haut en température. Pour lire notre avis complet sur ce nouveau modèle NIBE c'est par ici.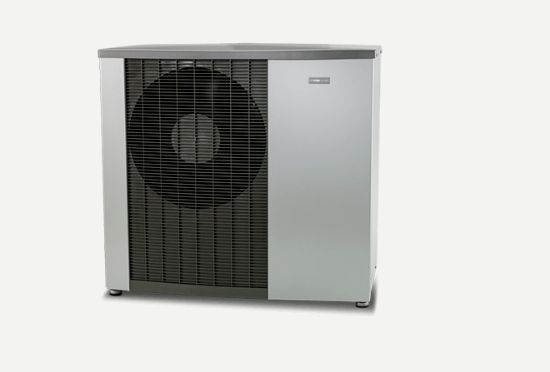 NIBE heat pumps also come with an internal hydraulic module, which contains the elements for distributing water to the home's heating network, as well as a domestic hot water reserve. They're called VVM.
In addition to single-package outdoor air/water heat pumps, NIBE offers split outdoor air/water models, as well as extract-air heat pumps such as the NIBE F750 and NIBE F730, and geothermal heat pumps like the NIBE S1155 or NIBE S1255 S1355.
Et de manière générale NIBE propose une régulation connectée haut de gamme "Myuplink" qui permet la connexion et le contrôle à distance, un peu comme tous les fabricants aujourd'hui, avec une app dédié smartphone, et de nombreux accessoires connectés, comme on le voit sur cette photo.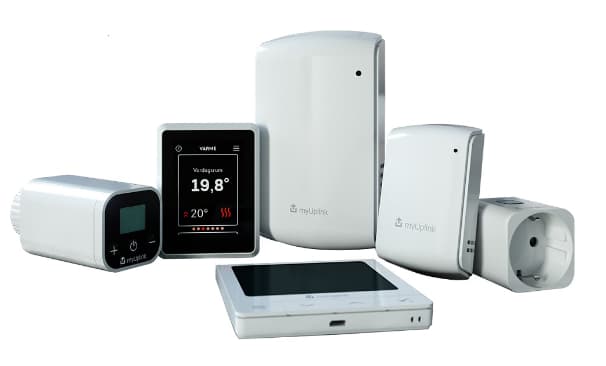 Enfin, en termes de fluide frigorigène, si les F2120 fonctionnent au R410A, la nouvelle série S s'équipe d'un fluide plus écologique et performant, le R290 ou propane.
Mark 2: CTC
CTC is a Swedish brand present all over Europe. In France they are present but mainly through representatives.
Fondée en 1923 c'est une marque de chauffage de renom dans tout l'Europe, qui en marge des PAC propose également des chaudières à bois ou granulés. L'entreprise fait aujourd'hui partie du groupe NIBE présenté ci-dessus. Les produits proviennent des mêmes usines dans le Småland en Suède, mais ont des apparences différentes.
CTC PACs have a slightly more rounded appearance.
Plus active en Benelux et en Suisse, il sera plus rare de croiser la marque en France.
Their CTC EcoAir 600M model is similar to the NIBE F2120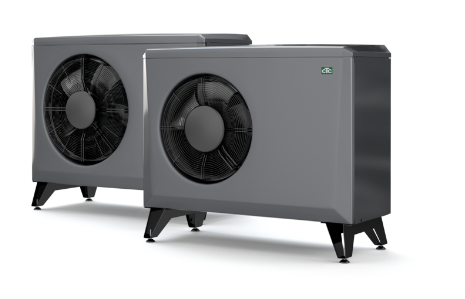 Beyond that, CTC offers indoor air/water heat pumps, geothermal heat pumps and thermodynamic hot water tanks to heat your hot water independently.
Brand 3 : TECHNIBEL
Founded in 1958 near Lyon, France, it's basically a French brand, but why is it in Sweden? Because it's ALSO a NIBE Group brand.
You can therefore go through them to have the NIBE F2120 heat pump or any other model, as well as any other model of the NIBE group including Alpha Innotec with the Alira air water heat pump for example that you will find in our top 5 German heat pumps. Yes Alpha Innotec the German brand is ALSO part of the NIBE group. They made the razzia.
French Heat Pump Brands 🇫🇷
Just as there are plenty of Belgians in Belgium, French heat pump brands have a strong presence in France. Here's a quick tour of the market, starting with the vendéens.
Brand 4: ATLANTIC
Atlantic is a brand from Vendée and therefore French, a big name in heating that we've already presented in our review of their Alfa Extensa Duo. With its army of engineers, Atlantic offers :
Split outdoor air/water heat pumps such as the Alfa Extensa Duo or Alfa Excellia Duo
Des pompes à chaleur air-eau monobloc comme les nouvelles Alfea Excellia M idéale en rénovation et Alfea Extensa M idéale en neuf.
Gas hybrid heat pumps or oil hybrid heat pumps
Water-to-water heat pumps
Geothermal heat pumps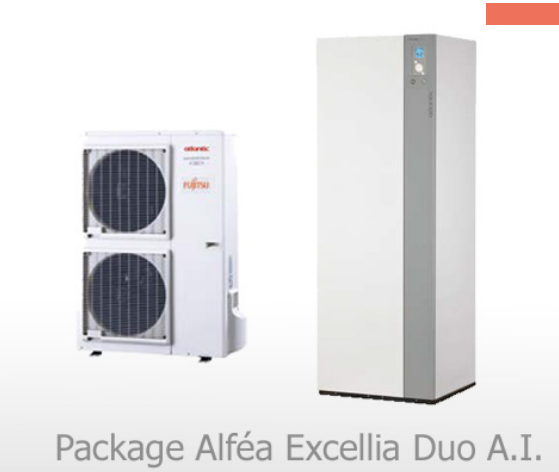 Their models Alfa Extensa Duo and Alfa Excellia Duo are very present in France and distributed by many wholesalers, installed by many installers.
La gamme Alfea fait régulièrement peau neuve. Les petites dernières sont les deux monoblocs et sont sorties à l'été 2023. Excellia M et Extensa M. (voir ci-dessous)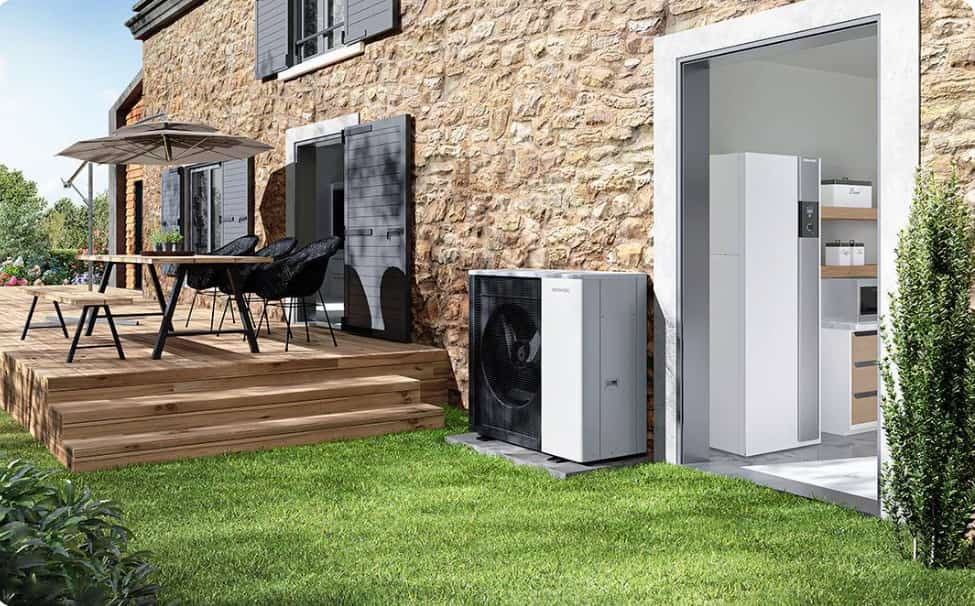 Vous trouverez la plupart des références Atlantic chez Aubade, EDF, ou encore d'autres revendeurs en ligne.
Brand 5: DE DIETRICH
With its German-sounding name, you wouldn't think it, but this is a French brand, and a very French one at that, with important links to the country's history, as you'll see in our opinion on the Dietrich Alezio Compact S heat pump, De Dietrich est un grand nom du chauffage, et notamment du poêle en fonte cher aux Alsaciens, mais également spécialiste de la pompe à chaleur.
Eux aussi font partie d'un gros groupe dans le chauffage, BDR Thermea Group, qui regroupe plusieurs marques dont une autre française qu'on verra un peu plus bas.
De Dietrich offers a wide range of heating products, including outdoor air-to-water heat pumps. Here you'll find their Alezio Compact S heat pump, designed to save space since it fits into a 60 cm-wide cupboard (the indoor unit, at any rate, as the outdoor unit remains outside).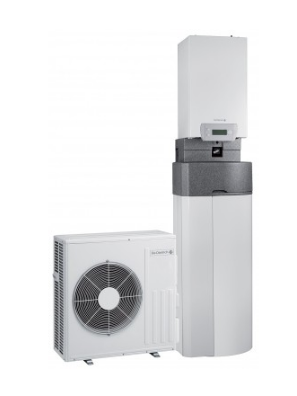 De Dietrich also offers an R32 split air-to-water heat pump with its Strateo R32. Another reversible air-to-water heat pump, for heating, hot water and cooling. But this one doesn't normally fit in the cupboard.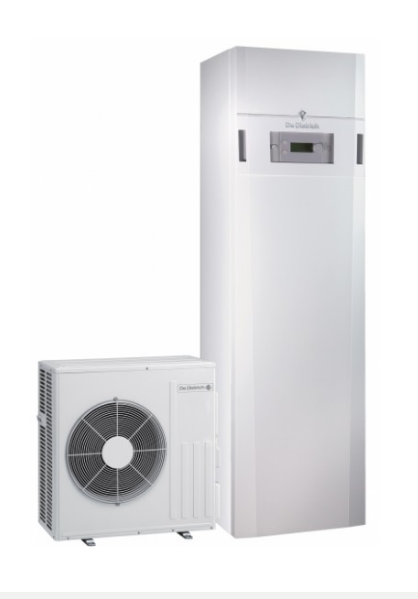 De Dietrich is quality at its best. Just looking at the way the documentation is produced, you can feel the precision. If there are any negative comments, it's probably due more to a poor choice of installer than to De Dietrich in most cases. By the way, if you're looking for a heat pump installer in France or Belgium, use our partner network by filling in the form below.
Brand 6: CIAT
A great champion of the heat pump in France. They are better known in the industrial world than in the residential one, because they are able to produce heat pumps or chillers of very high power.
Cette entreprise de Culoz, dans la région Auvergne Rhône Alpes, a été rachetée il y a quelques années par l'américain CARRIER en 2018 (Oui, exactement comme ce qui est arrivé à l'allemand Viessmann en 2023). En marge de sa gamme conséquente pour l'industrie, elle propose des pompes à chaleur air eau pour le résidentiel avec ses modèles EREBA. Il existe le modèle EREBA Split, et aussi le modèle EREBA monobloc.
From 4kW heating power to 21kW, you can heat fairly large villas from 100m2 to 250-300m2, depending on the insulation of the building envelope and therefore the heating requirements.
This is what it looks like! to be connected to the buffer and hot water tanks in the technical room.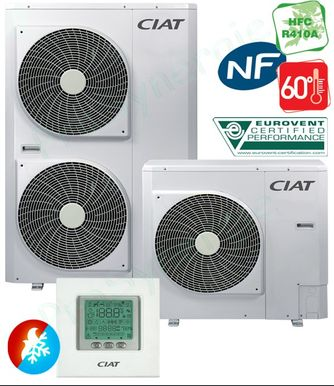 The heat pump isn't exactly aesthetically pleasing, but it does have the advantage of being fairly quiet. At 60°C, the COP is poor, as is the case for all heat pumps.
CIAT a un style vraiment old school, et une gamme qui n'évolue pas beaucoup, mais aura pour avantage de proposer des pompes à chaleur pas cher en général.
And they are even present in Switzerland, via a company that represents them in the canton of Vaud (Kalitherm).
Marque 7 : Intuis (ex. Auer)
Une marque française qui a pour leitmotiv l'invention. Née en 1892 pour commercialiser l'invention du chimiste autrichien Carl Auer, cette entreprise s'est imposée comme un grand acteur du chauffage au gaz du XXème siècle, et l'est toujours. Auer s'est mise aux pompes à chaleur vers le début des années 2000 et a sorti un modèle populaire vers 2010, puis a également inventé un chauffe-eau thermodynamique ou chauffe-eau pompe à chaleur, ou boiler PAC en Suisse, vers 2014. En 2022, Auer devient Intuis.
Ils ont 2 modèles principaux en PAC thermodynamique, la HTi 70 Orium ou Premium+ et la Intuis HRC70 qui sont des pompes à chaleur haute température, qui peuvent assurer du 70°C dans des radiateurs même dans la rudesse d'un hiver sibérien ou presque. Sans préciser les COP (il faut voir les fiches techniques ou faire la demande)
The HTi 70 provides up to 14 kW of heating power, enough for most homes. Otherwise, the HRC 70 is designed to deliver up to 96kW of heating power, for very large commercial or apartment buildings.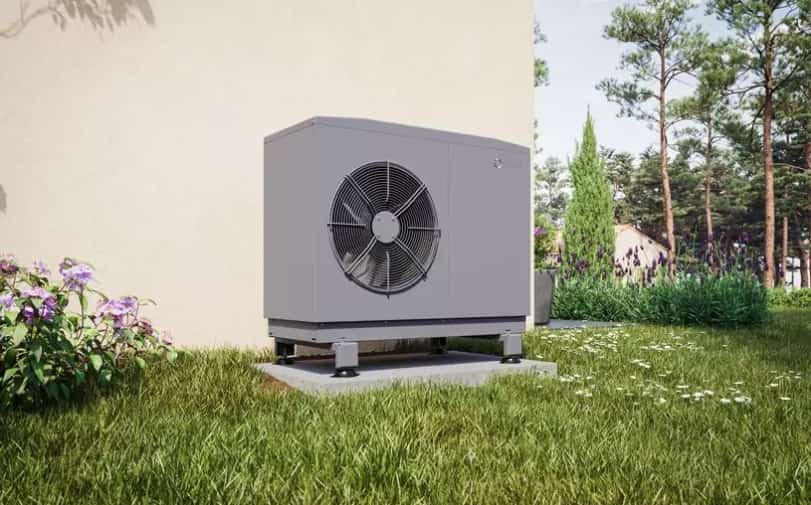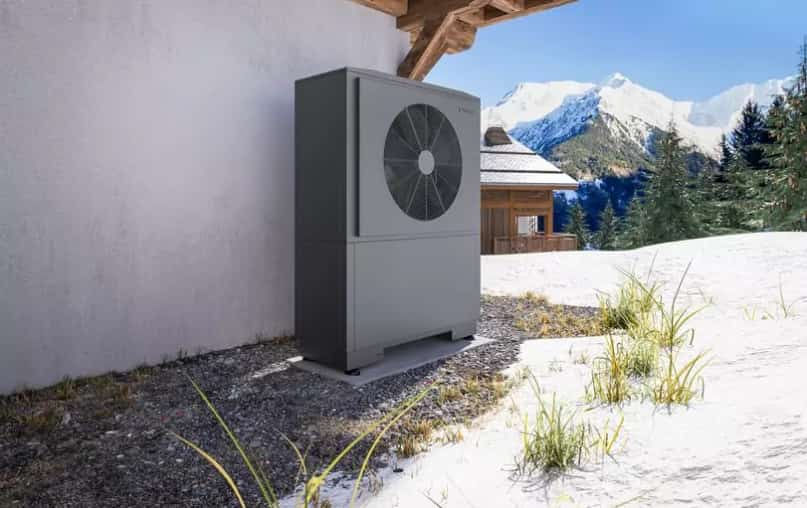 Brand 8: CHAPPEE
Another French brand which is, like De Dietrich, part of the European group BDR Thermea.
The 93-based company doesn't just focus on heating, but is also active in air conditioning and solar energy, i.e. everything to do with renewable energies.
Chappée products are therefore from the same lineage and probably from the same factory as De Dietrich products.
They offer air-to-air, air-to-water or hybrid heat pumps.
Split-system heat pumps bearing the Eria name.
For example, their Eria-N FIT-IN is the same as the Alezio Compact S from de Dietrich.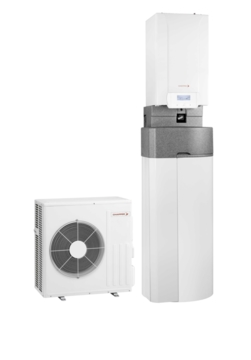 Brand 9: FRISQUET
Malgré son nom propice aux jeux de mots (en langue française), vous n'aurez pas froid avec les chaudières ou les pompes à chaleur Frisquet. En effet il s'agit de l'un des acteurs principaux du monde du chauffage haut de gamme en France, avec une expérience de quasi 90 ans, et sa première chaudière gaz homologuée en 1948.
As mentioned above, many French heat pump brands are part of international groups. Frisquet, for its part, operates with 100% of French capital, which may be a plus for Franco-French supporters.
Avec un nom qui fait légèrement penser au pays du soleil Levant, la pompe à chaleur TEAMAO 4 est une PAC air-eau qui propose entre 8 et 14kW de puissance de chauffage selon la taille choisie.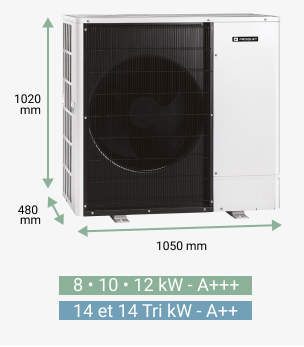 Cette TEAMAO 4 de Frisquet est une PAC Split, ce qui signifie que le modules intérieur (droite) et le module extérieur (gauche) sont reliés par des conduites frigorifiques.
Cette pompe à chaleur monte jusqu'à 14kW de puissance de chauffage avec un COP de 4.39 pour un air extérieur à 7°C (un peu plus haut que les moyennes de températures en Europe de l'Ouest) et une eau de sortie à 35°C donc pour du basse température type plancher
Vous pouvez la trouver par exemple sur tereva-direct.fr vers les 8500€ en taille la plus petite et avec installation incluse (vraiment pas cher) : probablement un prix d'appel qui gonflera après que le conseiller vous ait téléphoné 😉 Mais vous pouvez avoir des aides, n'oubliez pas, en fonction de vos revenus.
Edit 2023 : Frisquet sort sa PAC TEAMAO Swell avec ballon intégré en Inox de 300L, qui permet la production d'eau chaude très rapidement, et un ballon d'eau chaude sans corrosion.
German heat pump brands?
Deutsche Qualität is universal, and not just in the automotive sector. Let's take a look at the BMWs and Mercedes of the heat pump world. If you are particularly interested in German heat pump brands, you can find more details on our article about the top 5 German heat pumps.
Brand 10: WOLF
A German company that started out in hops! Well-known today in the world of industrial ventilation for its air handling monoblocs, or air handling units, Wolf is also present in the world of heating, with monobloc or split outdoor air/water heat pumps, indoor heat pumps and thermodynamic water heaters.
The BWL outdoor split air/water heat pump has an output range from approx. 7 to 14 kW, with a COP of almost 5 at 7°C outdoor air / 35°C water outlet.
Son produit le plus populaire est la PAC Monobloc CHA, qui fonctionne au R290 ou propane et fournit entre 7 et 10kW. Son COP varie entre 4.1 et 4.5 A7/W35 selon la taille choisie.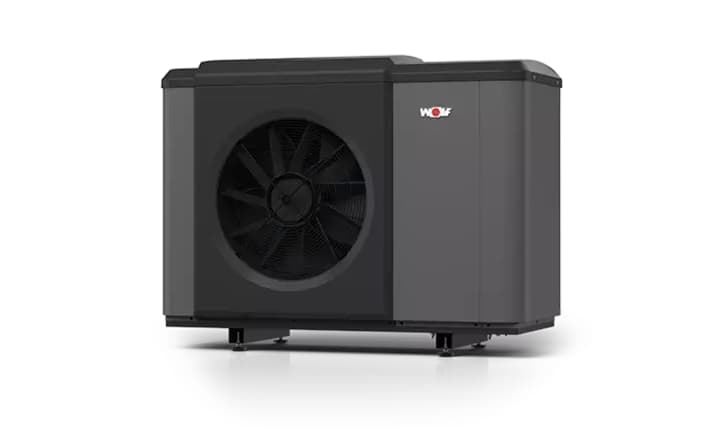 Brand 11: BOSCH
Non ce n'est pas le sobriquet que donnaient nos grands-pères aux soldats allemands (oups désolé pour les lecteurs allemands), mais bien le fameux fabricant très connu sur le marché particulier, autant pour ses machines à laver, que ses appareils électro-ménagers en tous genres, ou ses systèmes de régulation, etc.
Bosch is a giant,
Bosch is also developing heat pumps, including a stylish air-to-water heat pump with a washing-machine look that's well worth showing off. This is the Compress 7000 AW, probably in reference to the compressor that is the heart of this machine, or perhaps to say that it compresses heating bills!
With the attractive design of the outdoor unit, Bosch is clearly trying to provide a solution to the "ugly" problem of most outdoor air-to-water heat pump units.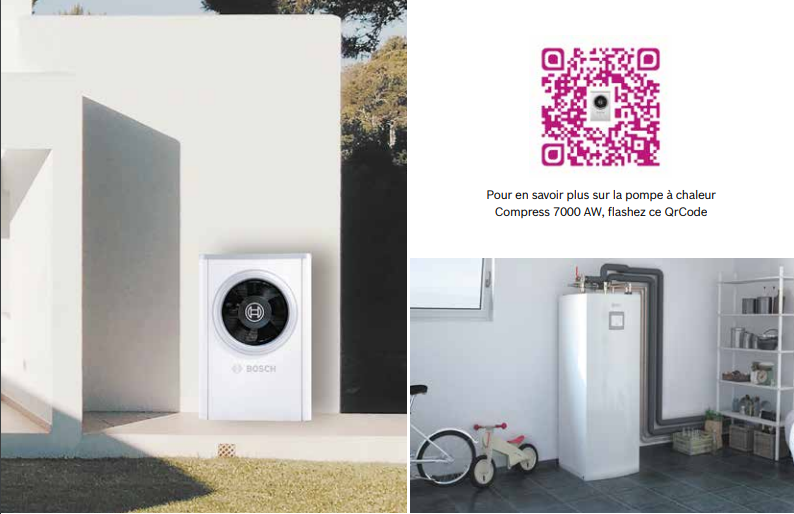 Mais ce n'est pas tout, car cette pompe à chaleur a deux autres avantages : elle est très silencieuse avec une puissance acoustique de 47dBA là où de nombreuses autres PAC présentent 55 ou 60dBA (en termes de bruit 10dBA de moins c'est deux fois moins de bruit perçu par l'oreille). Elle permet aussi de fournir jusque 62°C en température d'eau chaude. Par contre elle tourne au R410A, un fluide qui va doucement vers une interdiction programmée.
Son dernier modèle est la Compress 5800i AW. Un design qui revient vers les classiques mais également très moderne. Elle fonctionne au propane, très écologique. Très silencieuse, c'est la pompe à chaleur la plus silencieuse de Bosch avec moins de 29dBA à 3m…quasi inaudible. Voilà à quoi elle ressemble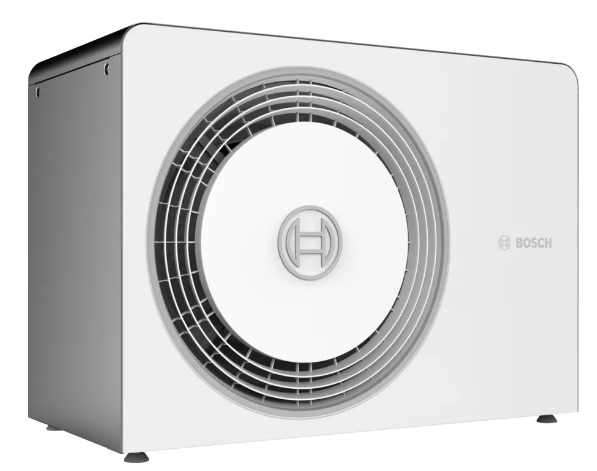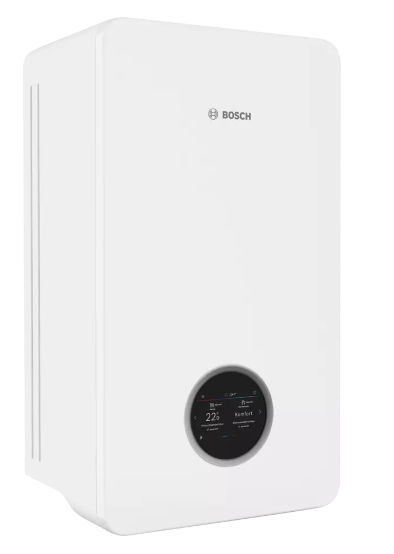 Brand 12: DIMPLEX
This century-old Bavarian brand is now part of an Irish group, but continues to produce in Germany. The emphasis is onmodern look including a choice of color for the outdoor unit, to match the garden.
One of their products suitable for residential use is the Dimplex System M compact which we detail in our top 5 German heat pumps. It provides up to 11kW A7/W35 with a COP of 4 or more.
Dimplex also offers:
Heat pumps for power above 20kW, for buildings or offices for example.
Heat pump boilers
Ventilation
Mark 13: VAILLANT
A French-sounding name for an all-German brand, rooted in innovation and Europe's leader in gas heating, always out in force at the ISH show in Frankfurt (Germany) to show off the results of its R&D teams, and to display its heat pumps adorned with Plexiglas so that you can see all the details inside.
Vaillant mainly offers a heat pump that runs on propane (R290), a highly ecological gas. This is the aroTHERM Plus, from 6 to 18 kW A7/W35, with COPs of 4 or close to it, depending on size.
This heat pump is modern and rather pretty, judge for yourself.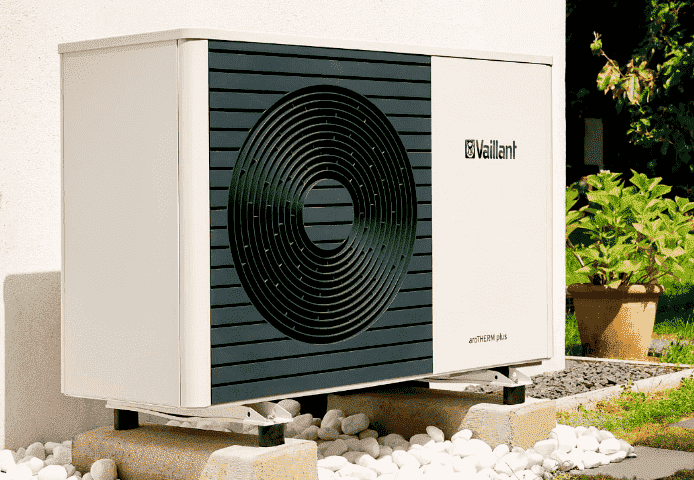 Brand 14: VIESSMANN
Viessmann are the champions of oil-fired boilers. But this company, with its tradition of innovation, feels the tide turning, and has been producing heat pumps for years, and is already marketing even more innovative fuel cell systems.
Their best-known heat pump model is the Vitocal :
The Vitocal 222S: a split heat pump with a 220-liter DHW tank that provides almost 9kW A7/W35 in 230V with a COP > 4
The Vitocal 200S: same as 222S but without hot water.
The Vitocal 100S: a split heat pump that provides up to 15kW approximately A7/W35 with COP 4.5 (its twin with ECS is the 111S)
The Vitocal 350-A: a high-temperature heat pump for renovation that provides almost 21kW of power with a COP of 3.4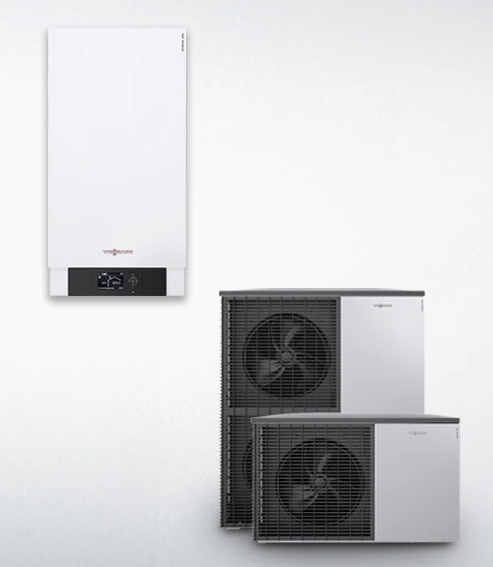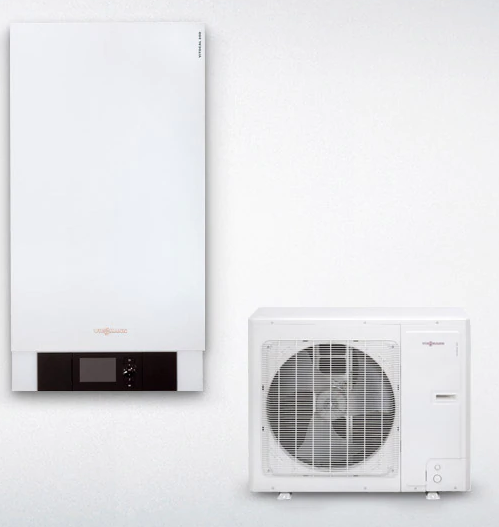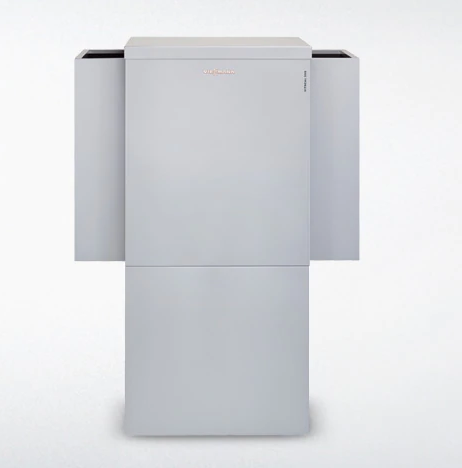 These heat pumps are quiet, and the brand boasts an AAD Advanced Acoustic Design label showing that they have paid particular attention to the noise produced by this unit.
Brand 15: STIEBEL ELTRON
If you type "German heat pump" into Google, the first thing you'll find is the Stiebel Eltron site. Are we to assume that this is the benchmark for German heat pumps, or that they have a top SEO guy in charge of search engine optimization? 🙂
That's probably because it's one of the few companies that really specializes in heat pumps. While the others do all kinds of heating and other air conditioning or ventilation, solar, etc..
Stiebel Eltron offers every type of heat pump imaginable!
One of the most sought-after models is the WPL33, which delivers 6 kW at very high temperatures.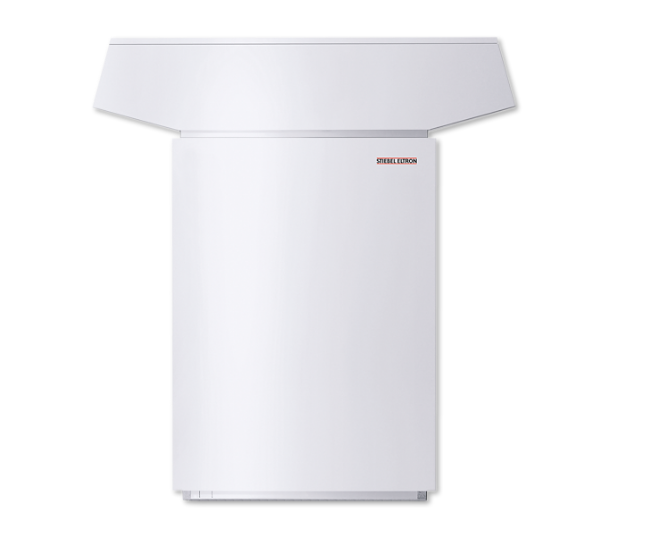 Stiebel also has a more compact model, the WPL15 or HPA 13, shown in the photo below.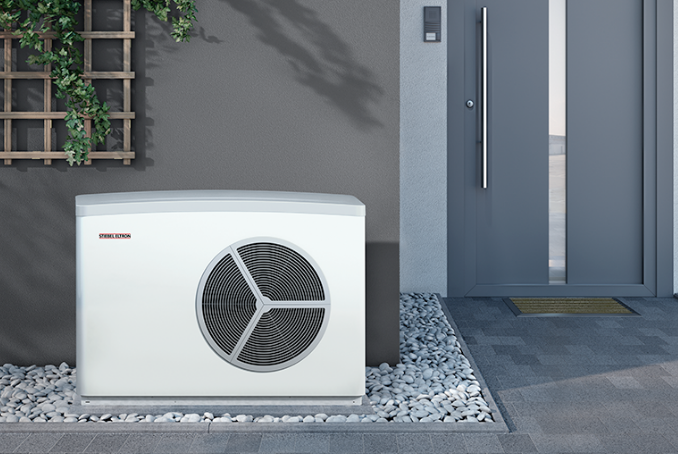 Japanese brands of heat pumps?
In the land of the rising sun, productivity is king. The inventors of the Kanban, and car manufacturers with a reputation for reliability, are also leaders in terms of heat pumps.
Brand 16: PANASONIC
The Panasonic heat pumps are among the most sought after on the web! Known for making quality with reasonable prices, this brand is multidisciplinary, from electronic components to air conditioning or automotive solar.
Its most popular model is the Panasonic Aquarea, about which you can find a detailed review by searching the site menu, heating section.
It exists in monobloc or bi-bloc, and can provide from 9 to 16kW of heating power A+7°C / W+35°C with COP around 4.5
The interior module of the reversible heat pump takes the form of a large fridge, 1.8m high and weighing 126kg. It includes domestic hot water.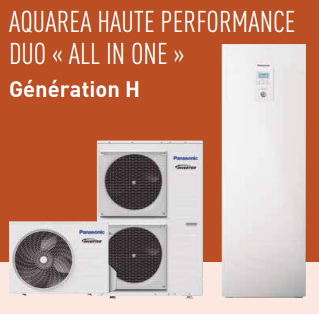 Brand 17: HITACHI
Better known for air conditioning, the Hitachi brand of Japanese origin actually belongs to an American group active in building controls: Johnson Controls.
They offer mainly split reversible heat pumps, but they also have a monobloc PAC model. Their heat pumps are called Yutaki and provide heating power from 6 to 11kW max A7/W35 on underfloor heating, with theoretical COPs ranging from 4.5 to 5.
It's not the beauty of the heat pump itself that will grab your attention, but you may be seduced by its regulator, which won a European design award.
To learn more about this heat pump, feel free to read our full review.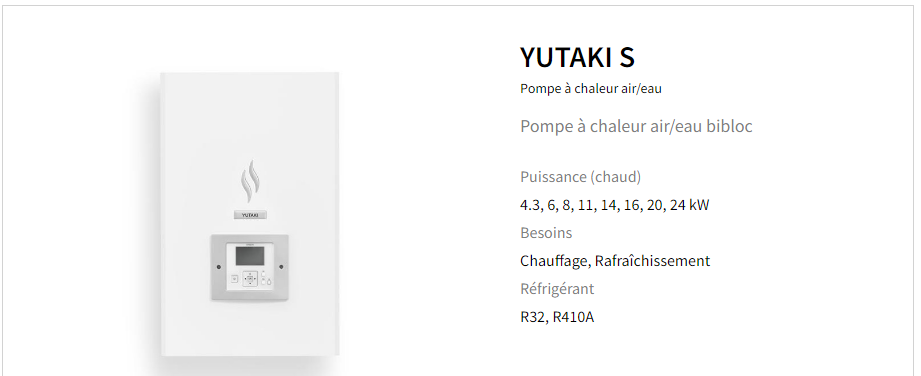 Brand 18: DAIKIN
This brand is probably the most famous of all Japanese brands, and perhaps of all brands, when it comes to heat pumps. Countless installers offer it, you hear commercials on the radio, anyone you know who has a heat pump is likely to have this one.
The star heat pump is the Daikin Altherma 3H HT. It's a high-temperature reversible heat pump. The fact that it's high-temperature means you can use it in your home renovation, since it can be adapted to an old-fashioned radiator network. It can provide the right temperature, but without such an amazing COP - check out the technical data sheets.
DAIKIN has paid a great deal of attention to design, and this is probably what makes this unit so successful, in addition to the fact that it is silent. Daikin's research and development teams have gone so far as to play on the psychological impact of appearance on the noise perceived by the brain.
To learn more, you can read our dedicated article here: https://seize-sa.ch/daikin-altherma-3-h-16kw-notre-avis-sur-cette-pac/
You have to admit it's rather pretty, especially the black grille on the outer group.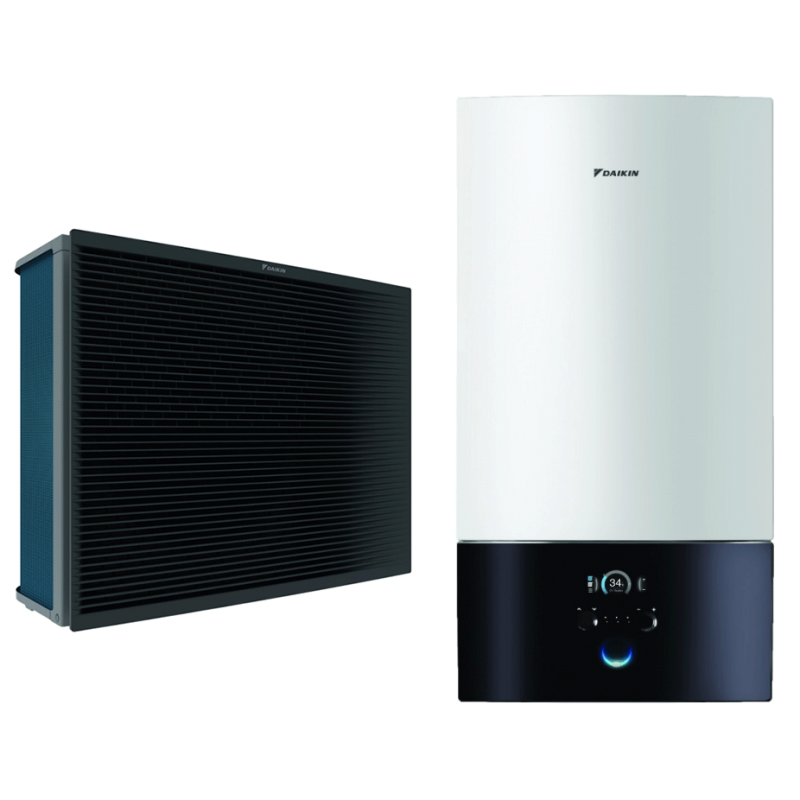 Au printemps 2023, la marque Daikin a déjà annoncé l'arrivée courant 2024 de sa nouvelle pompe à chaleur Daikin Altherma 4 Standard et Silent qui devrait fonctionner au R454C ou au R290 selon les modèles. 18 ans après avoir sorti son Altherma 3, nous verrons donc si la marque frappe aussi fort avec cette nouvelle version. Affaire à suivre.
Brand 19: MITSUBISHI
Well known in the automotive world as well as in air conditioning, the Mitsubishi brand is also active in the world of heat pumps.
It offers a range called ECODAN and within this range a technology called ZUBADAN for extreme cold.
This heat pump is very compact, at least for the indoor module, the Ecodan Hydrobox, since it measures just 800*530*360 mm and can easily be placed in a kitchen, as in this photo, or in a utility room. Of course, if you want it to be as neat and tidy as it is, you'll need to plan ahead in your architect's drawings.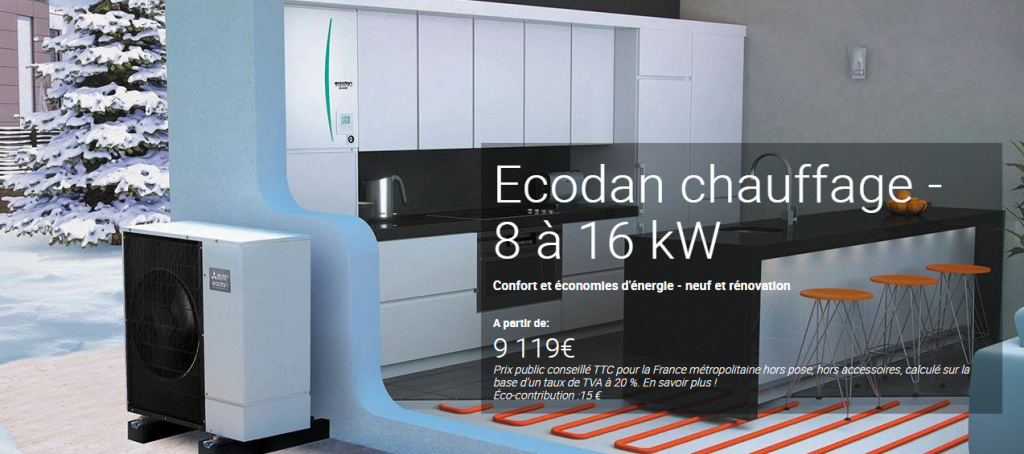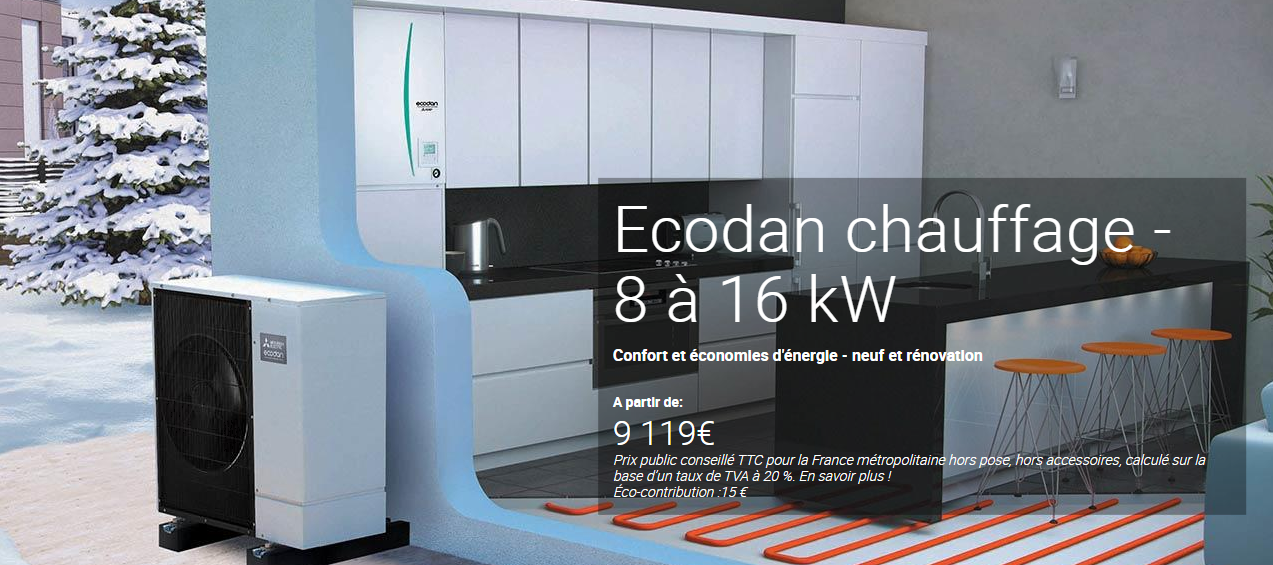 Brand 20: TOSHIBA
The brand that created the first portable air conditioner in 1935, and the Twin Rotary compressor technology that many heat pumps use. Toshiba is a pioneer in air conditioning, and naturally also offers heat pumps for heating.
Its best-known model is the Toshiba Estia, which provides heating with water up to 65°C, and domestic hot water.
Not necessarily the most beautiful, it remains sober, and offers a wifi interface for remote control. It offers 4 to 13 kW of heating capacity, with a SCOP of up to 4.6, and runs on R32, the refrigerant that will replace R410A in the vast majority of heat pumps by 2025.
Here is an example of the integration of this Estia Toshiba heat pump with integrated DHW: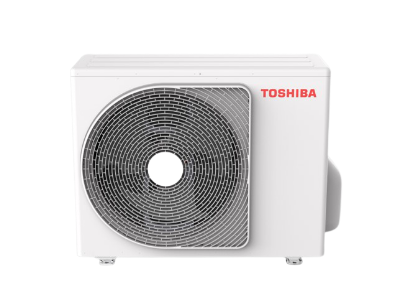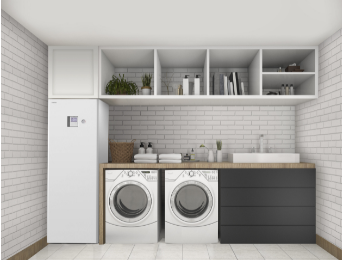 Quelle est la meilleure pompe à chaleur air-eau 2023 ?
Among these models of heat pump, we can retain 2 that stand out from the rest by their thermal and acoustic performances, as well as by their worked design.
La pompe à chaleur NIBE S2125 et la Daikin Altherma 3H HT sont un bon choix pour votre installation de pompe à chaleur.
Ces deux fabricants ont une experience and a expertise in terms of heating by heat pump in Europe and worldwide. They also both have a strong tradition of innovation, and are constantly thinking about how to improve their products using the data their sales volumes provide every year. If you're looking for the best heat pump on the market today, you're likely to find it with one of these two giants.
And that's it, we've rounded up the 20 best-known heat pump brands. If all these models don't inspire you to replace your heating system, there's nothing more we can do for you :). Make the right choice, and for installation, go through our network of partners, who will give you a quote for your project with no obligation on your part.
Editor's tip (totally subjective 🙂 ): from experience, customers who choose heat pumps from Sweden (NIBE, etc.) pay the price but are mostly satisfied.
Juliena mechanical engineering graduate and specialist in climate engineering since 2009, has become a writer specializing in renewable energies, with expertise in heat pumps and photovoltaic solar panels for individual housing.