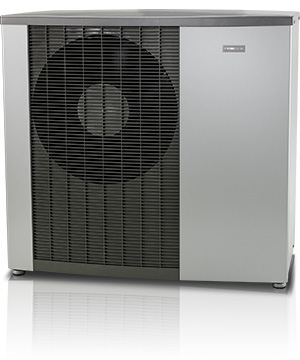 Above, the outdoor block. It can be placed outside, in the garden, against a wall, in the middle or at the bottom of the garden.
This is a heat pump monobloc which will be connected to a buffer tank and/or a hot water tank in the equipment room.
You are in France in Belgium or Switzerland ? Use the iframe below to get a free estimate from a professional.
---
Aesthetics of the NIBE F2120 CAP
The model is sober.
The gray and black will keep the dust from showing too much.
The design is neat, but not overly modern.
---
Performance NIBE F2120
This model is mainly available in 4 power levels
If your distribution is by radiators, you must consider the A-7/W55 data.
If it is by floor heating, the data A-7/W35.
This power range allows to cover the majority of the typical single-family houses in Switzerland.
They're ideal if you're replacing your oil-fired system and are consuming between 1000L and 3500 or 4000L of fuel oil per year for heating and hot water.
In the event of higher consumption, 2 of these heat pumps can be installed in cascade, so that their output can be added together.
It can be seen that the COP at -7°C for a distribution by radiators, falls towards 2.2.
This makes the machine 2.2 times more energy-efficient than a conventional electrical installation.
However, in an average European climate, the average temperature is not -7°C.
To further investigate the consumption data, we talk about SCOP, or Seasonal COP.
This is the COP of the machine, not at a specific time, but averaged over the period of use.
For the CAP, it will be in winter.
The standard takes 3 reference climates:
Athens for the warm climate
Strasbourg for the temperate climate
and Helsinki for the cold climate. 
This SCOP determines the machine's energy label: 
A++ : The SCOP is greater than or equal to 5.1
A++ : 4.6 ≤ SCOP < 5.1
A+ : 4 ≤ SCOP < 4.6
A : 3.4 ≤ SCOP < 4
The NIBE F2120 is therefore class A++ for floor heating, but class A for other distributions.
With these values, these PACs easily pass the minimum requirements set by the cantons for subsidies.
They are therefore prized by many installers.
---
Acoustics
the sound power emitted is 53dBA, enabling this machine to pass easily, on paper, the forms for authorizations at municipal level. In most cases, the resulting sound pressure will be less than 45dBA, thus complying with the standard. In practice, this model is very quiet, even at full power.
---
Starting current :
5 Amps.
This starting current is very low and really perfect to not have to change your electrical panel.
On other models, this figure may be higher, requiring your electricity supplier to increase the amperage: a costly operation.
---
Cost NIBE F2120
This heat pump is often found between 10kCHF for the smallest, up to 15 or 16kCHF for the large model (machine only).
In Switzerland the prices of heat pumps often correspond to the manufacturer's gross catalog price, sometimes a little more depending on the company.
---
Availability
This heat pump is not sold directly by the company that manufactures it, but through distributors.
There are many of them in Switzerland, which means reasonable lead times and a skilled workforce familiar with this widespread model.
---
Certifications
This heat pump has all the necessary certifications to allow you to apply for subsidies.
In particular, it is installed according to a precise and official PAC system module diagram, without which you won't get your subsidy.
---
Assembly quality F2120
The Swedish-made NIBE F2120-8/12/16/20 heat pump looks like a robust model.
At first glance, the impression is one of quality assembly and a well-organized manufacturing plant.
---
Footprint
With :
a width between 1.13m and 1.28m for the small and the big model
a height between 1.03 and 1.13m
and a thickness of 50cm
This compact heat pump can be easily integrated under a window.
It is also easy to hide in the garden if you have a green area.
See dimensional drawings : F2120-8 | F2120-12 | F2120-16 | F2120-20
---
Overall:
This heat pump leaves a good impression.
It's the right choice if you want to feel secure throughout the system installation phase.
Read also :
All air water heat pump reviews
TOP 20 Best air-to-water heat pumps
Juliena mechanical engineering graduate and specialist in climate engineering since 2009, has become a writer specializing in renewable energies, with expertise in heat pumps and photovoltaic solar panels for individual housing.