Thermal comfort, energy savings, a reasonable carbon footprint, government subsidies... the heat pump is a piece of equipment that combines all the advantages. But a few drawbacks can spoil your experience, not least the noise that can be generated. Beyond the comfort, there's a real legal risk here, especially if you have an immediate neighborhood or live in a densely populated area.
This is precisely where heat pump sound insulation boxes come in. As their name suggests, these boxes neutralize the noise of heat pump operation, ensuring your acoustic comfort and compliance with current regulations.
But what is the price of a heat pump sound insulation box ? It all depends on the material used, the cabinet dimensions, the model and other factors. To help you make sense of it all, here's a quick summary of price ranges according to housing type:
| | | |
| --- | --- | --- |
| Type of sound insulation box | Sound insulation box material | Price range |
| Wooden box | Solid wood - plywood | 200 € – 500 € |
| Metal housing | Galvanized steel - aluminum | 500 € – 1 500 € |
| Composite housing | Wood, metal, acoustic foams | 1 000 € – 3 000 € |
Is your heat pump (HP) particularly noisy? Would you like a little more peace and quiet for you and your neighbors? Are you afraid of exceeding the local noise limit? Would you like to find out more about heat pump sound insulation prices? Follow this comprehensive guide to choosing the right heat pump soundproofing box without breaking the bank.
Understanding the noise of heat pumps
How does a heat pump work?
Before delving into the heart of the matter, let's take a moment to understand how a heat pump works.
This "clever" device recovers heat from the air, ground or water and transfers it inside your home, heating the water in your heating circuit or producing warm air. To do this, the heat pump uses a thermodynamic cycle comprising a compressor, a condenser, an expansion valve, a fan and an evaporator. You may not be aware of it, but the noise generated during operation is mainly emitted by the compressor and fan.
CAP noise levels: what does the law say?
To protect the peace and quiet of neighbors, most countries have regulations governing the noise levels emitted by heat pumps. In France, for example, heat pump noise has been regulated since 2006, and falls into the category of neighborhood noise pollution. At this level, the law stipulates: " No particular noise should, by its duration, repetition or intensity, be detrimental to the tranquillity of the neighbourhood or to human health.. "
To determine whether the sound volume is permissible, we refer to the notion of emergence, which is the difference between the sound pressure level measured when the device is stationary and the level measured when the device is in operation at the same location. Emergence measurements are carried out at the property limit, and regulations differentiate between daytime and nighttime emergence. Still in France:
5 dB(A) maximum permissible deviation from 7 a.m. to 10 p.m. ;
3 dB(A) maximum permissible deviation from 10 p.m. to 7 a.m.
In Switzerland, for example, the value not to be exceeded is generally 45 dB(A) in residential areas.
Noise from heat pumps: a daily hassle
If you're wondering why it's so important to reduce the noise from your heat pump, you should know that noise pollution can have harmful consequences for the health and well-being of people exposed to it on a daily basis.
Noise can cause chronic stress, insomnia-type sleep disorders, concentration problems, fatigue, mood disorders (nervousness and irritability in particular), and so on. In addition to affecting the quality of life of your household or your employees, the noise emitted by your PAC can damage your relations with your neighbors and expose you to sanctions.
Anti-noise enclosures for PAC: a simple and effective solution
Sound insulation box for heat pumps: operating principle
A real bubble of silence for your heat pump, the anti-noise box or soundproofing box for heat pumps is a clever solution for reducing noise pollution from your heat pump. By enveloping your unit in an insulating structure, the box limits the propagation of vibrations and sound waves, ensuring greater living comfort for you and your neighbors.
Designed to be aesthetically pleasing, unobtrusive and easy to install and maintain, noise-reduction housings for heat pumps blend harmoniously into your outdoor space, combining the useful with the pleasurable. In some cases, the installation of an anti-noise box offers a real aesthetic advantage over a "raw" heat pump.
The different types of soundproof enclosures: prices to suit all budgets
As we told you, the price of a heat pump sound insulation box depends largely on the materials used for sound insulation. Depending on your needs and budget, there are several types of PAC sound insulation boxes available. Here's an overview of the main options and their price ranges.
1. Wooden pedestals: authenticity and softness
Wooden housings, usually made from solid wood or plywood, are generally more affordable than other types of housing, while offering effective sound insulation. Reinforced with rock wool or glass wool, their walls guarantee an appreciable reduction in noise pollution. The price of a wooden box ranges from 200 to 500 euros, depending on the size and quality of the materials used.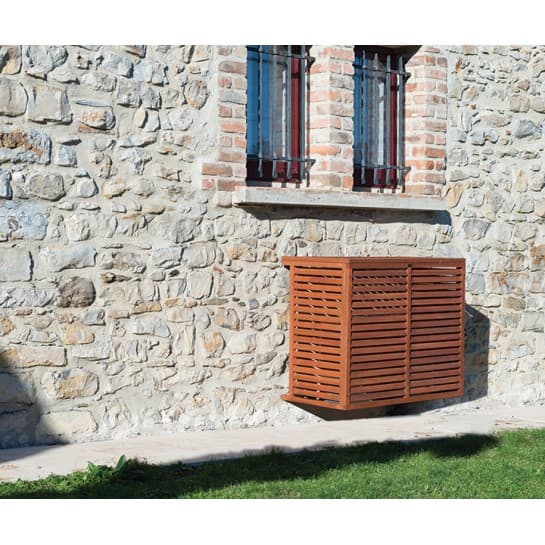 photo credits @decoclim: example of an anti-noise wooden heat pump decorative box
2. Metal housings: robust and insulated
Metal housings, made from galvanized steel or aluminum, offer superior sound insulation and greater durability than wooden housings. However, this performance comes at a price: expect to pay between 500 and 1,500 euros for a metal box. They are generally fitted with rock wool, glass wool or acoustic foam insulation panels for maximum efficiency.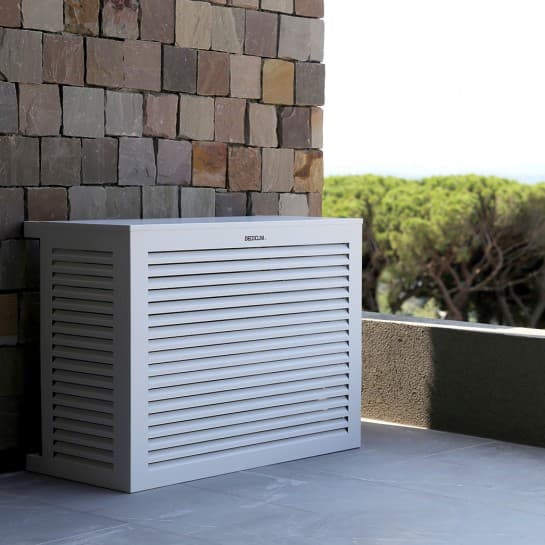 photo credits @decoclim: example of a decorative anti-noise aluminum heat pump housing
3. Composite housings: the perfect alliance for optimum performance
This is the premium option. Composite sound enclosures cleverly combine various materials such as wood, metal and acoustic foams. They offer excellent sound insulation and durability. However, their cost is generally higher, with prices ranging from 1,000 to 3,000 euros.
Although considered to be the best in terms of performance, composite housings can represent a substantial investment for some budgets, delaying the payback on your heat pump.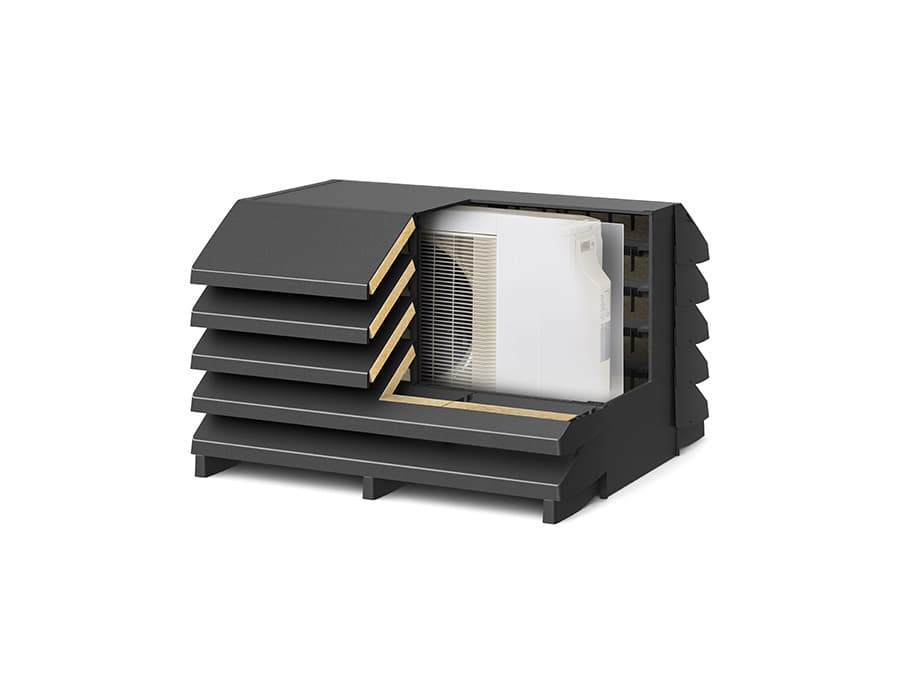 photo credits @solflex: example of a heat pump sound insulation box with acoustic foam, plastic outer surface, and rain screen for weather protection
Price comparison of soundproof enclosures for PAC
Heat pump sound insulation boxes come in all ranges, each offering a different level of soundproofing, depending (once again) on the insulation material used. Let's take a closer look.
1. Entry-level noise enclosures
Whether wood or metal, entry-level PAC soundproofing boxes are bound to have mixed results. There's no miracle here. In fact, they're more like heat pump covers than real soundproofing boxes. Expect a small reduction in the noise emitted by the unit, estimated at between 10 and 30 %.
Among these are the aluminium soundproof boxes offered by decoclim.fr, available in sizes M, L, XL and XXL:
Decoclim Alu Blanc (RAL 9010) - Size M: from €299.17 ;
Decoclim Alu Blanc (RAL 9010) - Size L: from €389 ;
Decoclim Alu Blanc (RAL 9010) - Size XL: from €519 ;
Decoclim Alu Blanc (RAL 9010) - Size XXL: from €749.
Find the Decoclim brochure with all models here
2. Medium and high range soundproof enclosures
In the category of mid-range and high-end soundproof enclosures, Solflex enclosures stand out for their performance and quality. Here's an overview of the brand's three flagship series.
a. HD series: versatility and discretion
The Solflex HD series is designed with polypropylene louvers and an aluminum inner frame, covered with an acoustic mat. Optimum air circulation ensures that the heat pump operates under optimum conditions. With a reduction in noise emissions of up to 6 dB(A), measured to DIN EN ISO 3744, the HD series combines discretion and performance.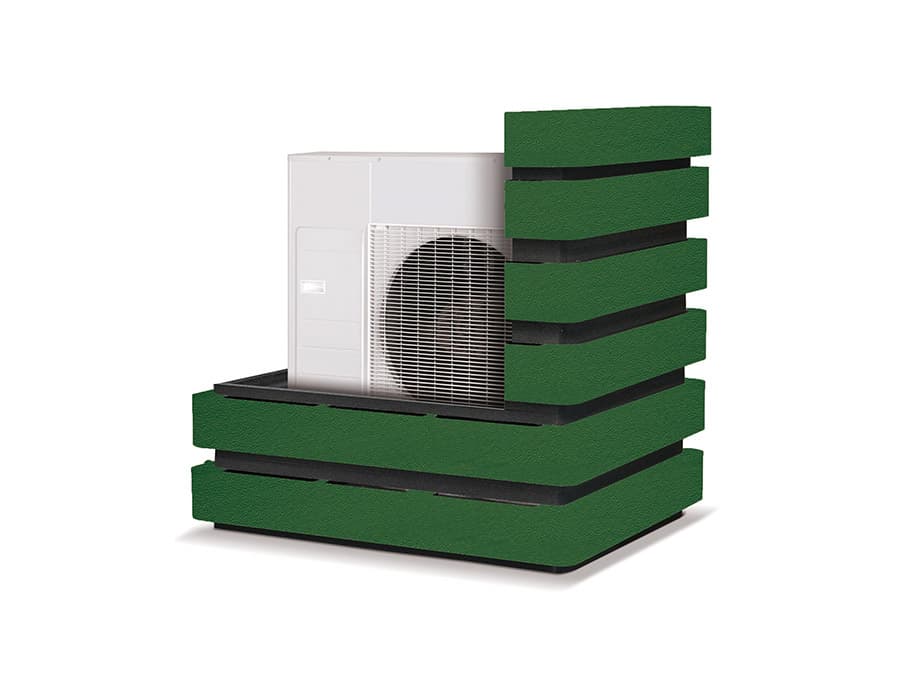 Pros:
Effective noise reduction without compromising heat pump operation;
Clever design to optimize outdoor unit efficiency;
Easy access for maintenance ;
Resistance to weathering and vandalism ;
Color can be matched to the surrounding environment.
Price from €2,199 (excluding tax and delivery charges)
b. HW series: protection and design
The Solflex HW series is characterized by its plastic outer surfaces and its acoustic air intake and exhaust louvers, offering enhanced protection against the elements. Noise emissions are reduced by up to 7 dB(A), measured to DIN EN ISO 3744, enabling this series to combine efficiency and aesthetics.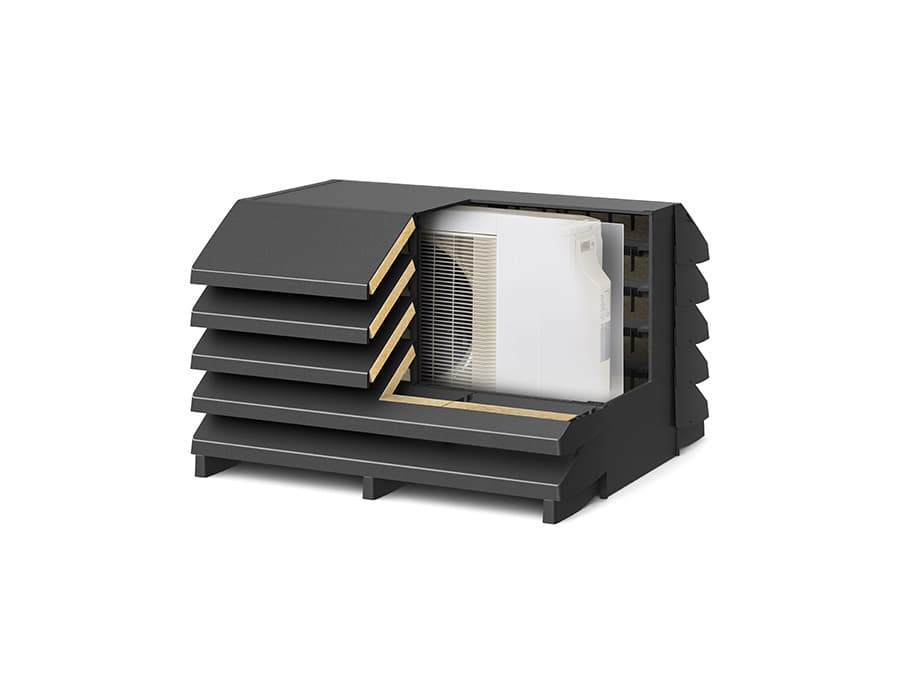 Pros:
High-performance noise reduction without impairing device operation;
Innovative design maximizes outdoor unit efficiency;
Easy care and maintenance;
Protection against weather and vandalism.
Price from €1,899 (excluding tax and delivery charges)
c. HC series: robustness and superior insulation
The Solflex HC series features a galvanized steel outer surface, integrated acoustic baffles and 50 mm of acoustic foam insulation, reinforced by 25 mm of Rockwool insulation. This top-of-the-range design ensures optimum sound insulation, with a reduction in noise emissions of up to 10 dB(A), measured to DIN EN ISO 3744, while guaranteeing the durability and solidity of the box.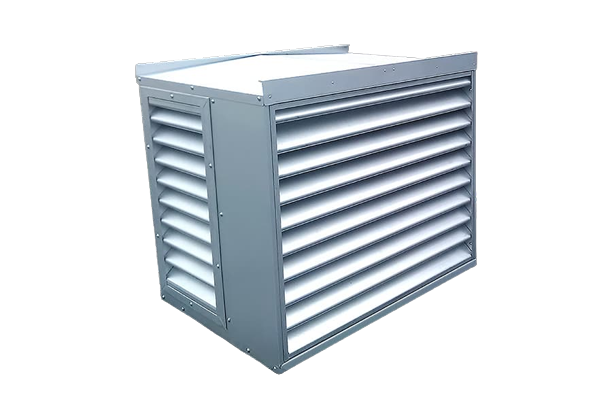 Pros:
Exceptional noise reduction ;
Ingenious design for optimum outdoor unit efficiency;
Easy access for maintenance ;
Resistance to weathering and vandalism ;
Color can be adapted to suit the environment.
Price from €1,699 (excluding tax and delivery charges)
In addition to the HD, HW and HC series, Solflex also offers higher-end solutions for superior soundproofing. Attention Prices can quickly climb to €6,000 to €7,000, or even much more (depending on size and insulation material used):
HM series 13 dB(A)emissions reduced by up to 13 dB(A), measured to DIN EN ISO 3744. Prices from €2,399 to €3,499 (excluding tax and delivery charges);
HCS series 14 dB(A)Sound pressure reduction of up to 14 dB(A). Price: between €2,199 and €5,999 (excluding tax and delivery charges);
SHC 18 dB(A)From €3,999 to €6,999 (excluding tax and delivery charges) ;
H 18 dB(A)3,051 to €11,200 (excluding tax and delivery charges) ;
XH 20 dB(A)Price on request.
d. Special mention: Daikin EKLN-A sound insulation box
Available from €1,500, the Daikin EKLN-A acoustic enclosure has been specially designed for Daikin Altherma outdoor units (compatible with Daikin Altherma ERGA-D and ERLQ-C outdoor units). This anti-noise enclosure for heat pumps is ideal for complying with strict noise level standards, while still enjoying the full benefits of your heat pump.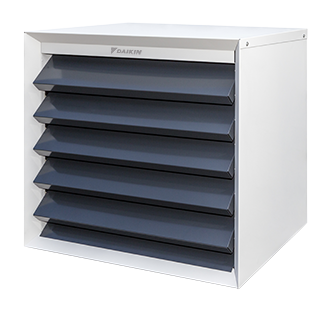 In detail, the EKLN-A soundproof box offers guaranteed performance thanks to optimization and testing at the Daikin factory. The separation of air intake and discharge minimizes pressure and capacity losses. This unit reduces noise levels by 50 % (-3 dBA). In night mode, the sound level can be reduced to less than 35 dB(A) at a distance of 3 meters with an average sound pressure PAC.
The EKLN-A housing has a modern, functional look that blends harmoniously with your exterior. What's more, installation is quick and easy, taking just 20 minutes. Last but not least, the easy-to-open casing facilitates access to the unit for servicing and maintenance.
PAC sound insulation box: what you need to know
Noise control boxes are an excellent way to reduce the noise level of your heat pump, improving your living comfort and that of your neighbors;
It is crucial to ensure compliance with local standards and regulations concerning heat pump noise emissions;
Prices for heat pump sound insulation boxes vary markedly depending on the sound insulation material used, the size and level of finish, and the brand;
Entry-level soundproof enclosures are more formwork than soundproofing. Noise attenuation from the heat pump is slight (10 to 30 %);
Top-of-the-range soundproof enclosures, offering optimum efficiency, can cost up to €11,000.
Juliena mechanical engineering graduate and specialist in climate engineering since 2009, has become a writer specializing in renewable energies, with expertise in heat pumps and photovoltaic solar panels for individual housing.