The "Racer" brand is a property of Cash Piscines, a company created in 2000 that has a big hundred stores specializing in swimming pool equipment and supplies, maintenance equipment, water games and inflatable spas. Present in France and Spain, Cash Piscines launched an e-commerce website in 2017 that consolidates its reputation in its industry.
Today, Racer is an exclusive brand of Cash Piscines and offers a wide range of products: 
Pumps and filter boxes ;
Sand filters ;
Outboard filtration ;
Heat pumps for swimming pools ;
Electric heater ;
Electric pool robots;
Electrolyzers ;
pH controllers ;
Counter-current pump;
Boosters ;
Telescopic reels ;
Freeze-free chests.
The Racer pool heat pump range consists of two references: the Racer heat pump (conventional heat pump), and the Inverter heat pump.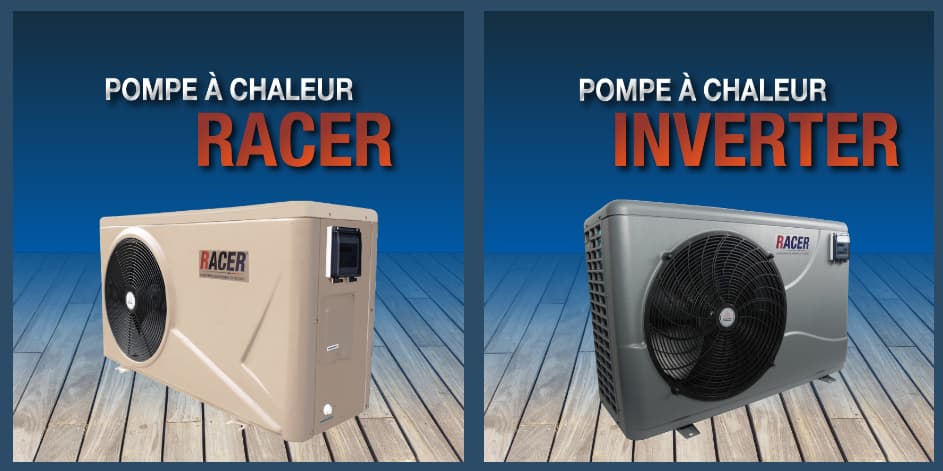 Aesthetics of Racer pool heat pumps
Let's not prevaricate: the two swimming pool heat pumps signed Racer are not really fashionable. The design is still classic, outdated and a little outdated for air conditioners and air-to-water heat pumps. The ABS casing and stainless steel screws are certainly resistant and rather solid, but they give an old-fashioned look to these pool heat pumps, whether on the horizontal single-phase model or the vertical pump.
The classic Racer heat pump (On/Off) is painted in the usual white of household appliances, while the Inverter heat pump is a rather austere grey. As a result, the Racer heat pumps are unlikely to contribute to the aesthetics of the premises!
Performance of Racer pool heat pumps
Cash Piscines offers two models of heat pumps under the Racer brand: a classic model and an Inverter model.
#1 The classic Racer pool heat pump
This is the brand's entry-level model, offered in 8 variations, with power ratings ranging from 5 kW to 18 kW for the single-phase horizontal model, and from 18 kW to 26 kW for the vertical pump. This heat pump is therefore suitable for pools of 20 m3 (single-phase horizontal pump of 5 kW) to 140 m3 (three-phase vertical pump of 26 kW).
The COP (air 27°C - water 27° C) is excellent, since it oscillates between 5.8 and 6.2, which is more than the 5.5 announced on the Zodiac Z200 M2The Jetline Premium Full Inverter from Poolex consumes six times less power than the heating power provided to the pool. In concrete terms, you consume 6 times less than the heating power provided to the pool. In less favorable conditions (air 15° C - water 26° C), the COP falls in the range of 4 - 4.4, which is still correct in this price range. 
Note that this heat pump uses R410A gas, more polluting, more expensive and slightly less efficient than R32.
This reversible swimming pool heat pump has a Hitachi Panasonic or Sanyo Scroll compressor, depending on the model.
COP of a swimming pool heat pump vs. an air-water heat pump
Let's open a small parenthesis here. Heat pump COPs vary according to their specific use and application. Heat pumps for swimming pools generally have higher COPs than heat pumps for heating or domestic hot water (DHW), as they generally operate at higher temperatures and have lower thermal loads. High outdoor air temperatures, which can exceed 30°C, enable pool heat pumps to operate more efficiently, with high COPs. By contrast, heat pumps for heating and domestic hot water are designed to operate at lower temperatures (winter) and with higher thermal loads, which can result in lower COPs. COP values for air-to-water heat pumps used for heating generally range from 2.5 to 4, while COP values for pool heat pumps can reach up to 7. It is therefore not relevant to compare the COPs on these two different applications.
#2 The Racer Inverter pool heat pump
The Racer Inverter pool heat pump is available in 7 power ratings, from 7 kW to 25 kW, for pools from 12 m3 to 132 m3.
This model embeds the Inverter technology, which allows the heat pump to adjust its energy consumption to the real needs of the pool. It will therefore only deliver the power needed to heat the water, with an additional energy saving of 30 % and less wear and tear over time compared to a conventional "On - Off" model.
The efficiency of this model is very good, with a COP that varies between 4 and 8.6 depending on the climatic conditions and the model: 
Performance at air 28° C and water 28° C: between 5.5 and 8.6 depending on the model... a huge COP!
Performance in air 15° C and water 26° C: between 4.1 and 5.6 depending on the model.
In sum, for every 1 kWh of electricity consumed, the Racer Inverter pool heat pump produces between 4.1 and 8.6 kWh of heat, which is excellent.
The acoustics of Racer pool heat pumps
The classic PAC Racer is on a reasonable noise level at 10 meters, between 39 db(A) and 50 db(A) for the most powerful model. To give you an idea, 50 db(A) is the noise produced by a modern dishwasher or a quiet restaurant. The Racer Inverter pool heat pump is slightly quieter, with a range of 37 db(A) to 48 db(A) at 10 meters. 
Please note the blast is significant (and cold) when you are standing right next to it. Also, the background noise can be more noticeable if the heat pump is installed in the axis, in a frontal way, in relation to your usual location on the pool or terrace.
The price of Racer pool heat pumps
| Model | Racer Inverter | Classic Racer (mono.) | Classic Racer (tri.) |
| --- | --- | --- | --- |
| 7 kW | 1 079 € | 995 € | – |
| 13 kW | – | 1 395 € | – |
| 18 kW | – | 2 729 € | – |
| 25 kW | 3 359 € | – | – |
| 26 kW (tri.) | – | – | 3 595 € |
Of course, you must add the cost of installation. If you want to enjoy your pool at the best price, we recommend that you use the tool below to generate three comparative quotes from nearby professional installers.
Availability of Racer pool heat pumps
Racer swimming pool heat pumps are available in all Cash Piscines stores and on the company's e-commerce website. You will also find them without any problem in specialized department stores and the usual e-shops (Mano Mano, Leroy Merlin, etc.).
Control of the Racer pool heat pumps
The "classic" Racer pool heat pump has a control panel on the left side. The interface is not really intuitive. You will need a lot of manipulation to get used to the different settings, even with the manual in hand. The Inverter model is a bit more accessible, as it can be controlled remotely, via the Alsavo Pro mobile application.
The Racer pool heat pumps (Inverter) have three operating modes: 
Eco mode, which uses 50 % of the device's capacity;
Boost mode, to reach the desired water temperature faster;
The Automatic modefor automated management of the device's performance according to the established parameters.
You can set the start time and the stop time over 24 hours. You can consult the manufacturer's manual which details the operating logic of the different modes.
Here are the links to the different notices:
Racer pool heat pumps footprint
Without being outrageously huge, Racer heat pumps are not really compact. They are still above average in size: 
| Model | Racer Inverter |
| --- | --- |
| 7 + 9kW | 1,008 x 380 x 577 |
| 11 + 14 + 16 kW | 1050 x 440 x 709 |
| 19 kW | 1050 x 450 x 870 |
| Model | Classic Racer |
| --- | --- |
| 5 + 7 + 10 kW | 1,008 x 370 x 577 |
| 13 kW | 1048 x 384 x 608 |
| 18 kW | 1098 x 410 x 786 |
And for the vertical: 940 x 910 x 707 mm
Links to diagrams
Racer Pool Heat Pump Accessories
Racer's "classic" pool heat pumps do not include accessories. " Only the heat pump is supplied. All other components, including the bypass, must be supplied by the user or installer. ", the instructions for use state.
The Inverter model comes with : 
2 hydraulic connections outlet/inlet in 50 mm ;
Condensate drain fittings ;
10 meter cable for remote control;
Cover for the protection of the remote control ;
Winter cover;
4 anti-vibration pads.
Juliena mechanical engineering graduate and specialist in climate engineering since 2009, has become a writer specializing in renewable energies, with expertise in heat pumps and photovoltaic solar panels for individual housing.