Viessmann is a German company created in 1917 in Bavaria in a small village called Hof. Its creator is Johann Viessmann who, after returning from the war, set up his own business to do all types of repairs on various machines.
He quickly modernized the world of boilers by introducing steel into a market dominated by cast iron boilers. Over the years, Viessmann contributed to the spread of the steel boiler, until 1957 when a real boom in this market segment took place, with the boiler named Triola, a mixed boiler using oil and coal.
If you would like an offer for the Viessmann Vitocal 200, you can contact our network of installers RGE Qualipac in France and partners GSP in Switzerlandor RESCERT in Belgium : via the form below.
Viessmann is a specialist in conventional and condensing oil boilers, but also offers gas boilers and modern heating systems using renewable energy sources such as air-to-water heat pumps, photovoltaic systems and solar thermal systems.
Here we will look at the Viessmann Vitocal 200 air-to-water heat pump model, its monobloc version Vitocal 200-A and its split version Vitocal 200-S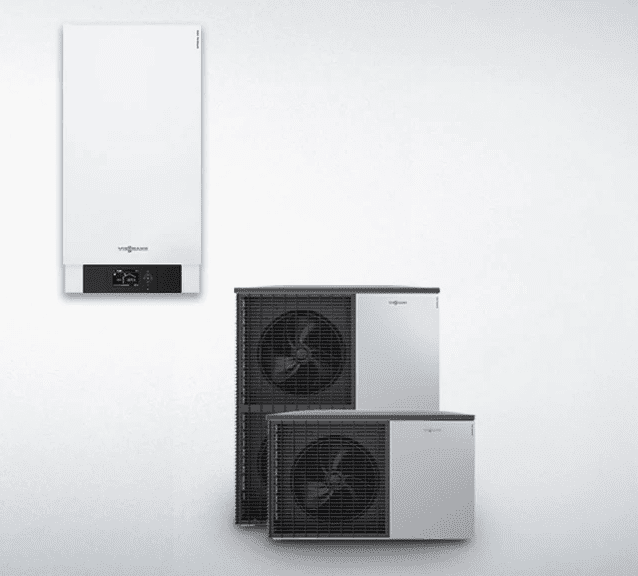 This model is very present in Germany, but also in Switzerland because the success of Viessmann in Switzerland is no longer to be presented. The Viessmann Vitocal 200 is also found in many French regions, further east towards Metz Nancy Strasbourg, or Mulhouse, Bellfort, Lyon, Besançon, all these cities that are not too far from the German neighbors.
The Vitocal 200-A model shown in the picture consists of an outdoor unit (on the right) which contains the entire refrigerant circuit, evaporator, condenser, compressor, expansion valve and other standard components. This outdoor unit is placed in the garden on a concrete slab most of the time, and often in front of it. The model also contains an indoor unit (top left): this contains the regulation system as well as a circulator and will ensure the distribution of hot water for heating in the villa.
For the Split Vitocal 200-S version, the elements are quite similar. The difference is that the condenser is not located in the outdoor unit (element on the right in the photo) but in the indoor unit. This necessarily requires the installation of refrigerant connections between the two units (whereas in the first case of the 200-A only hydraulic connections are used). This can expose the system to the risk of refrigerant leakage and possibly complicate maintenance, depending on the skills available in your area.
Aesthetics
A stylish outdoor unit with a sober black grill and a grey front that doesn't get dirty
For the indoor unit, a classic white that fits well in a modern or refurbished interior
The product should age well over time
Performance
Performance of the Viessmann Vitocal 200-A
For this air-to-water heat pump, the manufacturer presents the power for outside air at -7°C and heating water at 35°C, i.e. for low-temperature distribution, underfloor heating.
In the single-phase 230V version, the model has 6 variants of increasing power, 201.A04, 201.A06, 201.A08, 201.A10, 201.A13, 201.A16. The powers of these models are as follows:
| | | | | | |
| --- | --- | --- | --- | --- | --- |
| 201.A04 | 201.A06 | 201.A08 | 201.A10 | 201.A13 | 201.A16 |
| 3,9kW | 5,7kW | 7,1kW | 9,4kW | 10,7kW | 11,3kW |
For the three-phase version for the Swiss market in particular, only 3 powers are available
| | | |
| --- | --- | --- |
| 201.A10 | 201.A13 | 201.A16 |
| 10,1kW | 11,1kW | 11,6kW |
The coefficients of performance in each case are very close to the value of 3, which is a correct average. As a reminder, the value of the coefficient of performance depends on the desired output temperature, so if you have an underfloor heating system or radiators, it is not the same thing and it can vary from 20°C (floor 35°C radiators 55°C). Also the COP depends on the outside air temperature, so in winter it will be lower. For example, with this Viessmann Vitocal 200A heat pump you will have a COP that is closer to a value of 2 when it is -7°C and you want a heating water temperature of about 50°C in your emitters. More details can be found in the technical documentation of the manufacturer Viessmann, with precise curves.
Acoustics
The acoustic performance varies according to the power of the chosen model and the temperatures at which the measurements are taken. Viessmann indicates data for air at 7°C outside and hot water outlet at 55°C.
The sound power data is around 57 - 58 dBA. This should allow (depending on the installation in front, in a corner or in free field) to go under the 45dBA in residential that the law allows. The noise circle form will allow you to calculate exactly this data for your specific case.
On paper, the Viessmann model seems a bit noisier than a NIBE for example, but it is not far off.
Starting current
For models 201.A04 to 201.A16, the starting current remains moderate since it is 15A. This will allow you to forget any concern about modifying your electrical panel with your electricity supplier. Most electrical panels are 20A or 25A. And that's good because the operation can be expensive and surprising if you haven't planned it.
The 400V 3-phase models also have a 15A compressor starting current.
The price of a Viessmann Vitocal 200
From 7 to 8'000 CHF for the smallest model, and up to 13 or 14'000 CHF for the largest. These heat pumps are quite expensive. It all depends on the installer who takes care of your project. Indeed, the installer may benefit from more or less discounts depending on his agreements with Viessmann and may also apply more or less margin on his quotations.
This price is only for the material, not for any accessories that allow the installation of the heat pump, and not for any installation labor.
A construction site would amount to approximately 30 to 37'000 CHF excluding subsidies that you can deduct depending on your case.
Availability
All types of installers can purchase heat pumps from Viessmann and benefit from a more or less significant discount depending on their annual order volume.
Viessmann provides a partner search tool at this url: https://webapps.viessmann.com/dealerLocator/restapi/#/?lang=fr&country=fr
Simply enter your address or municipality to find the partners. It is up to you to check whether these partners have real expertise in heat pumps. Viessmann is historically a boiler supplier and works with many heating engineers who do not necessarily master the refrigeration techniques required to install a heat pump.
Regulation
The Vitocal 200 is equipped with a modern touchscreen control system called Vitotronic 200.
Thanks to a gateway called Vitoconnect 100, you can even manage your heat pump remotely via a smartphone application called Vicare App. You can find all the information here https://www.viessmann.fr/fr/applications-installation-chauffage-viessmann/vicare-app.html
Thanks to this app, you will be able to remotely adjust the room temperature, but also the heating water temperature, or manage the system's schedule. Viessmann and its engineers have set up a push notification system that keeps you informed of changes and the slightest problems with your heat pump. So in case of a breakdown, you can contact your installer with a single click.
Footprint
The size of the indoor unit is equivalent to a small boiler with :
A height of 960mm
A width of 450mm
A depth of 370 mm
It is easily wedged in a corner
The outdoor unit has a different size depending on the power required:
From model 201.A04 to model 201.A08, the outdoor unit measures WxDxH = 1109 x 753 x 544 mm. It is quite low.
For the higher models, only the height increases to 1377 mm so LxDxH = 1109 x 1377 x 544 mm. This is quite high and will have difficulty to pass under certain windows if you decide to put it in front of the housing.
Here are the diagrams:
---
Overall
The Viessmann Vitocal 200A heat pump is renowned for its German-made quality. It is suitable for both small and large homes. Rather quiet, the Vitocal 200A also features an interesting COP if you connect it to a floor heating system. The savings will be on hand. Finally, Viessmann's presence in Switzerland has been established for many years. Viessmann is an established player in the heating sector in general and in the heat pump sector in particular. In the coming years, Viessmann will be replacing more and more oil and gas boilers with air/water or geothermal heat pumps. This means that the supplier responds technicallyIf your installer needs advice. You have a double stage security, in case of failure your installer can rely on any expertise supplier to solve any problem.
Finally, the Viessmann brand has all the necessary labels to get your grants in Switzerlandmunicipal or federal (PAC System moduleetc.)
Also read:
Review of the Stiebel Eltron WPL25A other German heat pump
TOP 20 Best air-to-water heat pumps
After studying mechanical engineering, Julian entered the world of climate engineering in 2009. After having built his experience in the ventilationand then in the heating with the largest manufacturers of German origin, he became an entrepreneur in the renewable energies and in particular a specialist in heat pump and solar panels photovoltaic systems for thehabitat individual.