Daikin is a Japanese brand, like Panasonic, created in 1924 and really specialized in air conditioning and heat pumps
Daikin is at the forefront of research and development in the refrigerant that is at the heart of all heat pumps. In 2017 they launched the first heat pump powered by R32, a new refrigerant they developed that is intended to be much more environmentally friendly than its predecessor R410A.
If you are in France, Switzerland or BelgiumYou can get a free quote with this trick below.
It is a small revolution in the world of heating and air conditioning, thanks to the fact that the carbon footprint of the heat pump is divided by almost 3.
And this famous R32 heat pump is the one we are interested in here, and on which we give our opinion.
It is the Daikin Altherma 3 H HT heat pump with R32.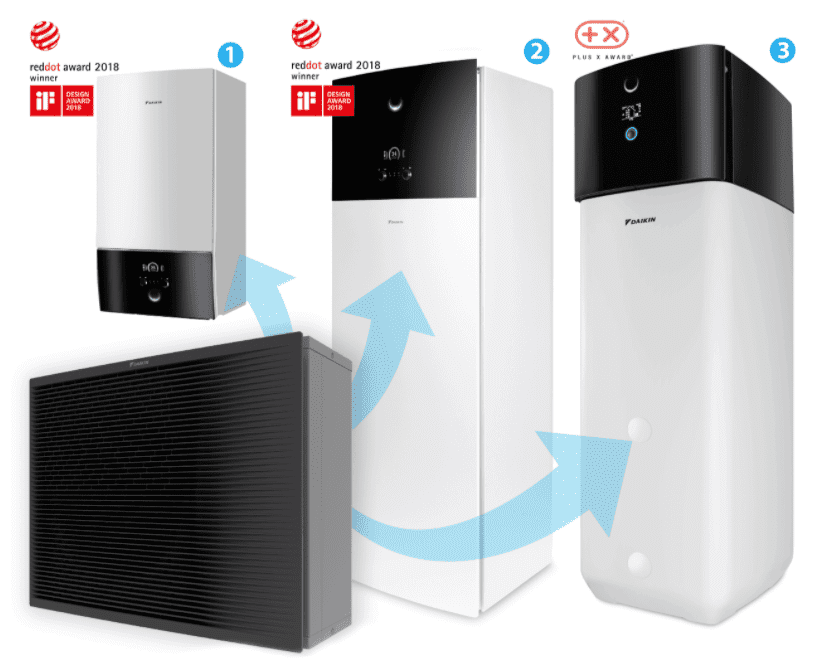 This model is increasingly found in heat pump in Switzerland since 2019.
It is a bi-bloc model, i.e. in 2 parts. It is called Hydrosplit, because the outdoor unit contains the entire hermetic refrigerating circuit, in a will of Daikin to anticipate EN 378 (2017) which limits the refrigerant charge that can be installed, and to protect the occupants of the home and maintenance personnel.
3 indoor units are possible:
The wall unit which includes the hydraulic kit to heat the house. Cooling option, and possibility to connect a hot water boiler in remote.
The free-standing unitwith the hydraulic kit and with the integrated DHW boiler. Refreshment option available
The free-standing unitwith hydraulic kit, integrated DHW boiler, and connection to the panels solar thermal.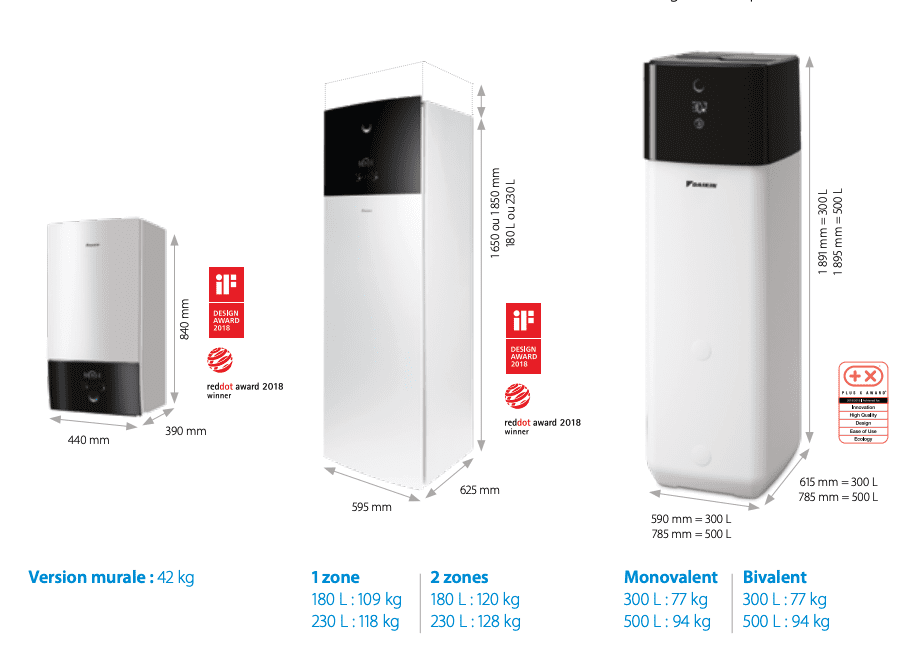 Daikin Altherma 3 H HT : its Aesthetics
The outdoor unit is very modern, delivered in a classy black.
We see an effort by Daikin to hide the fan in the front of the outdoor unit. This comes from an acoustic optimization effort, because the human mind associates the sight of a fan with noise, even if there is none. So it's a psychological optimization.
The indoor unit looks like a large refrigerator and fits quite well in a home
Performance of the Daikin Altherma 3 H HT 16kW R32 (+ size 14 and 18)
In fact, when we talk about 16kW, we are talking about the Daikin Altherma size 16, but it doesn't really deliver 16kW, well, we'll have to see depending on the conditions (in any case not at -7°C).
In all, we have 3 models that offer 3 powers around 10kW:
| | | | | |
| --- | --- | --- | --- | --- |
| Model | EPRA14DW1 | EPRA16DW1 | EPRA18DW1 | COP |
| Power (kW) A-7/W60* | 10,2 | 11,2 | 12,1 | 2,05 |
| Power (kW) A-7/W65* | 9,8 | 11,3 | 11,9 | 1,8 |
| Power (kW) A-7/W70* | 8,8 | 9,9 | 11 | 1,77 |
Daikin Altherma 3H HT ratings to consider if you have old high temperature radiators.
The COP are low, BUT we are in the high temperature! more than 60°C and up to 70°C. You need such a temperature really in case you don't want to replace your old radiators! All new radiators work with lower temperatures (50 to 55°C max.)
In terms of COP the important data to observe is in fact the SCOP. This is the average COP over the year. Thus, we take into account the different seasons and their influence.
In the technical data the SCOP for a water outlet at 60°C is not given but it should be around 3, which is good. At 55°C it is around 3,6, which means that you would pay only 1 kW of electricity to generate 3,6 kW of heat for your home.
*A for Air: the air temperature is -7°C, and W for Wasser (water in German): the water temperature is 60°C (line 1) or 65°C (line 2) or 70°C (line 3)
The heat pump has the possibility to work on 2 zones. For example, if you have a part of the house with radiators, and the other with underfloor heating, then you will have to manage two different temperatures (e.g. 55°C for the radiators, and 35°C for the underfloor heating). This is possible with the Altherma 3 H HT.
Acoustics
The acoustic power emitted by the external group is a big point of this model! With 54dBA we are clearly of sound power, it will be very little audible. And this heat pump will easily meet the recommendations of the Cercle Bruit on decibels.
Daikin insisted on this feature, and as discussed in the design section, they reworked the facade so that its psychological impact on our perception of noise is as low as possible. The idea is to create a shape and color that inspires silence, which probably produces a kind of placebo effect, making us imagine that there is even less noise than in reality.
Price of a Daikin Altherma 3H HT
| | |
| --- | --- |
| MODEL | PRICE CHF EXCL. |
| ETVH16S18D9W + EPRA14DW1 | 11'500.- |
| ETVH16S18D9W + EPRA16DW1 | 12'500.- |
| ETVH16S18D9W + EPRA18DW1 | 13'500.- |
*These prices are approximate and represent a fairly high price range. They vary from installer to installer, but should not be too far off. These prices are only for the supply of the material. A Bi-Bloc heat pump: exterior + interior. Piping and other hydraulic accessories are not included and represent a significant part of the overall installation. Such a heat pump installation costs at least CHF 25,000 to CHF 33,000.
Grants are available in all cantons.
Availability
This type of heat pump is available at most heating and air conditioning wholesalers in Switzerland.
For example, the wholesaler Clim Diffusion offers this heat pump to various heat pump installers in French-speaking Switzerland.
The Daikin Altherma heat pump at Clim Diffusion is listed under PAC System Module for example, as you can see under this link. This ensures that you meet the requirements for subsidies in Switzerland, as long as the application is made correctly.
In the Geneva or Vaud region, and to a lesser extent in the other cantons of French-speaking Switzerland, you may have to deal with companies that source from France. It is possible that the heat pump is not referenced in the PAC Système Module, even if it is the same model in every respect as the one that a Swiss supplier would offer. If the supplier is not in the PAC Système Module "certified" list, you risk not obtaining the subsidy, which is a way of closing the system to the Swiss market...
Regulation
The regulation has the small name of Madoka. It is very modern and available in 3 sober colors: white, gray and black! This box fits perfectly in the very modern interiors of new buildings or renovations.

You can:
Choose the operating mode: hot, cold, auto.
Adjusting the room air temperature
Setting the temperature of the domestic hot water
Set the boost mode of the DHW tank
Plus, like most modern heat pumps, you're going to be able to control everything from your Natel thanks to Daikin's apps.



This Residential Controller App from Daikin allows you to do a lot remotely:
Get an overview of your indoor climate data
Control by voice, thanks to Amazon Alexa or the Google Assistant
Control the temperature of each room, if your installation allows it
Make a schedule for heating or hot water
Track your energy consumption, and over time find sources of savings
Dimensions (Daikin Altherma 3H HT heat pump dimensions)
Outdoor unit
Click on the image to see a larger version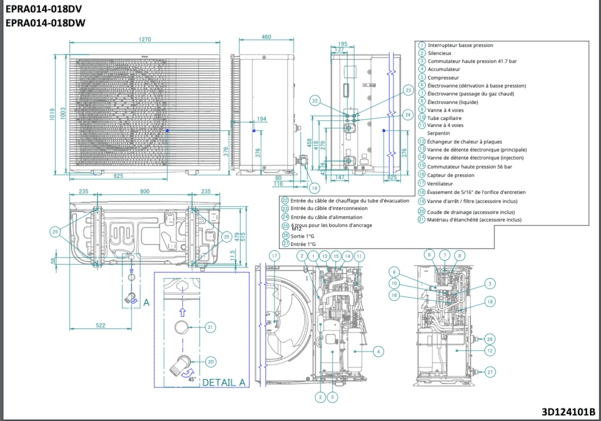 The dimensions of the outdoor unit are compact: 1270 x 1020 x 530 mm. They correspond to the standards of modern outdoor heat pumps. Perfect for integration under a window for example. Remember that you will need at least another 20 cm between the wall and the heat pump for minimum access to the piping.
Indoor unit
The indoor unit is also rather compact and looks like a large refrigerator: 1880 x 634 x 597 mm. It fits perfectly into even a small technical room.
Click below to view larger dimensions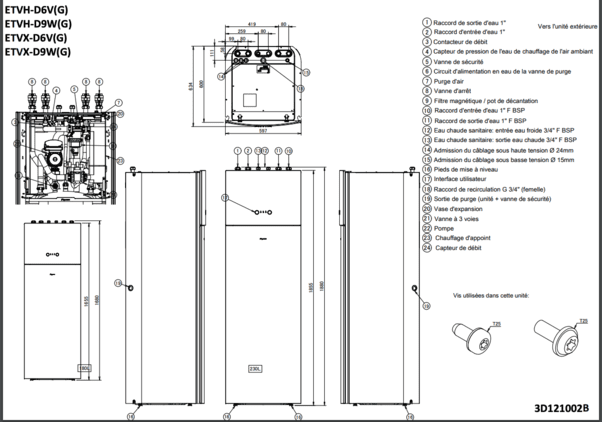 Notable technical elements 🕵️♂️
The PAC works with a new refrigerant gas, called R32, which is much less polluting for the environment. Let us briefly recall the advantages of R32 gas:
Its Global Warming Potential (GWP) is 3 times lower than R410A, the latest reference gas
It is not highly flammable
It has a low toxicity
Impact on the ozone layer ODP = 0
Enthalpy > R410A
Performance > R410A
Approx. -30% gas charge requirement compared to R410A
Cost R32 > Cost R410A
The scroll compressor with double injection allows to provide a hot water outlet temperature up to 70°C by -15°C of outside air. The COP is very bad of course...1,5 probably, but it works.
The compressor is also equipped with 3 layers of soundproofing and a vibration absorbing plate to improve acoustics.
---
Daikin Altherma 3H HT Technical Data Sheet / Manual
Here you will find all useful information about the Daikin Altherma 3 technical documentation 🤓
Many technical data on Daikin Altherma heat pumps are available on the Daikin Technical Data Hub
VIEW DAIKIN ALTHERMA 3H HT DOCUMENTATION
SEE THE TECHNICAL MANUAL DAIKIN ALTHERMA 3H HT
The Daikin product page is very well constructed
Daikin Altherma 3 ht heat pump review: Overall
The Daikin Altherma 3 H HT heat pump has a very modern appearance that makes it a desirable product. The brand is very strong on this point in terms of marketing. The regulation gives a very high tech impression.
The SCOP is correct since it is around 3, so the energy savings should be there at the end of the year, compared to your pure electric, oil or gas system. Be careful with the setting of the electric heater, at what temperature does it switch on? This could increase your consumption significantly!
This CAP is a mid-range model that is affordable for most homeowners in Switzerland, especially with the increasing subsidies in recent years.
The after-sales service will depend on the installer you will work with for the installation, or even on the supplier if it is directly proposed by the latter, which is common in Switzerland.
How does the installation of a Daikin heat pump work? As if you were there
This video from Daikin France shows you how an installer goes about removing your boiler and installing a heat pump in your garden. The heat pump model does not quite match the heat pump on this page, but the principle is the same. The video is really detailed: you can see everything. (tip: play it in x2 if you don't have 17 minutes to spare)
Want to know more?
Best cheap high temperature heat pumps
Opinion on the Panasonic Aquarea heat pump
TOP 20 Best air-to-water heat pumps
After studying mechanical engineering, Julian entered the world of climate engineering in 2009. After having built his experience in the ventilationand then in the heating with the largest manufacturers of German origin, he became an entrepreneur in the renewable energies and in particular a specialist in heat pump and solar panels photovoltaic systems for thehabitat individual.