LG Therma-V 16kW Heat Pump : Detailed Review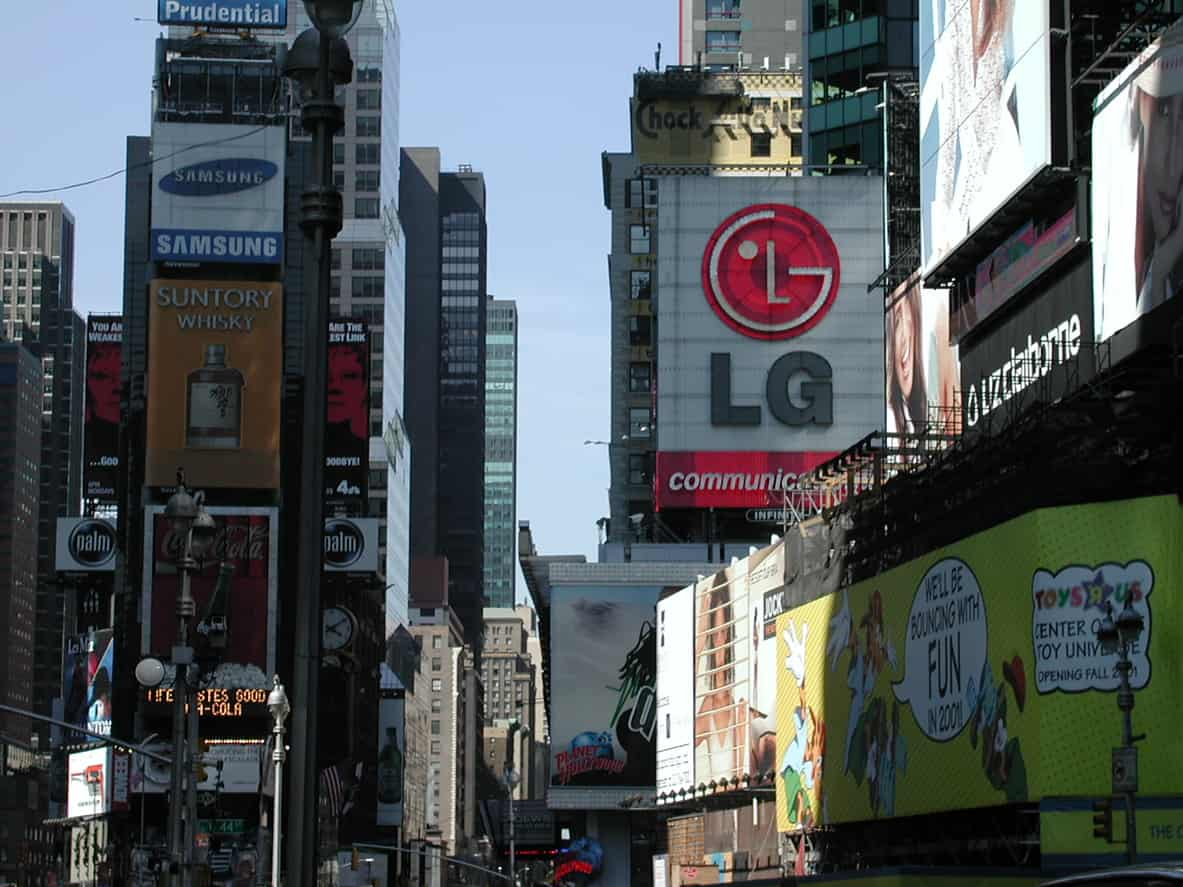 LG Therma-V 16kW Heat Pump : Detailed Review
LG, which stands for Life's Good, emphasizes its motivation to make life more beautiful for its customers by constantly innovating to find better technological solutions.
Since 1958, when it was founded under the name Gold Star, the company that became LG Electronics in 1995 has not stopped developing. Initially active in the field of radios, televisions and refrigerators, of which it was the first producer in Korea, the brand spread internationally, starting with the US and then later to many other countries.
Before continuing with the rest of the article, if you would like to have an idea of the rates for the complete installation of an air-to-water heat pump by a certified pro in your area (France, Switzerlandor Belgium) then you can fill out the small form below.
LG Electronics will be a pioneer in the development of LCD screens since the end of the 20th century. Then everything accelerated for LG. At the beginning of the 21st century, it is the leader in the washing machine sector, in 2008 it creates the first 4G modem chip, in 2009 becomes almost the leader in LCD screens, in 2014 launches the first 4K OLED TV, or its G3 smartphone.
In short, LG is a South Korean brand that needs no introduction, and whose extreme visibility in the field of household appliances and especially TVs could almost mask its activity in heating and air conditioning. Yes, LG produces air conditioners, water heaters, heat pumps, and even photovoltaic solar panels, a field in which it also offers a lot of innovations.
In this article we are interested in the LG Therma V heat pump range and in particular in the model that develops 16kW theoretically.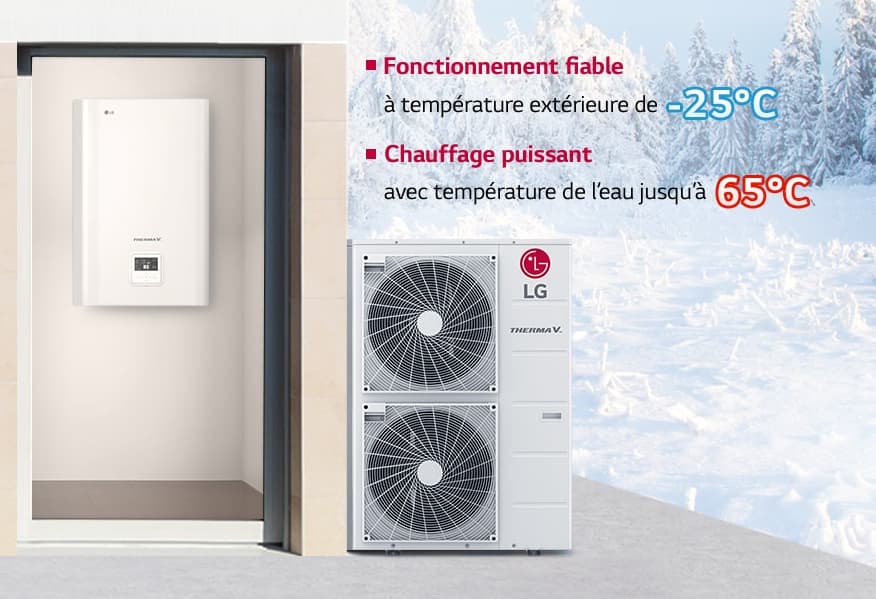 There are 3 variants of LG Therma V heat pumps that are capable of delivering the power of 16kW:
The LG Therma V Monobloc R32 heat pump
The LG Therma V Hydrosplit R32 heat pump
The LG Therma V Split R410A or Split Duo R410A heat pump (with integrated hot water)
The first version is a monobloc This means that the entire refrigeration circuit is located in the outdoor unit, which is placed in the garden or in the front of the house. The heat from the condenser is transported by hydraulic way and restored on the network of the house. Applicable for floor heating or radiators. This version works with R32, the latest generation fluid, more ecological.
The version Hydrosplit R32 is a Hydrosplit type split model. This means that the connection between the indoor unit and the outdoor unit is made only via hydraulic connections (no refrigeration connections). This is possible because the heat exchanger that allows the heat to be transmitted to the hot water network is located in the outdoor unit. The only thing left to do is to make hydraulic connections to the interior of the house to distribute the heat to the water network via the interior module.
The advantage of the hydrosplit is that it eliminates the refrigeration links between the interior and exterior, and thus reduces the risk of refrigerant leaks. This technology concentrates the refrigerant in the outdoor unit, which avoids any handling by the installer of refrigerant. More convenient for him and no need to be a refrigeration specialist. Yep with LG Life's Good for heat pump installers too 🙂
The LG Therma V Split R410A heat pump version It is a classic split. Refrigerant links between the interior and exterior, old generation fluid which will be prohibited in 2025.
Aesthetics of the LG Therma V 16kW versions
Monobloc version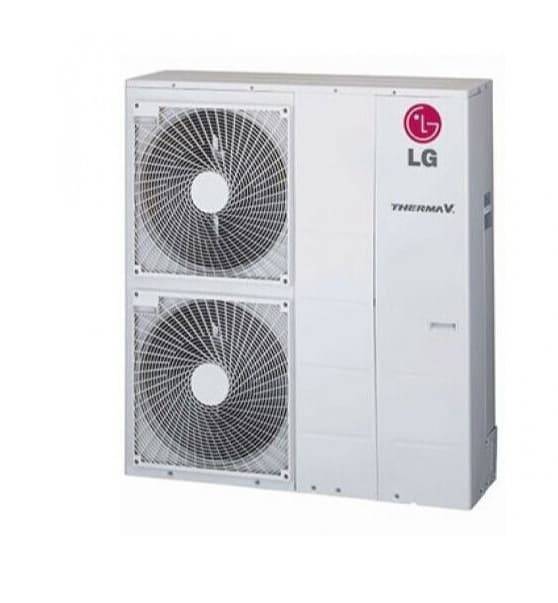 The monobloc version consists of this single outdoor unit. Its appearance is classic, in white. It is a standard casing with retractable panels on the front, with visible screws. The fan grill is screwed on its 4 corners, white and square.
Not to everyone's taste in a garden, it will be possible to hide this unit under a heat pump cover for example, or by using vegetation.
Hydrosplit or Split version
The outdoor units of these two variants are similar to the monobloc. The interior heating module looks like a gas boiler. Rather modern, it adapts well to your interior.
If your split or hydrosplit produces domestic hot water then the indoor module will look like a refrigerator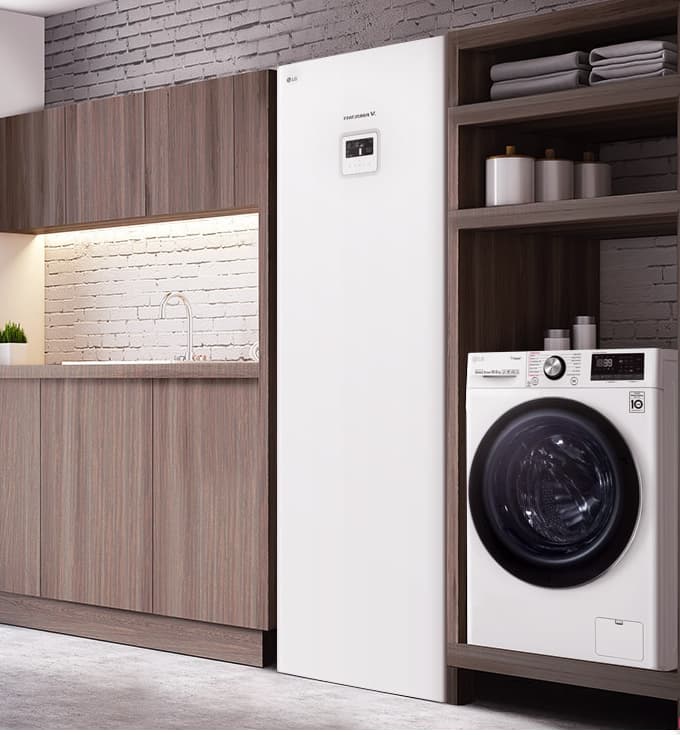 Without the domestic hot water option, the indoor module is smaller as it does not contain the 200-liter domestic hot water tank.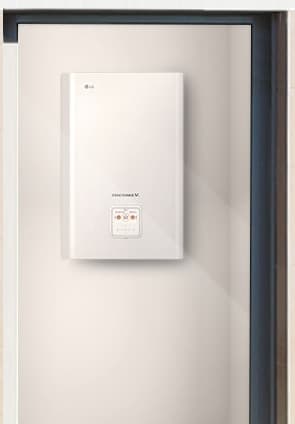 LG Therma V 16kW Monobloc Split or Hydrosplit R32 thermal performance
Here is a table summarizing the main thermal performances of LG Therma V heat pumps in single-phase version:
| | | | | | | |
| --- | --- | --- | --- | --- | --- | --- |
| LG Therma V Single Phase 220V/240V 50Hz | 5 | 7 | 9 | 12 | 14 | 16 |
| Hot Power A-7/W35 | 5.5 kW | 7 kW | 9 kW | 12 kW | 14 kW | 16 kW |
| SCOP 35°C | 4.46 | 4.48 | 4.55 | 4.67 | 4.62 | 4.53 |
| SCOP 55°C | 3.20 | 3.20 | 3.20 | 3.47 | 3.46 | 3.45 |
| COP A-7/W35 | 3.20 | 3.15 | 3.10 | 3.40 | 3.34 | 3.27 |
| COP A-7/W60 | 2.11 | 2.07 | 2.03 | 2.24 | 2.16 | 2.12 |
LG Therma V Single Phase Single Pack R32 Thermal Performance
And here are the data for the three-phase Monobloc version:
| | | | |
| --- | --- | --- | --- |
| LG Therma V Three-phase 380V/415V 50Hz | 12 | 14 | 16 |
| Hot Power A-7/W35 | 12 kW | 14 kW | 16 kW |
| SCOP 35°C | 4.67 | 4.62 | 4.53 |
| SCOP 55°C | 3.47 | 3.46 | 3.45 |
| COP A-7/W35 | 3.40 | 3.34 | 3.27 |
| COP A-7/W60 | 2.24 | 2.16 | 2.12 |
It can be seen that the SCOP values are excellent for underfloor heating (35°C) and are around 4.5, which means that for the consumption of a standard electric radiator of X kW, the heat pump provides 4.5 times more energy to heat your home.
The SCOP for a higher water temperature of 55°C (case of radiators) is around 3.5.
The COP value A7-/W60 represents a condition of use that is not very relevant since it will probably only occur in winter, and over a fairly limited period of time. The COP will rather be around 2. This will make the heat pump a solution that is still twice as advantageous as a pure electric system.
The real value you should see on average over the year is the SCOP 35 if you have underfloor heating, and the SCOP55 if you have radiators. This means that you should lower your bill by 3.5 to 4.5 times what it would have been if you had an electric system.
What is the price of an LG Therma V 16kW
As with any heat pump installation, there are 4 points to consider:
The cost of the equipment: heat pump, hot water tank, buffer tank, etc.
The cost of labor: your installer will bill you for his time
The cost of energy: the heat pump is not a free heating system, although it is more economical.
The subsidies or state aid heat pump that you can receive.
Material cost LG Therma V 16kW heat pump
Monobloc version
The LG Therma V 16kW R32 heat pump has an average price of 6300€ TTC + delivery. It can be found in many online shops, but you have to be an installer to buy it most of the time. Generally, your installer buys the heat pump and invoices it to you with a small margin that allows him to live and develop his activity. If you want the heat pump to prepare domestic hot water, you will have to connect it to a domestic hot water tank which is not included in the delivery. Its cost varies between 800 and 1500€.
Depending on the configuration of your home, you will need to add a buffer tank (this allows the heat pump to function properly, especially if radiators are installed, as the network does not contain much water and could cause the compressor to start up too often). The cost of a buffer tank is not enormous, a few hundred euros.
Split R32 version
The price of the LG Therma V Split R32 heat pump varies between 6400€ and 7300€ + deliveryThe price list is based on the single-phase or three-phase variant and on the stores or suppliers who distribute them. This price list includes the outdoor unit as well as the indoor module and the regulation.
LG also offers the Split Duo version for which the domestic hot water tank is integrated in the interior hydraulic module. The extra cost is about 2000€.
In the same way it will be necessary to count also the buffer tank for a few hundred euros more.
Hydrosplit R32 version
The heat pump LG Therma V Hydrosplit R32 costs 7300€ TTC.
It is also necessary to count the addition of the domestic hot water in duo version if necessary which adds 2000€ and the buffer tank for a few hundred euros more.
In general, you will also have to consider additional costs for each of the versions in order to take into account the connection piping of the indoor and outdoor units and the different tanks. The cost of this piping (hydraulic accessories) can easily represent a few hundred or even thousands of euros depending on the location of your home. It is your installer of course who determines this piping and provides it on the day of the installation.
Cost of labor + commissioning
Installing this heat pump, as well as the piping and hydraulic accessories necessary for the proper functioning of your heating system, is not an easy task. The best ones will install it in 2 days, the less organized ones in 4 or 5 days. If there is an incident on the site, missing a part, leaking pipe, etc. it can also be delayed. You will logically have to compensate for this labor time.
At best if we consider a team of 2 to install your heat pump over 3 days, it will cost you about 2000-2500€ of labor.
This will be included in the estimate that the heat pump installer will provide to install an LG Therma V.
Cost of energy
Despite all these expenses you know that you will save energy if things are done right. Therefore you can put this in relief of the current expenses. Depending on the price of the kWh in your area, you can calculate after how long the basic expense will be compensated.
For example, if you used to consume 20,000 kWh per year in electricity, you will consume about 5000-6000 with a heat pump, which means an expense of about 850€ every year or 70€ every month. Perhaps you would like to combine it with photovoltaic solar panels to reduce this consumption.
State aid for LG Therma V
The LG Therma V heat pump is eligible for subsidies as an energy-efficient building improvement in both France and Switzerland.
Depending on your income, you could benefit from several thousand euros or chf of aid. You can find our articles on this subject in the menu for more information.
This amount of aid is very rarely deducted from the installer's bid, although it does happen. If it does happen, we invite you to check that this amount is correct. It will therefore generally be necessary to deduct the subsidies from the final budget. Note: Be careful never to start work until you have approval from the state aid office, otherwise you may be denied financial assistance. If your installer is in a hurry to start and puts pressure on you with regard to his agenda, you will have to resist or risk losing your right to several thousand euros.
Regulation
LG offers a remote controller touch interface, whether it is installed on the front of the indoor unit in case of split or hydrosplit, or on a wall for other versions. This interface allows you to interact with all comfort variables in an ergonomic way. You can see everything at a glance, like most of the latest generation of controllers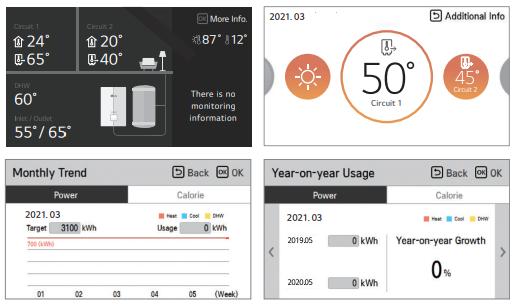 But that's not all! LG also offers remote control via smartphone thanks to a dedicated LG ThinQ app available on all app stores. This allows you to control the CAP remotely from anywhere in the world, your vacation, your last seminar, etc. And it's also voice controllable if you have Google Home.
If you are already equipped with LG, whether it's a dryer of a washer or any other appliance, you may already be familiar with the LG ThinQ app. It's the same one you'll use for all devices.
If you want to download it to have a look at it, it's here :



What about the acoustics of the LG Therma V
For small versions up to 9kW
| | | | |
| --- | --- | --- | --- |
| Version of the LG Therma V heat pump | Sound power (dBA) | Sound pressure at 1m (dBA) | Sound pressure at 5m (dBA) |
| Monobloc R32 | 60 dBA | 50 dBA | |
| Monobloc Silent R32 (only 9kW) | 57 dBA | | 35 dBA |
| Split R32 (5-7-9kW only) | 60 dBA | 52 dBA | |
For the more powerful versions up to 16kW
| | | |
| --- | --- | --- |
| Version of the LG Therma V heat pump | Sound power (dBA) | Sound pressure at 1m (dBA) |
| Monobloc R32 | 63 dBA | 52 dBA |
| Hydrosplit R32 | 61-63dBA (depending on power) | 53-55dBA (depending on power) |
| Split R410A | 66dBA | 58dBA |
We notice that the monobloc version has recently seen an improvement with the arrival of the Monobloc R32 Silent allowing a gain of a few decibels and thus satisfying some of the strictest standards on noise in Europe. Nevertheless, it will be necessary to continue to pay attention to the positioning because 57dBA are not negligible. Moreover, this silent version is only available in 9kW. The more powerful 16kW version is 63dBA, which is louder than many of the other models presented on this site.
The Hydrosplit version also displays 63dBA for 16kW in hot operation.
And the Split R410A is even less quiet with 66dBA (3dBA more, no that's not twice as much noise, but almost 1 third more noise theoretically).
Noise does not seem to be the strong point of the LG brand. On the contrary, there are many advantages to choosing this model of heat pump, as we have seen and as we shall see a little further down. Ideally, the unit should not be placed outside in front of the house, and it should be placed on a surface free of any dwelling if possible in the configuration of your house or building.
Dimensions LG Therma V
| | | |
| --- | --- | --- |
| Version of the LG Therma V heat pump | Dimensions W x H x D (mm) | Weight (kg) |
| Monobloc R32 up to 9kW | 1239 x 834 x 330 | 91 kg |
| Monobloc R32 from 12kW to 16kW | 1239 x 1380 x 330 | 124.5 kg |
| Monobloc Silent R32 | 1239 x 1380 x 330 | 115.5 kg |
| Hydrosplit R32 | 950 x 1380 x 330 | 91.7 kg |
| Split R32 | 950 x 834 x 330 | 60 kg |
| Split R410A | 950 x 1380 x 330 | 94 kg |
All diagrams with dimensions LG Therma V 16kW and other powers all variants:
Schema with dimensions Therma LG V 16kW Monobloc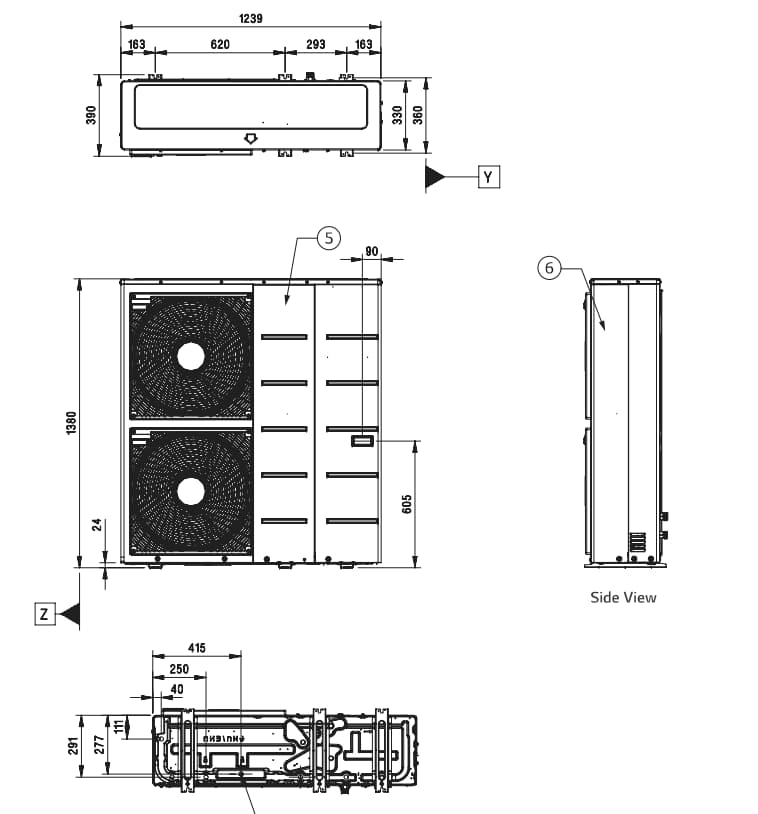 Schema with dimensions Therma LG V 16kW Hydrosplit R32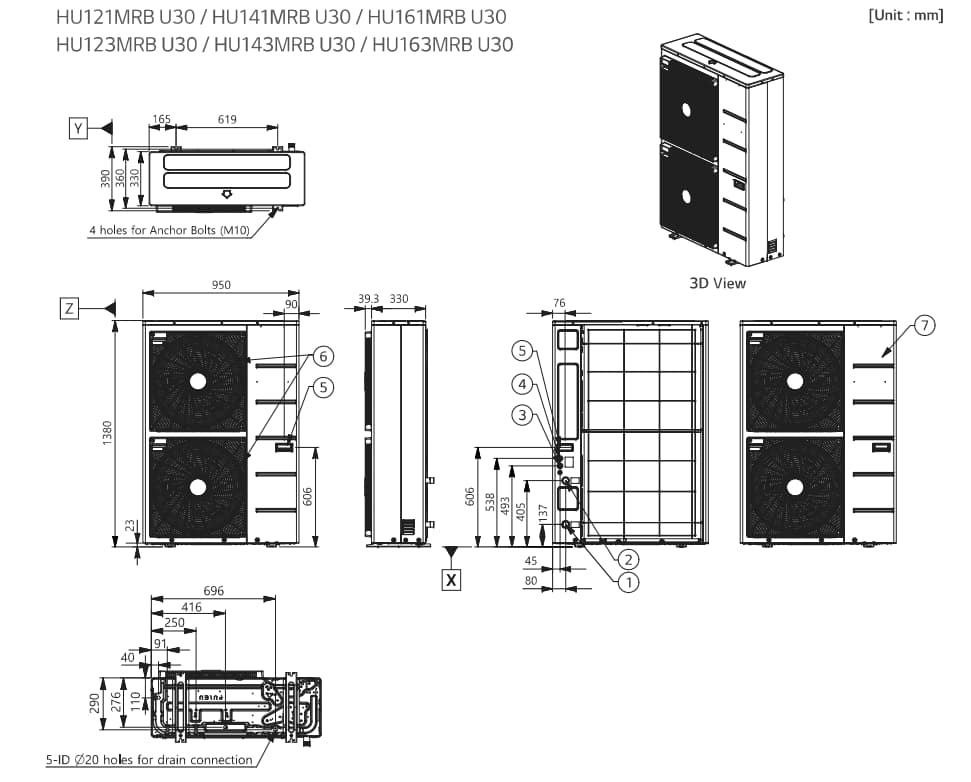 Interesting technical elements
The LG Therma V heat pump has several interesting technical features:
An innovative R1 compressor 1. compressor with inverter technology which allows the adaptation of speed and the reduction of power consumption. 2. Tree structure which makes it possible to compress at the bottom, which ensures stability during low-load operation and thus reduces noise, and which also improves efficiency: SCOP increased by 13%. 3. Improved durability as the R1 compressor structure simplifies the process of separating oil and refrigerantThis prevents the system from wearing out too quickly over time. More info on the LG R1 compressor.
A black finish in navy execution This protects against the effects of corrosion if you live near the sea. The life span of the product is further increased.
As seen above, ThinQ control is an advantage that allows you to control your heating system from anywhere
Technical data sheets / manual LG Therma V
Here is the comprehensive brochure with all possible technical information about LG's Therma V heat pumps
Click here to download directly at home (63Mb)
Technical data Therma V Monobloc R32
Technical data Therma V Hydrosplit R32
Technical data Therma V Split Duo DHW R32
Technical data Therma V Split R410A
And in case you want to decouple the production of domestic hot water from the production of hot water for heating, here are the data of the thermodynamic hot water tank or boiler PAC:
Technical data Therma V thermodynamic balloon
Global LG Therma V 16kW heat pump review
The outdoor unit of the LG Therma V 16kW heat pump is not particularly appealing from an aesthetic point of view and will require a heat pump cover if possible. Moreover, this outdoor unit in the 16kW version is quite high with its 1m38. It is difficult to place it under a window for example. Therefore it will be necessary to place it in a distant place in the garden, or along a wall next to a window or hidden if you can.
Moreover, the noise generated by the outdoor unit in heating mode makes it preferable to place it not along a wall but in a free area, i.e. in the middle of a field on a slab, hidden by some vegetation perhaps or a cover pac.
The strong point of this heat pump lies in its innovative R1 compressor in the LG tradition, which saves on electricity consumption, and a less noisy compressor in mid-season when it is not fully loaded. The thermal performance of this heat pump will allow you to have economical heating at any time of the year, even if the temperature drops very low (theoretically down to -25°C if you have underfloor heating which requires 35°C of water at the inlet, for example: this is possible thanks to the increased frequency of the compressor, up to 150 Hz).
If you live in a mountain area, which is quite cold all year round, and your neighbors are relatively far away, you can choose this LG Therma V R32 16kW model which will allow you to make real savings on your energy bills for heating as well as for domestic hot water.

Finally, its price remains rather affordable for a very efficient model and could largely compete with a Daikin or another NIBE, without the acoustic detail.
Read also:
TOP 20 Best air-to-water heat pumps
Our comparison of 10 split heat pumps
After studying mechanical engineering, Julian entered the world of climate engineering in 2009. After having built his experience in the ventilationand then in the heating with the largest manufacturers of German origin, he became an entrepreneur in the renewable energies and in particular a specialist in heat pump and solar panels photovoltaic systems for thehabitat individual.